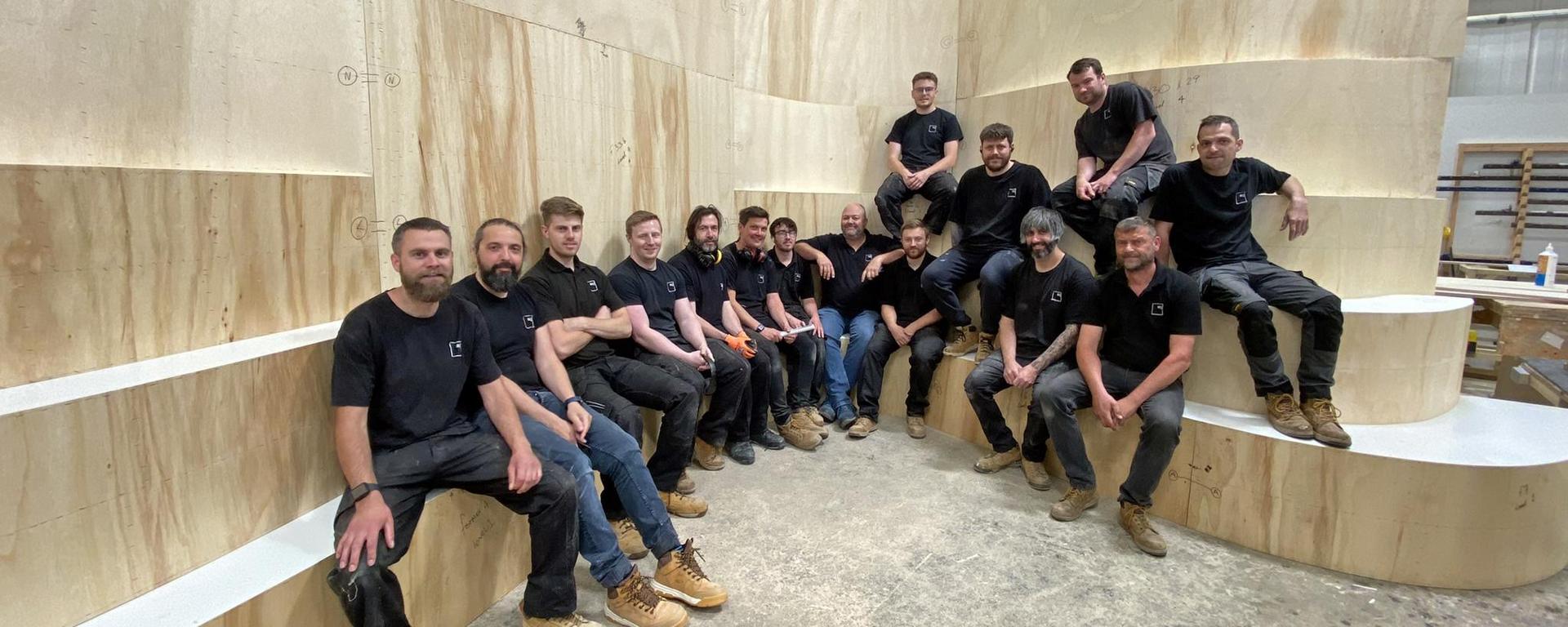 Carving a home for themselves in Whitstable, the ISG joinery 'family' craft bespoke pieces for some of the planet's most well-loved brands, in stores, workplaces and beyond.
Joining the team in April 2023, joinery director Andy Whitehead sits at the head of a long table of highly skilled talent. From bench hands, technical managers, designers to commercial leads, the team are expertly blending traditional craftmanship with digital expertise to deliver high-end joinery.
Whether it's the sleek display featured in a high-end car dealership or the commissioned centre piece in an upmarket home, Andy's joinery team are putting their stamp on some of the UK's biggest and best retail and leisure landmarks.
He invites us to have an exclusive look into life inside ISG's hidden retail treasure.
From the workshop to our most loved consumer destinations
Andy's team of talented staff deal with everything from stripping out, mechanical and electrical services, installing case goods, and the final coat of paint.
With a dedicated team of new talent and experienced hands within the shop's four walls, the facilities, equipment and team capabilities have grown and developed exponentially since the factory was founded. With no signs of slowing down…
Turning digital concepts into an offline reality
The journey from a block of reclaimed timber to the finessed finished product is a complex process – which is hard to achieve.
Reflecting on the launch event of ISG's latest Wide Angle, 'Rethinking the skills conundrum', Andy discusses parallels between insights on interconnecting skillsets shared by panellist David White (Chief Operating Officer at Rolls-Royce (RR) SMR) and his own team's talents to deliver such complex craftwork.
Andy comments: "David referenced that 'We're not adequately investing in hand-based skills and engineering expertise to create the infrastructure that supports technology and AI' and this is something I see a similar synergy in with my own team. To deliver artisanal and expressive craftmanship is highly technical and requires advanced technological skills to achieve this to the highest calibre."
Andy celebrates apprentice joiner, Jack Angel, for being an emerging talent in driving digital growth for the team: "Jack's eye for digital artistry has seen him excel in operating the Computer Numeric Control (CNC) machine and bringing forward new ideas to grow our technological offering."
Jack adds: "I've always had an interest in interactive art and 3D tech but was never sure I'd be able to progress this into a career. I've been studying computer-aided design (CAD) alongside my ISG apprenticeship which has been undeniably beneficial in my role. My ideas are now forming part of a product's design earlier in the joinery process and developing it to be more efficient."
Aligning personal interests with professional growth
"There's a real sense of family in the workshop, and everybody genuinely cares about one another's happiness and success at work," says Andy, "We want our team to enjoy the crafting process and feel proud of the end result."
One member of Andy's team who is showing just that, is bench joiner Myles Freeman: "One of the things that excites me most about the workshop is that you never know what you'll be delivering next or for who. Shop fronts, make up counters, wall panelling, custom built doors, reception desks, display units – you name it, we've done it. The variety allows us to be constantly developing our skillset, not to mention it keeps things interesting."
Referencing the data around matching aspirations to career pathways from the
'Rethinking the skills conundrum' whitepaper, Andy cites: "The research shows that young people weight alignment to their interests and skills as equal to compensation in the workplace.
"We're lucky to have such a loyal joinery team. And I think a lot of this loyalty comes from our people having a vested interest and personal connection to the brands and products we work with."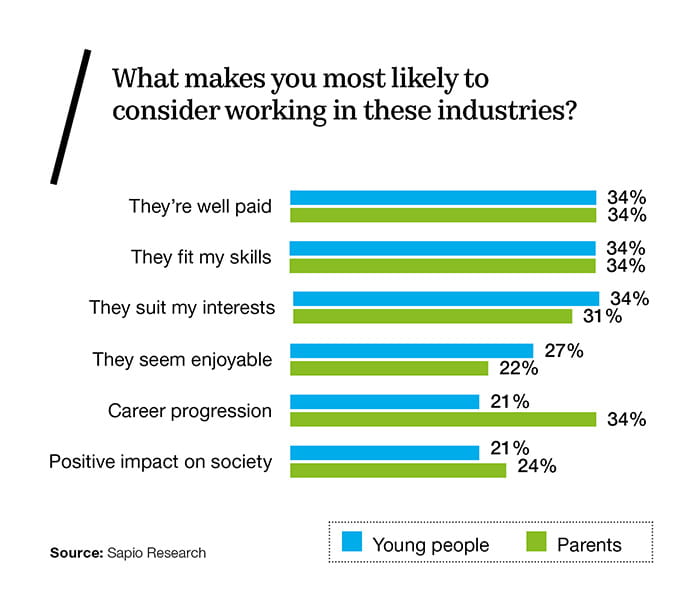 Bench joiner Ed Curtis weighs in: "It still blows my mind that a design we work on in the shop could be seen and utilised by millions. Seeing our work featured during an England football game on TV, was a real 'pinch me' moment that made me feel proud and excited to be a part of this team" (Ed references ISG's work on the Wembley Stadium changing rooms).
And it's not just the early careers talent who feel inspired to be working with such successful global brands.
Joinery workflow manager Jason Else proudly agrees: "The excitement we felt when we landed our first big retailer jobs when I joined 30 years ago still reigns true today. The team was much smaller then, but no matter how big it becomes we all continue to feel that same sense of elation when we're given the job to deliver for a brand we admire."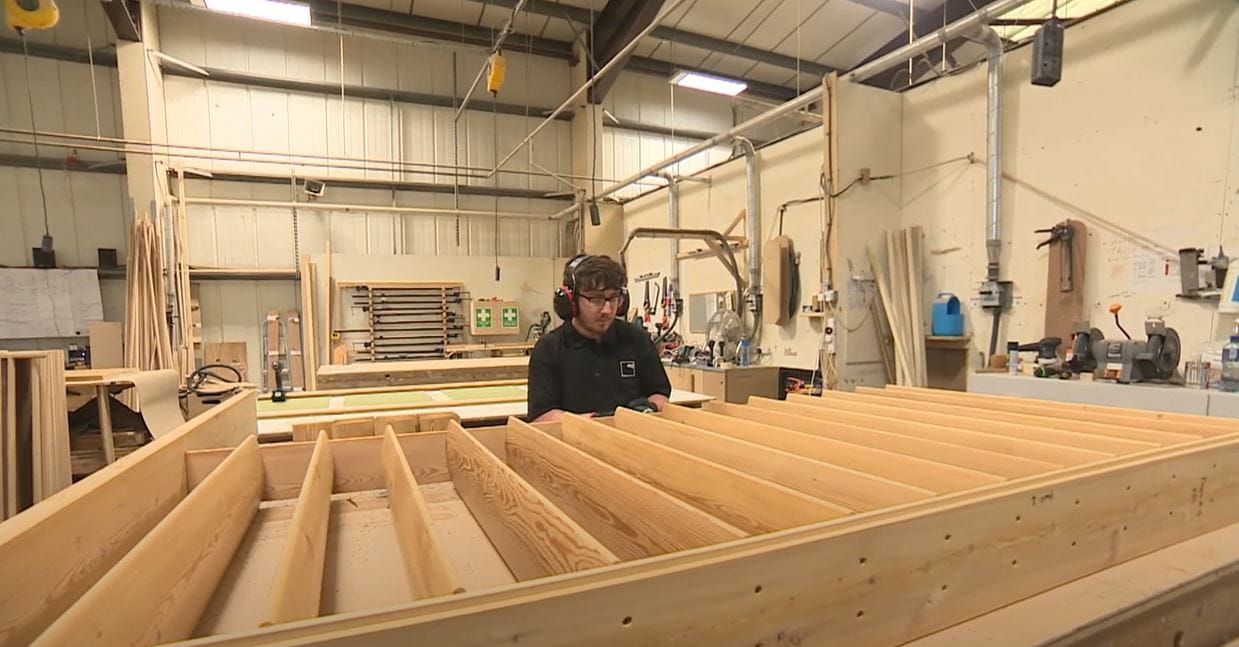 ISG's inclusive workforce on ITV News
On International Day of People with Disabilities, ISG looked back on UK Retail joinery apprentice Jack Biggs' feature on ITV News Meridian in a segment about workplace inclusion.
Building diverse talent for an eclectic client base
While his team continue to go from strength to strength, Andy points out that they'd be even stronger if there was a more diverse talent pool in the workshop to drive fresh ideas forward.
"There is great comradery and collaboration in the workshop, but having different perspectives and experiences could help to enhance our offering even further," comments Andy.
"Circling back to the 'Rethinking the skills conundrum' launch event, one thing Rosa Wells, (executive dean for engineering, digital and sustainable construction at University College Birmingham) flagged to the panel is the unequal gender balance that we have in certain sectors and in STEM pathways. Building networks to support and mentor young women will help to change this – and I hope to see this translate to joinery and other carpentry roles."
Lisa Irwin, administrator for Andy and the joinery team, couldn't agree more. She says: "We're actively discussing where we could be expanding our reach to local schools and colleges to have better representation in the field. Educating more young people that a career in joinery is open to – and can be enjoyed by – people from all backgrounds, genders, etc is so important for our future success."
Andy concludes: "Every day we're working on projects for the biggest brands in the world, but what really makes the joinery shop special is the exceptional talent on the ground. As we grow our team and push boundaries in building an inclusive and digitally innovative joinery business, we'll continue to prove that there really is something for everyone in our workshop. And our door's always open!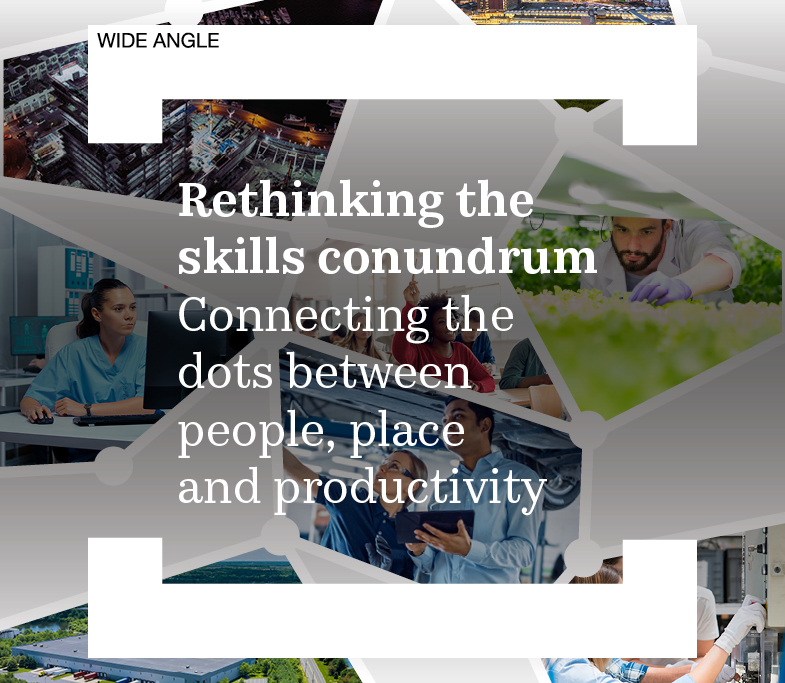 Construction: the great overlooked tool in our strategic workforce planning
Our latest Wide Angle, 'Rethinking the skills conundrum', seeks to connect the dots between people, place and productivity.