Creating a different perspective with Axel Arigato
ISG's UK Retail team work with Axel Arigato to deliver a Selfridges concession space that turns high end store design on its head.
Founded in 2014, high end retailer, Axel Arigato, has been revolutionising luxury fashion since it entered the market 12 years ago.
Born out of a desire to create something unique and ground-breaking, that would also be identifiable and affordable for the millennial market, the brand prides itself on its commitment to emphasising quality, craftmanship and longevity in its fashion and footwear.
And when it comes to the design of its real estate, Axel Arigato is breaking ground in the aesthetic of its shopfloors.
On its website, the brand's co-founder and creative director, Max Svardh, says that the key ambition of the physical stores is to offer "the same feeling you get when you walk into a gallery."
"With the floating shoes and the upside down layout, it lends itself to having a sense of anti-gravity. It's incredibly innovative"

Max Svardh, Co-founder and Creative Director, Axel Arigato
Built on an ethos of building 'memorable experiences', the concession offers a striking and otherworldly experience; with an upside-down, office inspired pop-up store, that incorporates traditional office elements with unique installations in a mind-bending design. Which the brand describes as its most "ambitious and boundary-pushing" to date.
"There's an almost space-like appearance to the space", describes ISG project manager, Steven Klosek, "With the floating shoes and the upside down layout, it lends itself to having a sense of anti-gravity. It's incredibly innovative."
Developing the store's design off the appearance of traditional, industrial office materials and fixtures, the store's props include: ceiling tiles for flooring, strip lighting, and exposed pipework and steel beams. Alongside some more contemporary features, such as lift doors that dispense customer receipts and plinths in the centre of the store to display designs artistically – as if they were sculptures. With the installation of a t-section trim to create the feel of a suspended ceiling.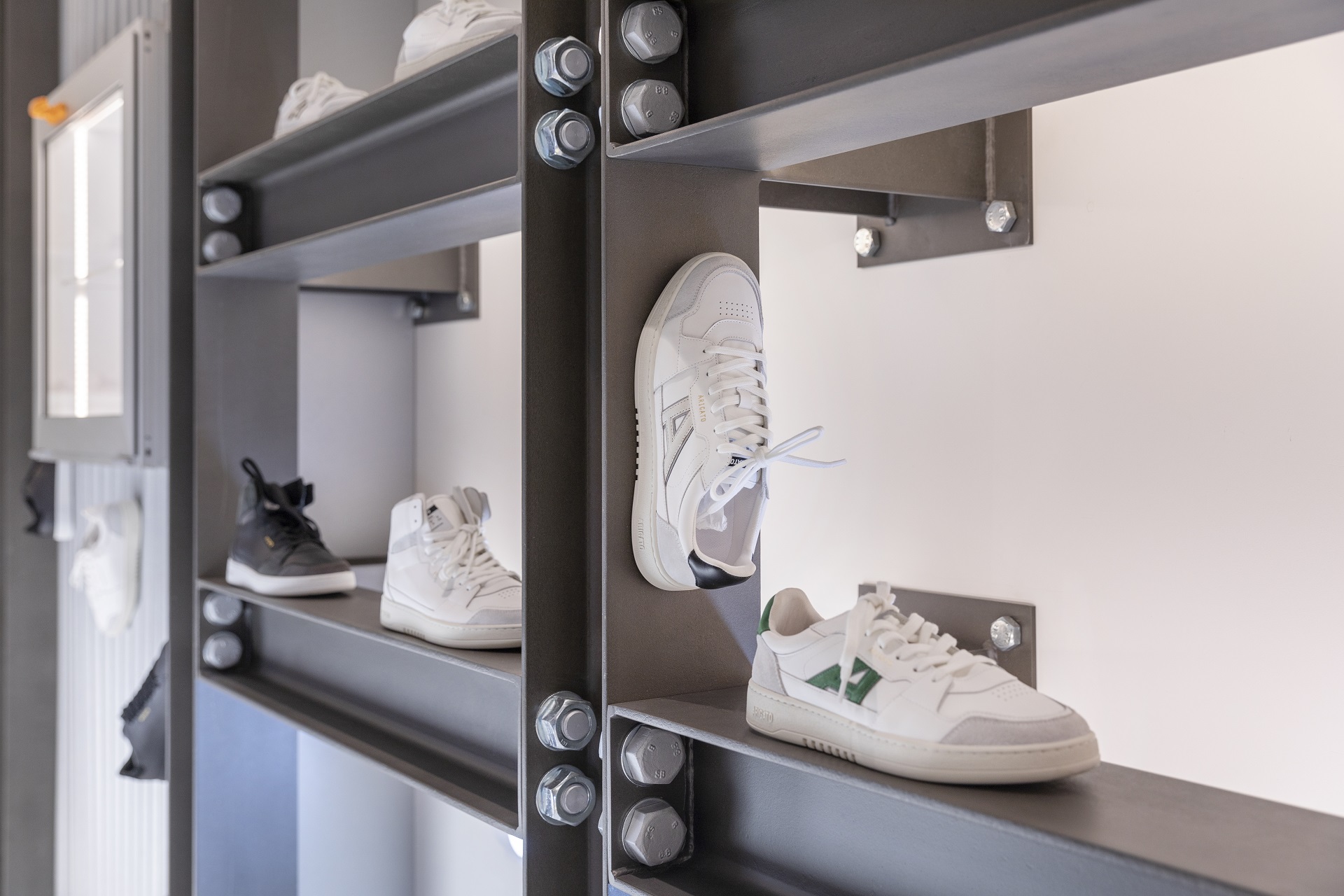 Steven adds: "We collaborated with our supply chain partners to manufacture items that really brought the client's vision to life, and we're so pleased with the finished craftmanship from our partners and design team alike."
Over the moon with the final outcome, the client opened its doors to Selfridges customers this September.
Project manager, Steven Klosek, concludes: "This was a challenging project, but we're confident that the finished product aligns with the client's brand aesthetic and vision. It was very strange – physically and mentally – to deliver everything upside down. It goes against everything I've learnt and done in last 25 years in this industry! But the result was fantastic, and the experience was truly standout."
Learn more about ISG's retail offering here.