Customer

The Post Building , Nationwide

Procurement Route

Awarded, framework

Completion Date

31st July 2020

Quantity Surveyor

Summers Inman

Form Of Contract

Design & Build

Area

91,000 sq ft

Program Duration

36 weeks

Architect

MCM
Built to attract the talent of the future, the four-storey Post Building, provides an innovative, human-centric and tech led space with a community feel.
The former Royal Mail sorting office has been transformed into a collaborative office environment, with agile working, freedom of choice and wellbeing at the forefront of its offering.
Boasting unique design features and a new development and innovation hub, The Post Building is perfectly set up to attract and retain the best talent in the banking sector.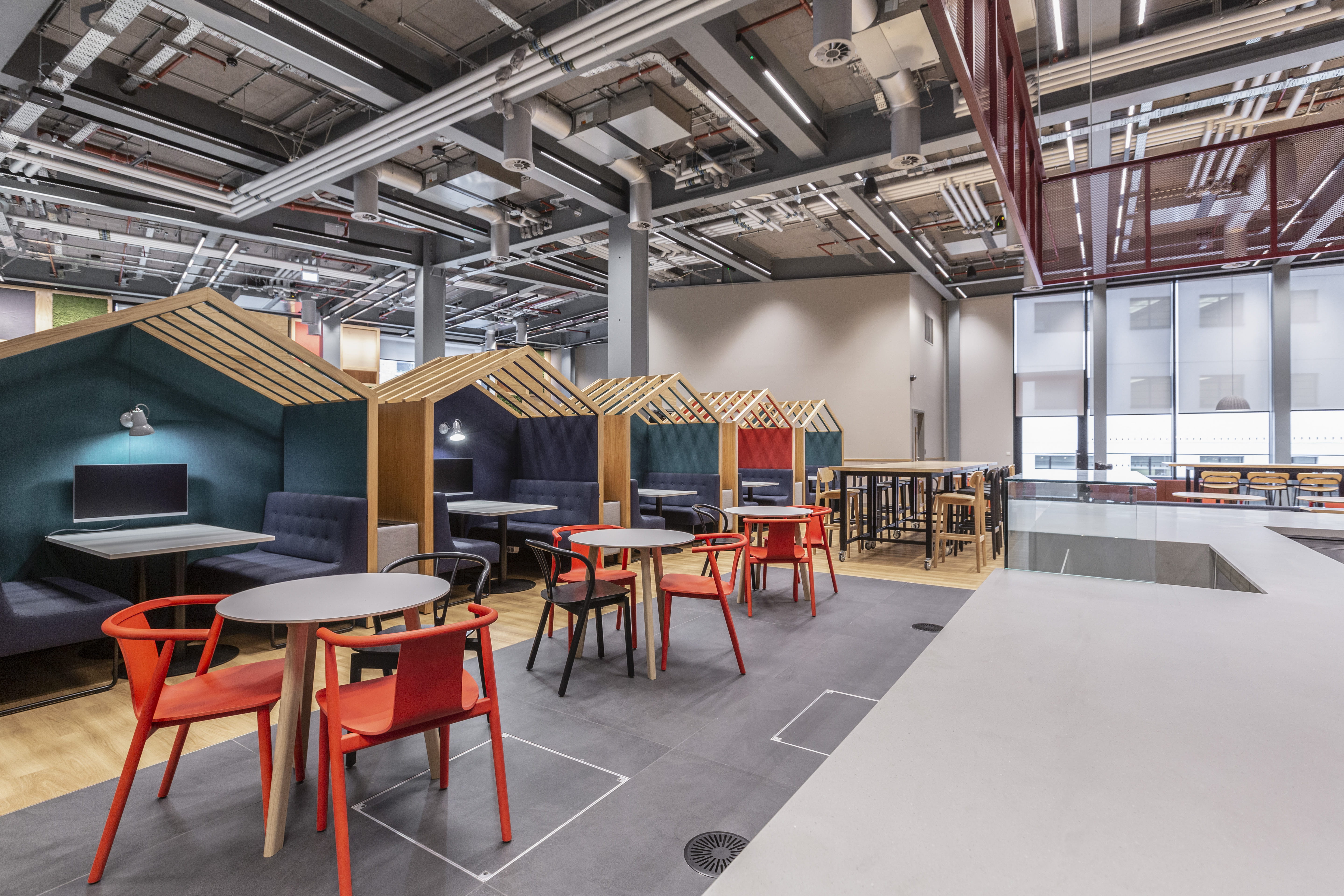 The project
ISG transformed the open plan CAT A building to have a high quality CAT B fit out. Developing unique features, including a 250-capacity auditorium reflective of "Spanish steps", to create a fresh, convenient and relaxed space for meetings and group working.
The updated innovation hub also proving to be a unique selling point for the building society, giving employees in the digital, engineering and design specialisms a modern and creative space to collaborate together.
Three new feature staircases were designed and installed with a metal perforated balustrade design and LED lighting integrated into the feature timber soffit and handrails.
Mezzanine extensions were built and clad in brick slips and a fully functioning commercial kitchen and open plan café was installed with a feature mesh canopy and signage.
The complex joinery provided by ISG has meant that almost every wall has some feature finishing, including fabric walls, cork boards, writable glass and moss, to create a more sustainable and earthy feel.
"I'm really impressed with how the team worked with us to shape this creative workspace that brings flexibility and choice to our colleagues."


Jason Stalker, Delivery Manager, Nationwide Building Society
Adding value every step of the journey
As part of ISG and Nationwide's mutual partnership with non-profit organisation, Social Enterprise UK (SEUK), young people from homelessness charity, The Foyer Federation, were invited to visit the site.
They were given a behind the scenes tour of the site in progress, learning about design software, modern methods or working and how businesses create unique opportunities and experiences for their employees. Alongside gaining an insight into the construction and financial services industries.
Inviting creative agency and social enterprise, Mediorite, to film the event further strengthened the project's social chains. Even giving one young employee his first experience of filming in a corporate setting, to gain invaluable work experience.
Building a positive legacy
With a strong sustainability focus from both the client and ISG, we were able to recycle 94% of the project's waste, resulting in a 78% reduction in carbon emissions on the project.
We were also able to introduce a more sustainable supply chain, with 40% of the onsite workforce being local (within 15 miles of the site) to the area. Helping to boost the local economy and reduce emissions from daily commutes to site.