Customer

Confidential

Procurement Route

Direct to ISG Trade Contractors / Supply Chain

Completion Date

Jan 2022 

Form Of Contract

SIA

Project Manager

JLL

Area

19,000 sq ft

Program Duration

12 weeks

Architect

Aedas (ID)

ME Engineer

AURECON
In the far east of Singapore, a refreshed workplace and dedicated staff cafeteria cum private dining space at Changi business park welcome employees of a Chinese Technology giant, the world's biggest telecommunications equipment supplier today, with a growing presence in Singapore for the past 20 years.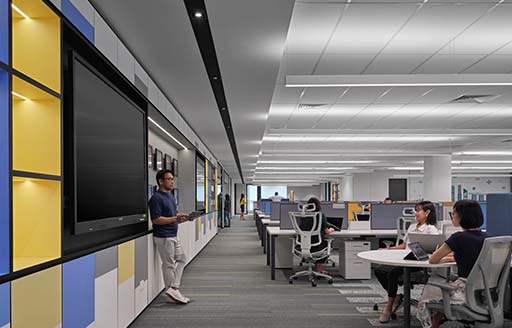 The project
Appointed main contractor for this project, ISG successfully completed highly customised fit-out works to refresh the company's existing workplace and create an all-new exclusive dining enclave at Changi Business Park. The full suite of works included interior fit-out, design and build for mechanical, electrical and plumbing (MEP) works, as well as proprietary IT, security and AV system installations.
This project appointment follows ISG's successful delivery of the Chinese Technology giant's earlier office expansion project at The Metropolis in Singapore, completed in just 8 weeks in 2020, at the height of the Covid-19 pandemic.
The office rejuvenation and fitting out of the new staff cafeteria located in the Ultro and Signature Building respectively, were delivered concurrently over 3 months.
"Both projects were completed methodically with proper




procedures in place. Overall, the services rendered by ISG were very good and professional. We appreciate their technical capabilities and professionalism in delivering two fit-out projects for Huawei concurrently within the required
timeline of 8 weeks.

The team was proactive and very prompt in responding to
changes and challenges that occurred onsite. On many occasions, they have also demonstrated their willingness to go the extra mile to deliver above and beyond, whenever the situation called for it. The new cafe and workplace
have certainly created a whole new enjoyable employee experience for our people." 

– Raymond Law, Procurement Specialist, Chinese Technology Giant
An evolved work environment designed for inclusivity 
Covering 12,500 sq ft, a new open-plan seating arrangement for 122 dedicated workstations was designed and installed to create a collaborative and informal work setting. Designated open-access tiny booths were also placed across the office, leading up to two directors' rooms and three enclosed meeting rooms that converge at the far end of the workplace.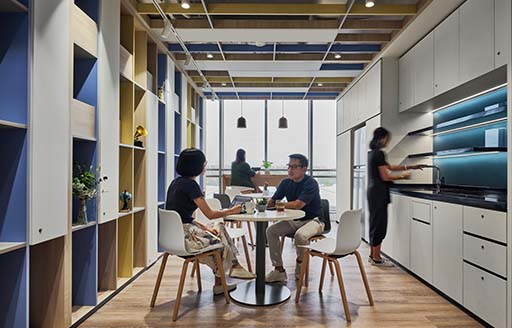 A cosy pantry corner complete with essential kitchen facilities is designed to provide optimal storage space and comfort for the staff.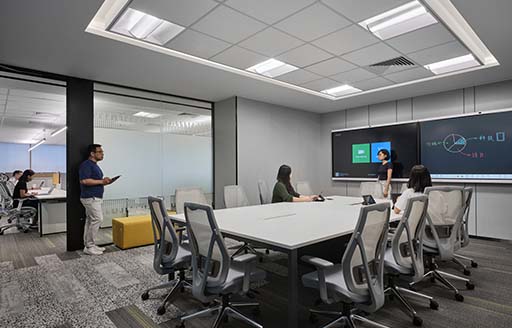 State of the art meeting facilities and smart technology
The boardroom and meeting rooms are equipped with the company's proprietary smart tv and interactive board equipment, designed to enable seamless online and offline interactions between colleagues attending virtual and hybrid meetings while based in different geographic locations.
All meeting proceedings and entailing documentation are programmed to be made digitally available to all attendees in real-time.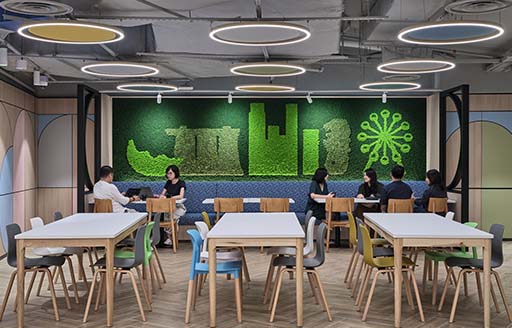 A dining destination just for employees
An all-new staff cafeteria welcomes the company's employees come mealtimes. Covering close to 7,000 sqft, the space consists of a general dining area, miniature private booths, a live noodle bar and buffet area, and two VIP private dining rooms.
Acoustic panels are used as ceiling features while a self-maintaining natural moss wall featuring famous Singapore landmarks greets visitors upon entry, contributing to a soft, relaxed, and conducive dining experience for all.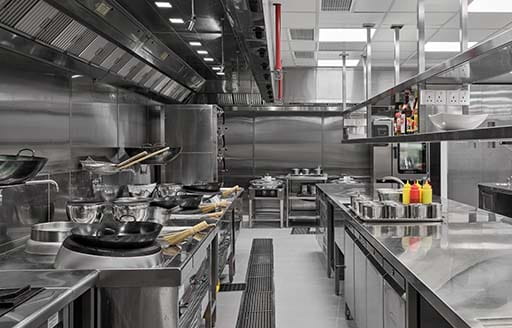 Operating the kitchen with peace of mind 
The full-service kitchen and serving areas are designed for high-volume, quick service requirements – with specialised kitchen equipment imported and installed to meet the exacting technical requirements of the head chef and his team. An environmentally-friendly kitchen ventilation system extracts released cooking fumes and converts them into dust for disposal while the kitchen is operating.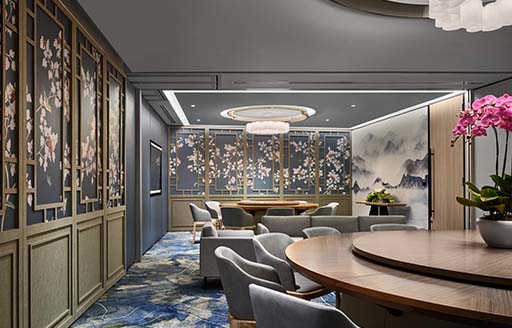 Custom-made Chinese ink painting on canvas and floral motifs in acoustic wall panels line the moveable, operable walls of the VIP private dining rooms, mitigating sound reflection off the wall and providing effective soundproofing.
Overcoming challenges
All works were carried out in a live building environment during restricted hours. Given the limited construction time and tight project timeline, work sequences had to be planned, made flexible, and sectioned clearly in order not to affect other work areas and neighbouring tenants. A flexible migration plan for deliveries was put in place to ensure non-interference to ongoing works, while optimising the use of the single entry and exit allocated to the site project teams.