ISG win big at the Planet Mark Awards 2022
ISG is delighted to have won an award in the 'Stakeholder Engagement' category at the Planet Mark Awards 2022.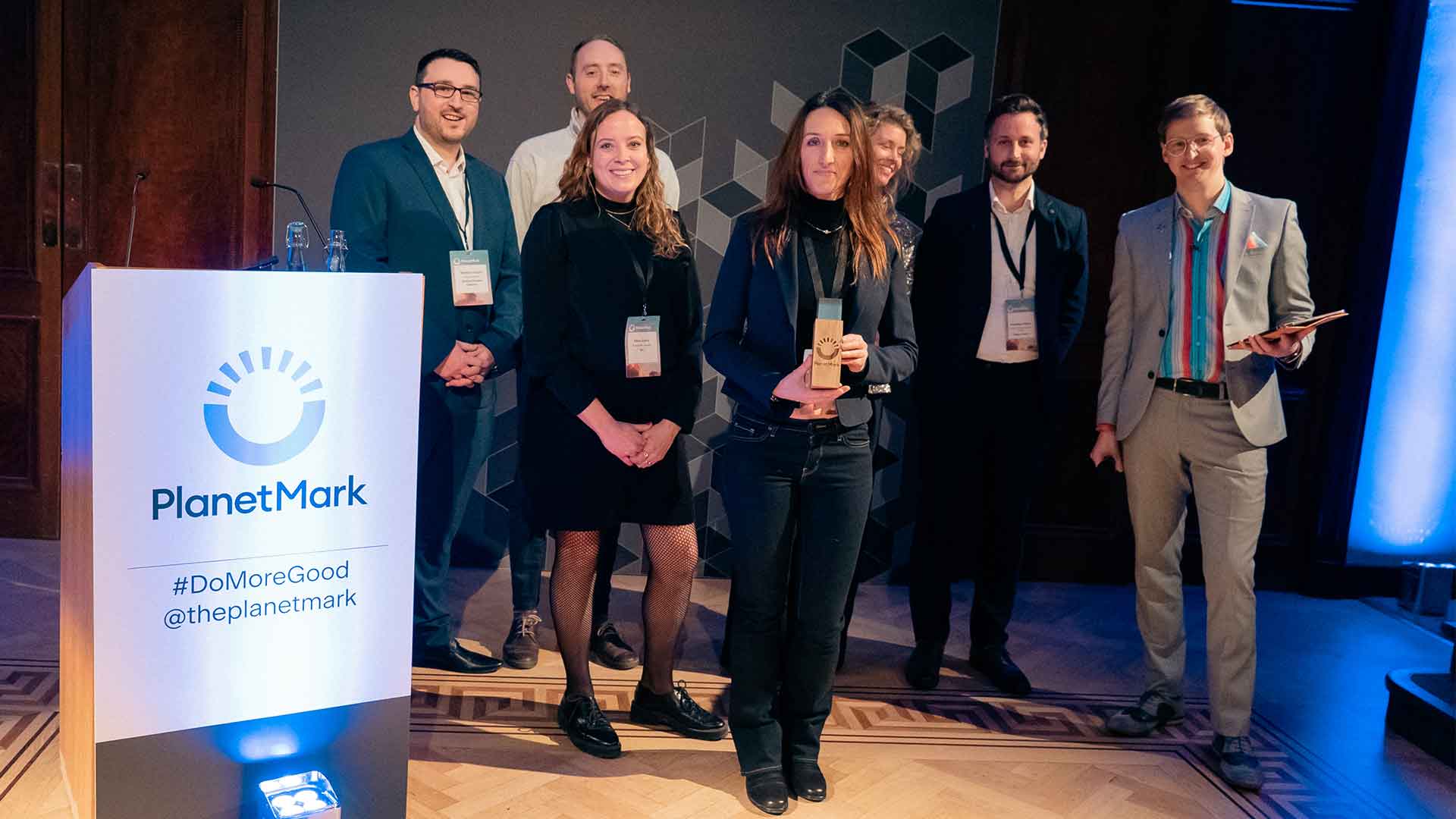 Hosted at The Royal Institute of Great Britain in London, on 19 January 2023, the Planet Mark awards, shined a light on their member companies and individuals that have gone above and beyond to maximise their impact. The awards evening offer a fantastic opportunity to celebrate and recognised the achievements of each entrant, from carbon reduction and supply chain engagement to social responsibility.
Judged by a panel of the industry's leading sustainability experts, ISG is delighted to announce that we took home the Stakeholder Engagement award for our work in 2022 as we fought off competition from fellow finalists Blooloop, Thakenham Group and SP Energy Networks.
Our sustainability team was represented on the evening by senior sustainability manager, Ellen Jones, sustainability monitoring & reporting manager, Raffaella Puricelli and sustainability manager, Alex Munro. All of whom were welcomed on to stage to receive their awards and asked questions on ISG's approach and how the future looks for sustainability.
How we made vital changes in 2022
Our journey to become the first carbon negative contractor in our sector has seen us invest significantly as a business to incorporate Environmental, Social and Governance (ESG) criteria into all our projects.
We pride ourselves on creating high-quality and sustainable spaces, and applying social responsibility in our relationships with our employees, suppliers and contractors and in the communities in which we operate.
It's why in 2022, we developed a succinct supply chain engagement programme, embedding sustainability and carbon throughout our procurement process. In order that we aligned to the ISO 20400 Sustainable Procurement, we developed a step-by-step process to facilitate carbon into the identification, selection, contract negotiation, relationship management and performance of our supply chain.
An award-winning sustainability supply chain programme
Working with Planet Mark, which is a sustainability certification for every type of organisation and for real estate, their certification recognises continuous improvement, encourages action and builds an empowered community of like-minded individuals, we set out on a supply chain engagement journey to identify and mitigate the carbon emissions our suppliers produce at business-level and from a product-level. We asked every supplier to complete a carbon self-assessment and introduced trade category carbon tender questions into the subcontract and strategic procurement process.
We also supported 116 key carbon suppliers through a learning pathway with eLearning modules and short videos. This, combined with our Strategic Partnership Forum where our Sustainability team host training sessions with the business leaders of our top 150 suppliers to educate them on carbon, has created a carbon adoption shift within our supply chain.
We've also seen an uptake in the number of low-carbon products and construction processes from our supply chain. It is evident through a variety of projects, including the first Net Zero Carbon school, South Point Primary in Wales and the world's first retrofitted sustainable office building in the University of Cambridge Institute for Sustainability Leadership innovation hub.
We'd like to congratulate and thank all our teams for this wonderful achievement and for all the hard work they have put in to deliver a real change that will help us to leave a lasting legacy for our planet.
Find out more about our Sustainability agenda here