The power of place: How are businesses and investors approaching space for success in the modern world?
The latest in ISG's event series explored the new reality for the workplace, taking the views of employees, tenants and investors to understand the threats and opportunities for the future of workspaces.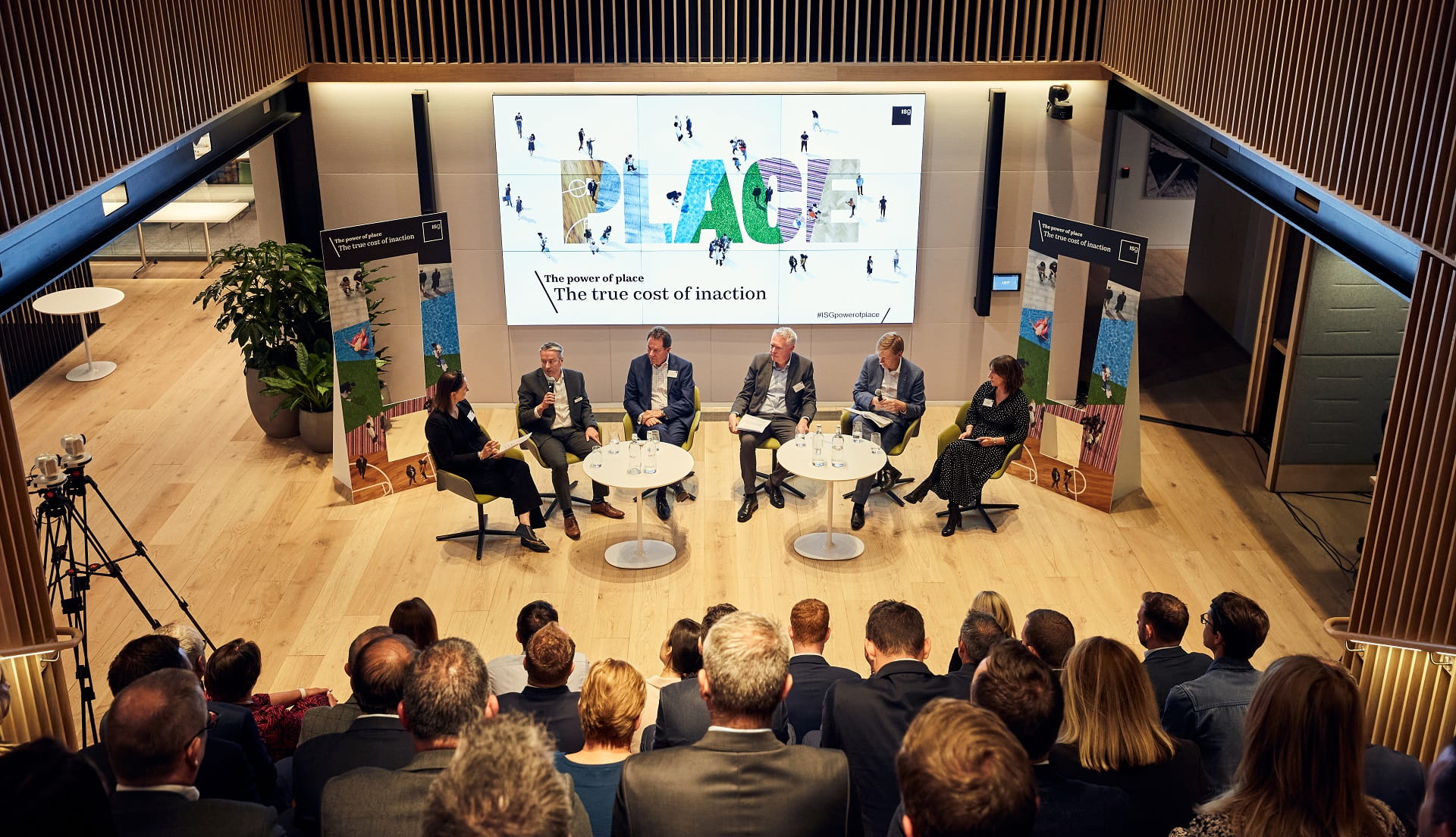 Pictured above from left to right: Courtney Natoli, David Crew, Peter Cheese, Malcolm Hanna, Tim Chapman and Zoe Price
ISG brought together an expert panel with guests from across different industries and companies, including Hogan Lovells, the CIPD, Arup and L&G investments. The Panel was chaired by Gardner & Theobald's Courtney Natoli and fittingly the event drew a large hybrid audience - both in person and online. We welcomed over 500 leaders, experts and specialists from across the construction industry to listen in to the discussion around the future of the workspace.
The conversation centred around ISG's latest report into The power of place: The true cost of inaction, one of the most comprehensive pieces of research into the future of the workspace, featuring insights from employees, employers, investors, landlords and developers across the UK.
ISG's Chief Operating Officer Zoe Price, who appeared on the panel, commented on the breadth of the research, "We talked to lots of groups of stakeholders including employees, tenants and investors. One of the best takeaways from the research was the positive response, people are optimistic about the future."
ISG's report demonstrated the value that has been provided to businesses in adapting to hybrid working and making improvements to their workplaces, highlighting the reported risk and cost associated with inaction. David Crew, Head of Corporate Real Estate at Hogan Lovells, shared how he is putting this approach into practice "We are relocating our Business Service Centre to a new building and are currently working on the designs, which we see as a massive opportunity to invest in new ways of working or providing new spaces that will enable us to create a bit more energy in our building. It's about an opportunity to get everyone more connected and promote collaboration."
Tim Chapman, Infrastructure Design Director at Arup, who hosted the event in their new offices in London, shared how Covid-19 resulted in new ways of thinking, "When the pandemic hit that was actually a huge opportunity for us. We realised we had to do something different and actually the least risky thing to do was be radical so we took the opportunity to create the first new post-pandemic hybrid working office."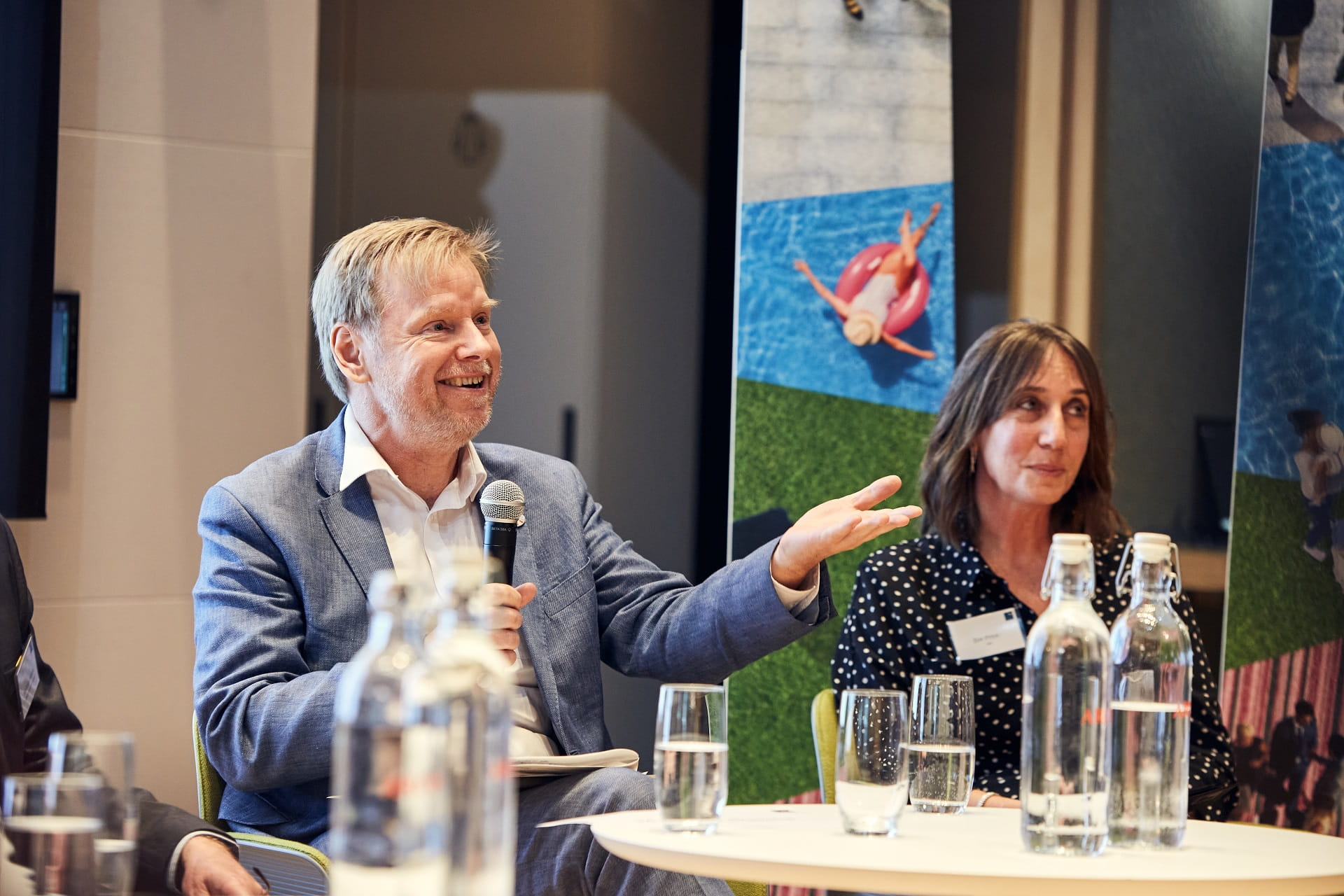 Tim Chapman, Infrastructure Design Director, at Arup and Zoe Price, COO, at ISG, pictured above.
Peter Cheese, Chief Executive of The Chartered Institute of Personnel and Development (CIPD) spoke of the opportunity that the industry currently has, "I think this is a really exciting time. It's a truly, once in a generation opportunity to change working practices, which have barely changed since the industrial era. It's certainly encouraging to see these findings demonstrate that people see this as an opportunity to work in different ways."
For communities to survive, and high streets and cities to be restored in line with the UK government's 'Levelling Up' agenda, we must evolve. Investment into physical workspaces can help drive this agenda, as Peter stated, "I think it's important that we can show as a country that we have great working environments, great working cultures, and that we have a predominance in terms of how we manage our people. Ensuring that we're giving them a voice and providing those opportunities."
Zoe added that "It's all about the creation of good jobs, having a voice as well as learning and development. And actually, these are the spaces that we're talking about providing."
Malcolm Hanna, Senior Sustainability Manager at LGIM Real Assets, said that investing in workplaces across the regions will drive productivity across the whole of the UK. "We see that as a huge part of the Levelling Up agenda. In the regions, traditionally it's been a challenge to deliver higher cost projects, but by taking a longer term view we can de-risk the project, which allows us to invest in places like Cardiff and Sunderland. Government has a big focus on life sciences and that's another growth area where real estate needs to be at the heart of that agenda. It's about bringing good quality productive spaces to those places and driving that Levelling Up."
The report showed that employees are valuing flexibility, with work life balance and travel savings seen as key benefits of remote work. The social element of work is increasingly important, and employers need to work hard to integrate the workplace into hybrid working.
Peter said that organisations have succeeded by re-evaluating the purpose of the office. "This really is the time to rethink what the office is for. Of course, it is about connection and collaboration, and sometimes still it's about having discreet spaces. We need more hybrid working places that suit the different needs of people and teams in the organisation. It is those organisations that are taking it back to the fundamentals of what offices are for."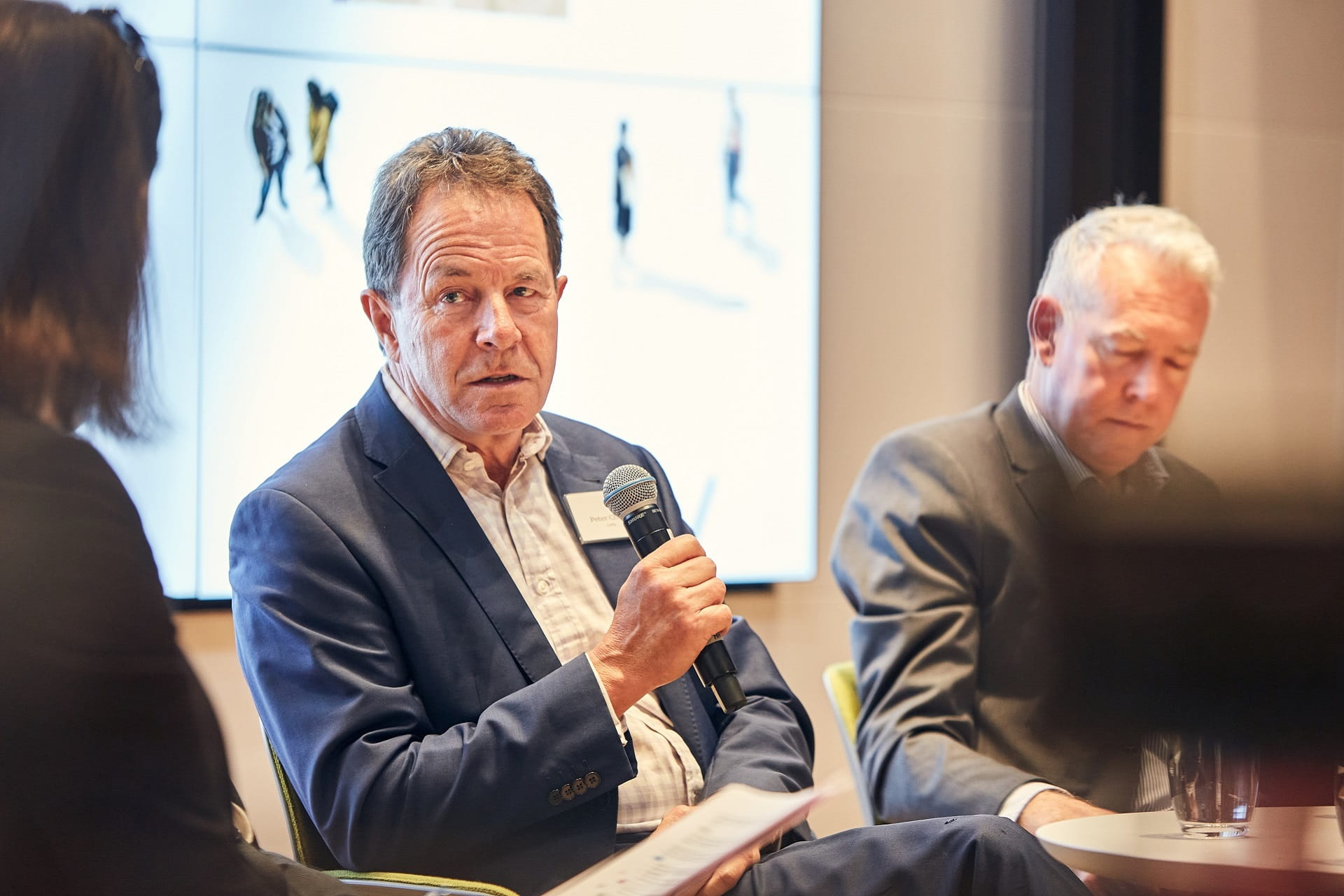 Peter Cheese, Chief Executive of CIPD and Malcolm Hanna, Senior Sustainability Manager at LGIM Real Assets, pictured above.
"We need to show as a nation that we're leading the way on ESG, and that's all aspects of this acronym, and being an HR guy, I focus on the 'S' part – which is why I stress that well-being is so fundamentally important and it's really encouraging to see investors around the world are looking for these elements. That will help to create the attraction for talent from around the world."
When it comes to attracting talent back into the office, David commented on the challenges around learning and development. "Essentially, we're an apprenticeship firm where we spend a lot of time and money training our associates and trainees, and there's been a void there while people have been working solely from home. We have to find a balance between having supervision in the office and supporting our trainees, while also being supportive and productive for all of our people across the organisation."
There is an ever-growing focus on the need for workspaces to match ESG commitments. Tim said that at Arup sustainability is central in all that they do "it's our purpose as an organisation." This is reflected in the firm's recent building project and the venue for the discussion, with Tim confirming that "It's incredibly low carbon in operation due to its all-electric nature. It's probably the lowest carbon operating building in London. ESG was really important and there we lots of things we discovered, and others can learn from our experience so that it will hopefully improve in the future."
Malcolm spoke to the investor interest in this space stating that "We've seen a massive rise in interest from investors in terms of ESG performance. Also, increasingly we're seeing tenants with science-based targets, coupled with emerging evidence around green premium. Value de-risking is key and we know the reality of the situation is that regulation is coming around the corner. It's clear we can't do it on our own, and tenants have a huge impact in achieving those goals."
Rounding up the debate and speaking on the future of the workspace, Peter made the important point that "whilst we've talked an awful lot about offices, the reality is the majority of the workforce do not have the opportunity to work in offices. So, we have to think about flexible working in a very inclusive way. We have to think about all these different environments that people work in, and how do we give them more opportunities to work in more flexible ways."
What is clear from the discussion is the significant opportunity for businesses to create better working environments, which work for their employees, drive productivity and create a better world for us all.
The full webinar and report can be found here.