Customer

AEG (Ansco Roofwalk Ltd)

Completion Date

June 2012

Value

£3.8m

Area

405 sq m + 320m long walkway

Program Duration

29 weeks
Introduction
The project saw the creation of a unique and daring visitor attraction at The O2. Conceived by architects Rogers, Stirk, Harbour and Partners alongside Buro Happold, it features a tensile cable and fabric walkway, with a viewing platform above the corona of the iconic structure. The walkway is a distinct feature, elegant and simple in its own right, yet does not overwhelm or detract from the original structure. The attraction is unlike anything else ever constructed in the UK.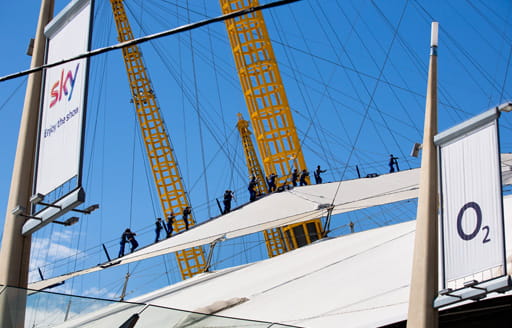 The project
Logistical challenges pushed the team to design an entirely unique system to transport more than 30 tonnes of material up to the apex of The O2 without affecting the integrity of its existing structure, which was only able to accept 40kg/m2 load. Due to the large radius of the dome, which no crane could reach, the team came up with an innovative solution to use a system of sledges in order to distribute the weight of the materials over the required area and to slide sections of the walkway into position.
The materials were lifted on to the roof with the sledges attached underneath. Tirfor winches were attached in order to pull the materials to their required position. The walkway sections were guided into their final position by a team of abseilers using a 'skyhook' system that took advantage of the cables and towers of the existing structure.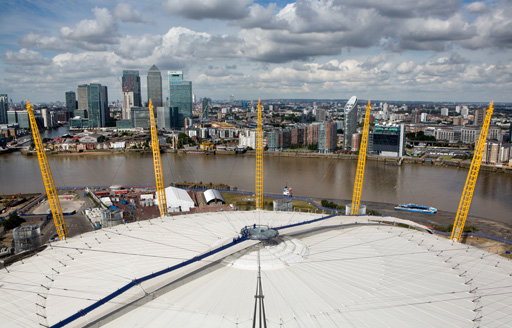 The end result
The walkway successfully complements and works with the original structure rather than against it. A network of cables is suspended from the 12 existing masts of The O2 which support the 320m long walkway and allow it to 'float' above the roof.
Wherever possible, cables are hidden away out of sight to promote the idea of the walkway 'floating' above the original structure. An 'invisible pouch' in the walkway encloses the power and data cables to the viewing platform under the fabric.