Customer

Glasgow

Completion Date

May 2013

Value

£2.8m

Area

17,545 sq ft

Program Duration

28 weeks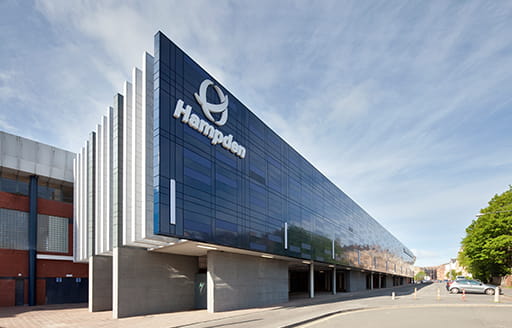 Introduction
ISG was instructed to extend and upgrade the North, East and West stands at Hampden Park. The project improved spectator facilities and accessibility by providing additional concourse area, catering facilities, lifts and new toilets in the North Stand. The undercroft area of the West Stand was upgraded to provide storage space, and two catering kiosks in the East stand were improved with the addition of new outward facing counterspace.
The Project
The main focus of the project comprised the construction of a new 11,259 sq ft extension to the North stand. The extension houses four new catering outlets and two betting outlets, formed of feature block work, as well as providing additional dining areas in the form of bench-style seating.
New Mechanical & Engineering services were installed in the extension and connected to the stadium's existing services.
During the project six high-profile football fixtures were held, including one international match. The site had to be completely demobilised and cleared prior to each match, and a safety inspection (carried out by the customer's H&S team, building control, the police and the fire brigade) passed to allow the facilities to be handed back to the customer.