Customer

Southwark Council

Procurement Route

Single Stage

Completion Date

17/10/2011

Quantity Surveyor

Nigel Rose & Partners

Value

£15.3m

Form Of Contract

GC Works 1

Project Manager

CZWG Architects LLP

Structural Engineer

Adams Kara Taylor

Area

34,070 sq ft

Program Duration

120 weeks

Architect

CZWG Architects LLP

ME Engineer

Hoare Lea
Introduction
This regeneration project for Southwark Council was for the construction of a new public library at Canada Water. The library building has an inverted pyramid design and overlooks the Canada Water Basin, occupying a prime location within Deal Porters Plaza. The four-storey, steel and concrete building features expanded aluminium veil cladding and extensive glazed areas to its façade.
The tightly constrained site is adjacent to Canada Water underground station and as part of the project ISG formed a new entrance to the station creating a major new thoroughfare.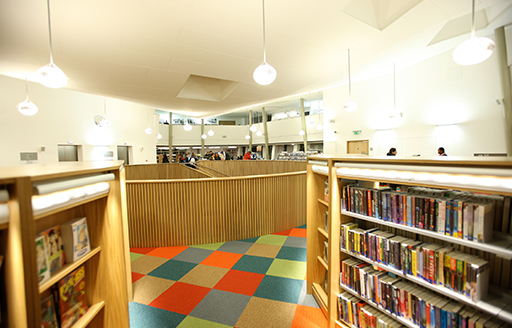 The Project
A dominant feature of the four-storey building is the striking full height atrium, with a timber-lined spiral staircase travelling up the expanding space above. The building is clad in aluminium sheets that are anodised in a light bronze with sequined perforations, giving it sculptural appeal and striking visual effects.
The ground floor provides highly flexible community areas with a café, exhibition space and auditorium opening onto the new Deal Porters Plaza.
A mezzanine level provides office and staff areas, with the second floor housing the main library. The upper floor is designed to provide a gallery area overlooking the main library and incorporates a range of learning facilities and meeting rooms. All areas have fabulous views South over Canada Water Basin and the new generous Plaza on the North.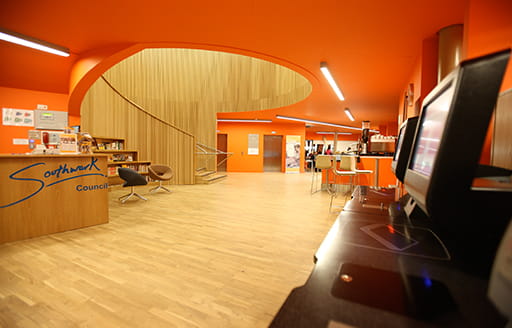 The Added Value
Sustainable credentials of the new library include a ground source heat pump, grey water harvesting and green sedum room. The development achieved a 'Very Good' BREEAM environmental rating.
ISG employed precision GPS technology to ensure the angles for the complex structure were accurate and a temporary pontoon structure was installed on the quay area as the building has a rake angle of approximately 55° and overhangs the water from the second storey upwards. The project was the winner of a special Civic Trust Award, being the Selwyn Goldsmith Award for Universal Design. It was also awarded a Regional Award by the Royal Institute of British Architects (RIBA).