Leaving a lasting legacy at Sky
ISG has now handed over the Sky Innovation Centre project to Europe's leading direct-to-consumer media and entertainment company.
The project, which began in 2020, is latest phase in the redevelopment of Sky's campus, with the building boasting impressive wellness, sustainability, and environmental performance credentials.
The architecturally striking building was delivered with a significant focus on driving down embodied carbon, reducing waste through prefabrication and efficient design, and ensuring materials were responsibly sourced. 100% of construction waste was diverted from landfill, and with our supply chain partners, we eliminated the majority of single-use plastic packaging during construction.
Jon James, Managing Director UK Construction said: "The incredible collaboration and innovation between every project stakeholder has led us to this successful outcome. The journey doesn't end here however, as this new facility will now allow Sky to continue to push the boundaries of consumer technology and further their technical expertise."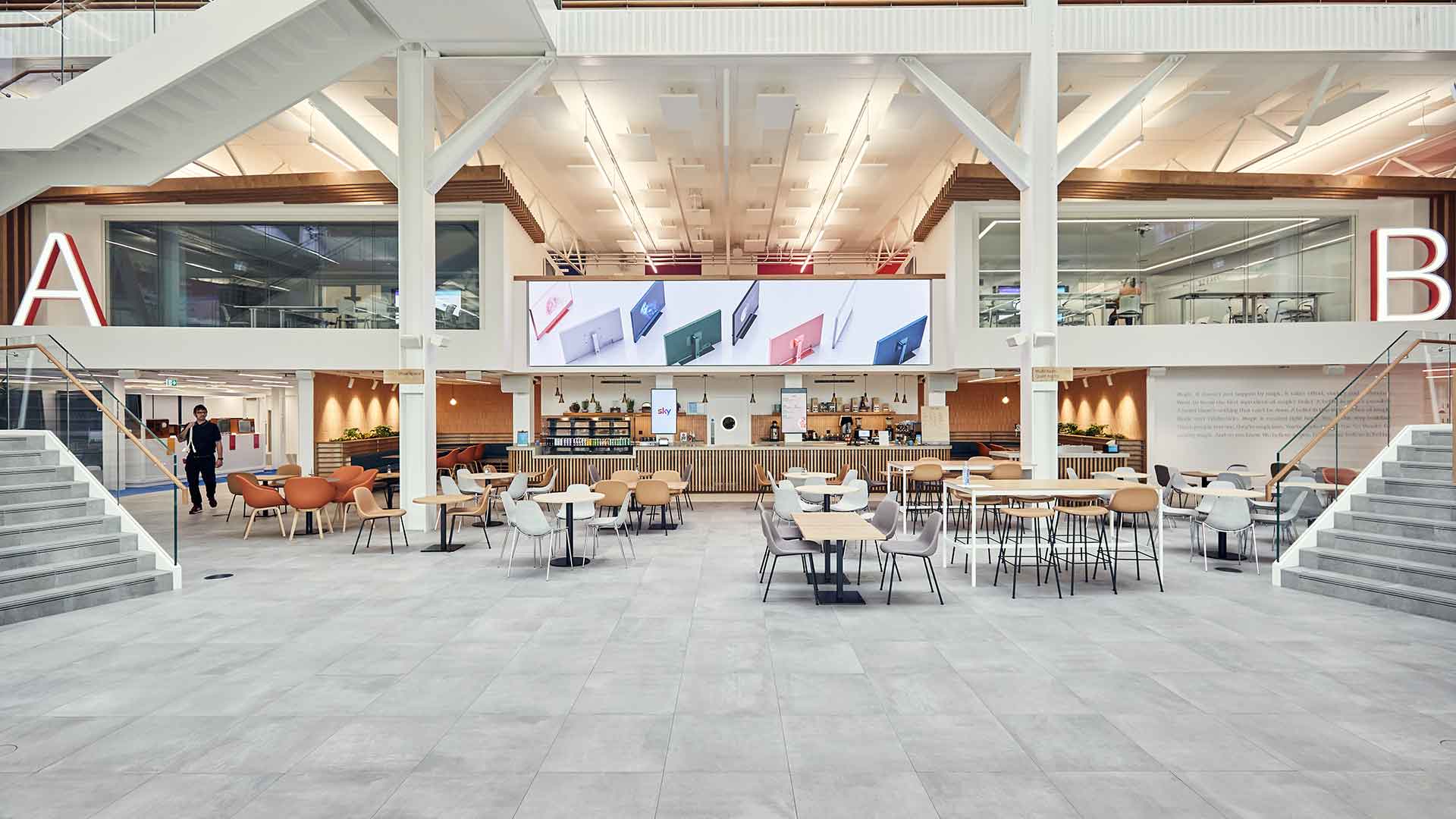 The innovative journey
Occupying the site of two former buildings, the new three-storey building has been designed to maximise natural light within the majority open plan accommodation. The full height atrium is flooded with daylight and a large photovoltaic (PV) array generates emission free electricity.
We also constructed 'the Pavilion', an adjacent circular dining building with a large commercial kitchen catering for circa 250 covers. There was also a range of hard and soft landscaping design elements.
Despite the challenges presented by COVID-19, the project team-maintained progress against the planned programme, while also introducing and observing social distancing and associated measures to ensure the safety and well-being of everybody working on, and visiting, the site, supported by Sky.
Collaboration has been a key theme throughout, and in reflection of this, the project was shortlisted for the prestigious 'Team of the Year' accolade at the 2021 Construction Manager of the Year Awards. Sarah Bentley, Programme Head for Sky commented: "I have witnessed a very capable and enthusiastic team from the start, with an open, honest and supportive culture clearly visible".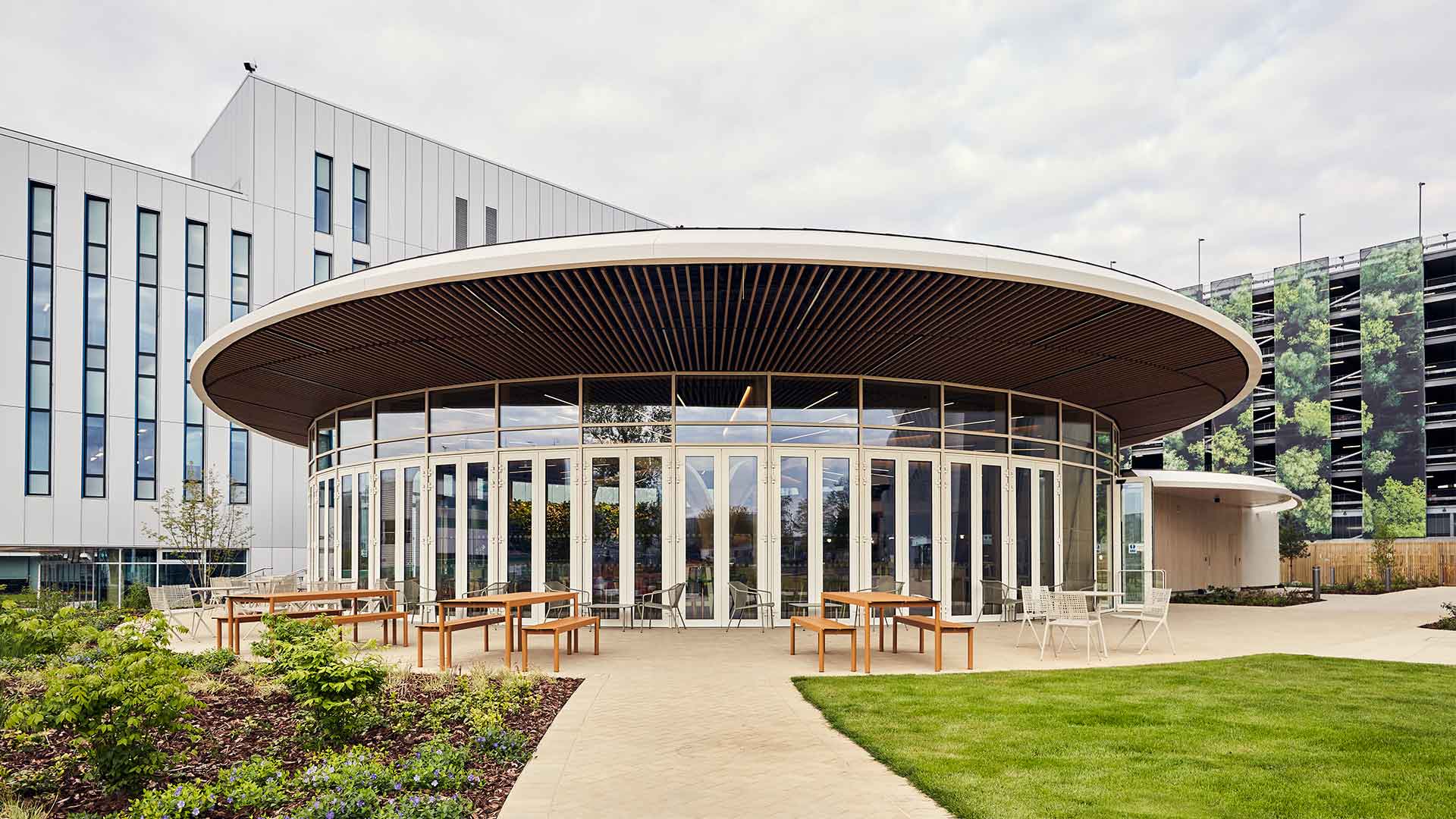 A net zero future
There has been clear focus on eliminating single-use plastics and reducing carbon – with Sky's drive for new standards in environmental management proving to be the catalyst for the detailed examination of every element of the project. This resulted in a 21% reduction in embodied carbon.
This has all been part of Sky's commitment to become net zero carbon by 2030, two decades before the UK government's target.
"We had a clear vision to create a unique and responsible building, steeped in our ethos to do the right thing for the environment and our people. Staying true to these principals and using learnings from previous experience helped us make brave decisions, challenge industry standards and deliver even better outputs.

Working with teams who shared our vision allowed us to lead the way in reducing embodied carbon and single use plastics and to thoughtfully source materials, suppliers and subcontractors, setting out a successful blueprint for the way we'll work in future construction." 

Diana Foxlee, Director Sky Spaces
A lasting legacy
Social value was another key driver for Sky, and the project team is leaving a positive legacy through a range of initiatives which included visiting and presenting to local schools in the Hounslow area, having formed a partnership with careers company Spark! The team also participated in food drops to local charities, alongside waste-management company, Powerday.
We also worked closely with Sky to test good practice in addressing hidden labour exploitation and to understand any challenges in implementation. This modern slavery approach brought together representatives from Sky and ISG with an independent human rights consultant and Stronger Together, a multi-stakeholder initiative aiming to reduce modern slavery. As a group we looked at seven aspects of the project lifecycle, and the project adopted four key principles in relation to addressing modern slavery in construction.
The aim of the study was to understand how a client like Sky can work collaboratively with its contractor to understand and address the risks of modern slavery and labour exploitation, and the team has presented on its findings/recommendations at a number of industry events.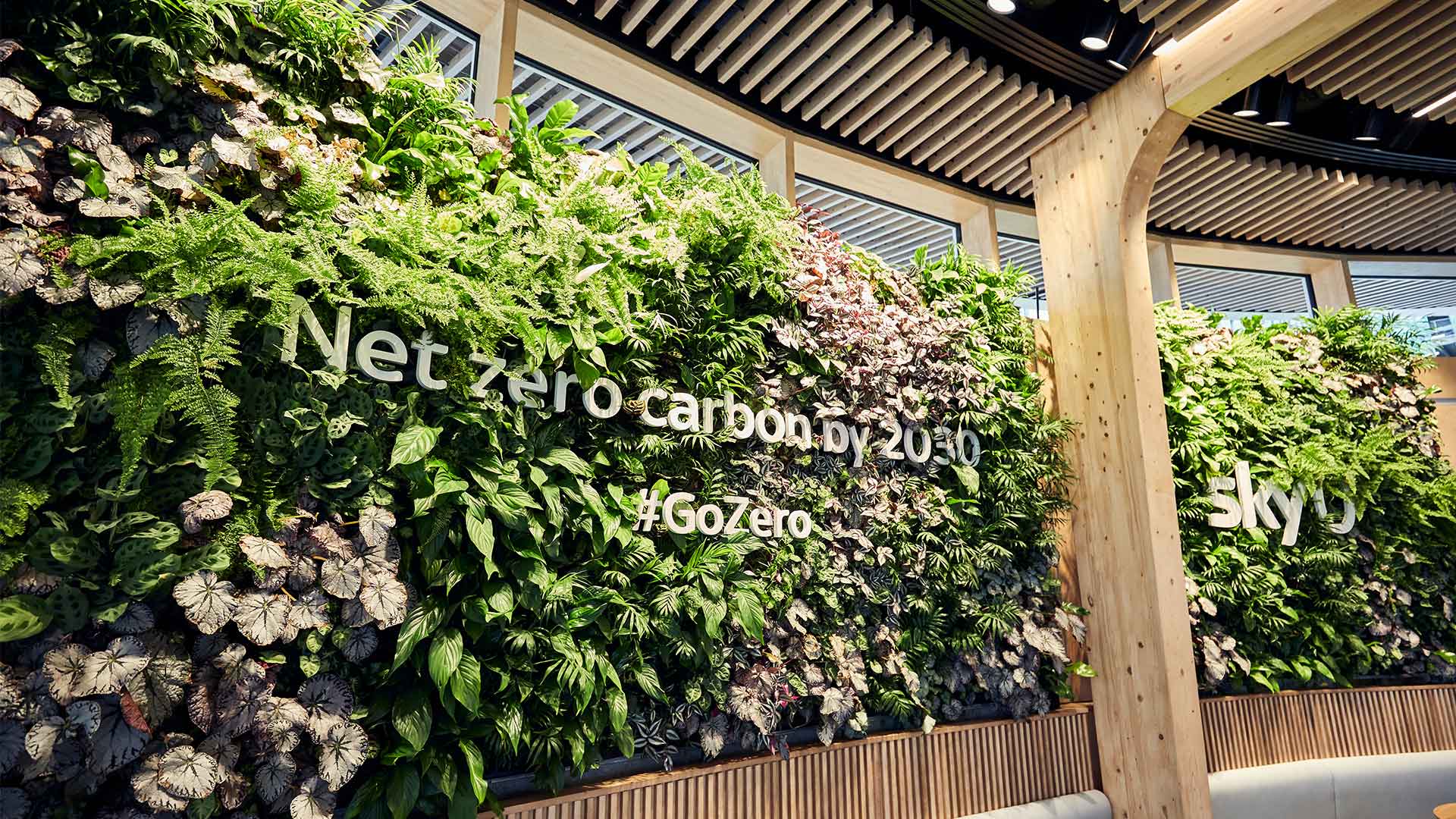 With the project now moving into the next phase of its journey, this new space can continue to inspire the next generation and allow Sky to continue the innovation it has become famous for.