A 150-year journey awaits at DB Schenker's new regional office in Singapore
ISG delivers DB Schenker's new Asia Pacific Headquarters in Changi Business Park, Singapore. The rejuvenated office features the longest wall mural in an office space in Singapore at 38 metres.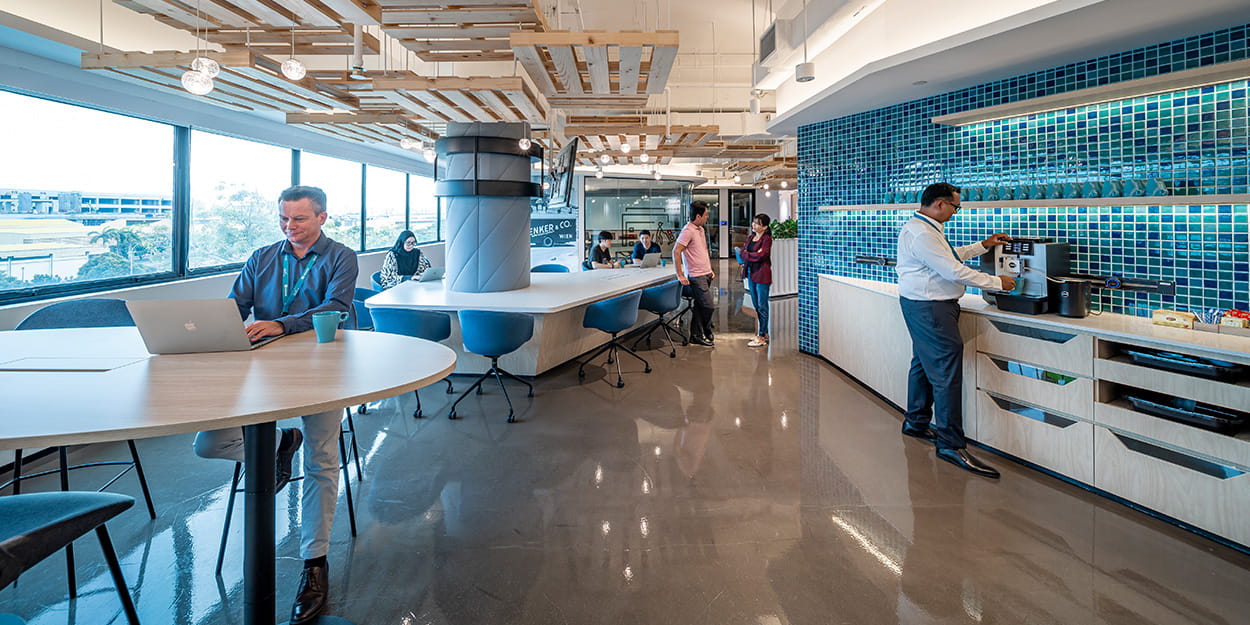 Global construction services company, ISG has delivered DB Schenker's new Asia Pacific Headquarters in Changi Business Park, Singapore. Spanning 40,000 sq ft across three levels, ISG delivered comprehensive design and build services over 17 weeks, transforming the space into a newly rejuvenated workplace that welcomes visitors and occupants with an art mural that runs along the wall of the central stairways within the new office detailing DB Schenker's 150 years of history and business milestones as a world-leading global logistics and transportation service provider.
DB Schenker supports the global exchange of goods through land transport, worldwide air and ocean freight, contract logistics, and supply chain management. The new workplace delivered by ISG embodies the company values and emphasis on teamwork, bringing DB Schenker's visual brand identity to life through meticulous and quality-driven applications to every corner of the workplace.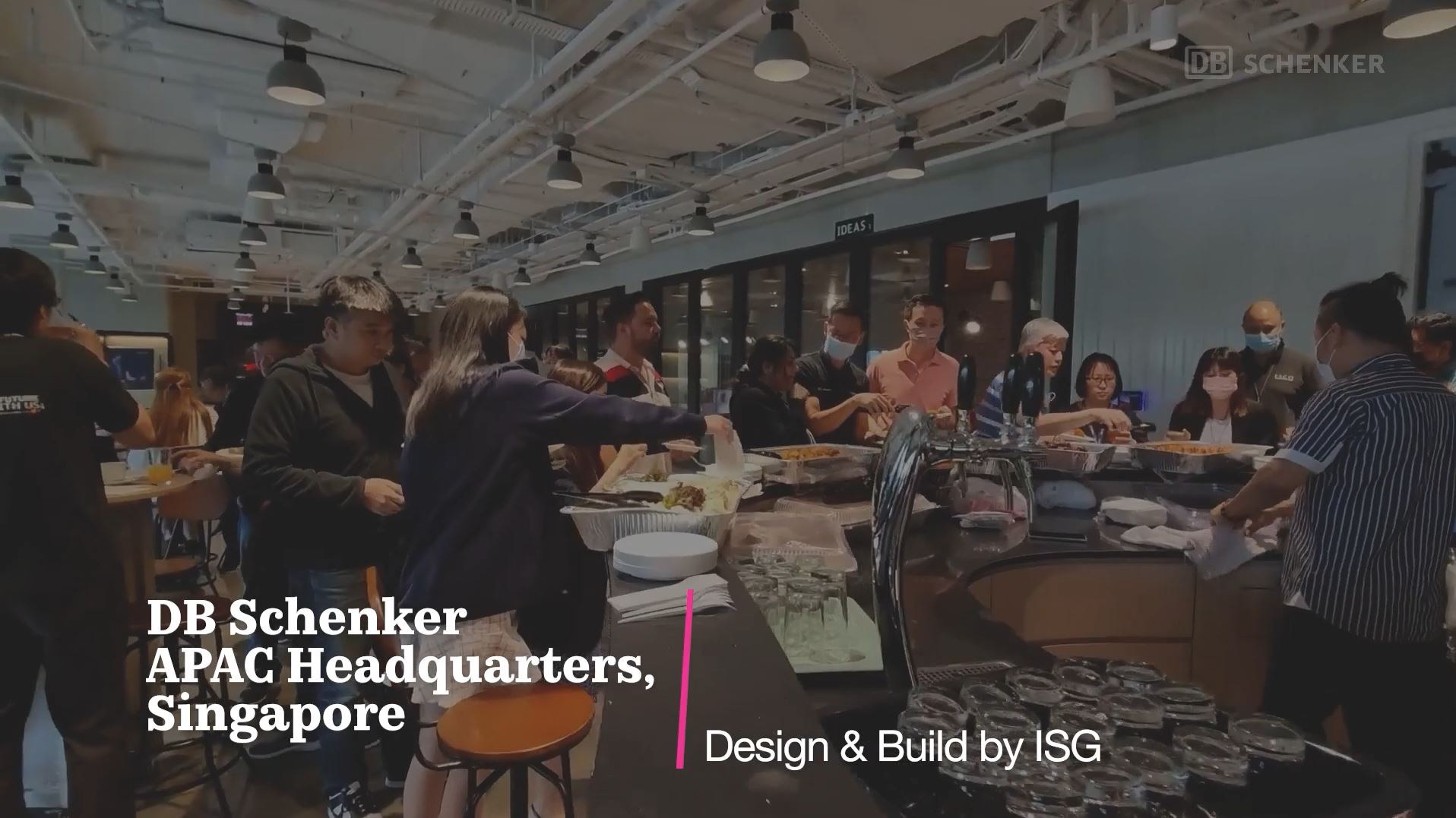 Kelvin Hon, General Manager, Singapore, ISG said, "DB Schenker, and its lead project managers Cushman & Wakefield, offered us a fantastic opportunity to deliver an exciting and ambitious vision for its workplace in Singapore. I know that this enthusiasm to strive for a successful project is shared by the client, the PMs and us, and we will continue to drive quality in shaping Singapore's built environment and delivering groundbreaking spaces for DB Schenker."
"The transition towards new ways of working is a cultural shift that is taking place globally here at DB Schenker, and the opening of our newly renovated regional office is a significant milestone for us. We are very pleased with the finished office, which was completed on time. This is definitely a workplace that we can look forward to coming into every week."

Andrew Seah, Head of Communications APAC, and New Ways of Working (NWOW) Project Taskforce, DB Schenker
"Be one team with one goal", one of six company values is incorporated into the bold illustrations in the wall mural designed by artist, Ohm Chongthanatrakol, strikingly visible to all who walk by.
Ohm Chongthanatrakol said "When I knew that the mural is going to be very long, I was really excited because it is not often that I get to have a long, continuous, and winding wall as a canvas for my mural design. With DB Schenker's rich history of 150 years since its establishment, there is ample content to feature on the wall, supported by ISG's quality fit out services. The main challenge I experienced was how to tie everything together into an engaging and enjoyable walkthrough journey into DB Schenker's story of success."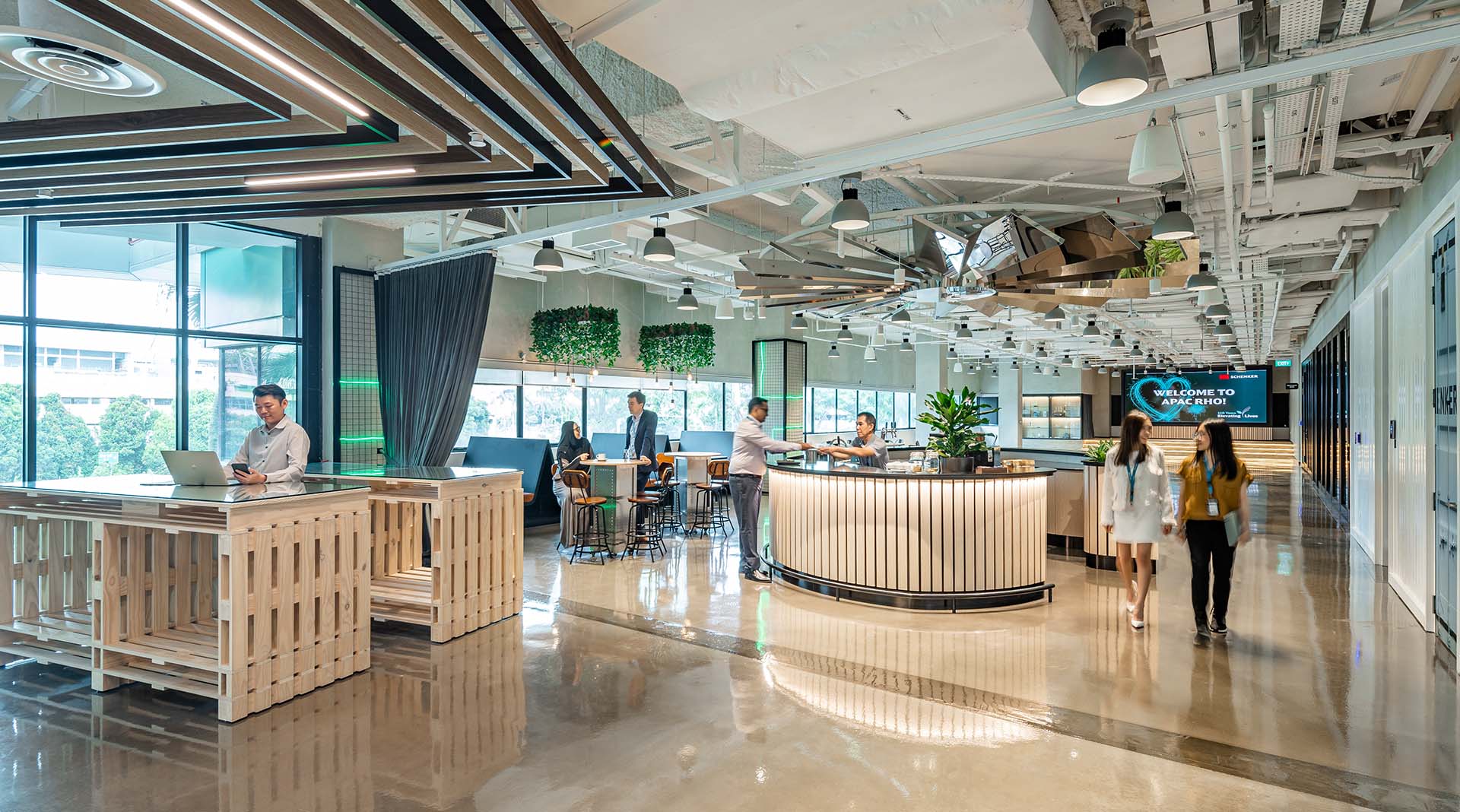 Originally refurbished 10 years ago, the new workplace now features multi-functional areas, a central communal zone, cosy break-out sections, expandable innovation space with an island bar counter, private meeting suites, quiet focus corners, collaborative areas on every floor, and a biophilic design-inspired staff cafeteria - enabling large-scale hybrid townhall sessions, movie nights and thirsty Thursday sessions that welcomed employees back to the new office.
DB Schenker celebrates its 150th anniversary this year with over 76,000 employees in about 2100 locations worldwide, and over 50 years of established presence in Singapore.
More details in the case study: https://www.isgltd.com/en/projects/db-schenker-apac-hq-singapore
For the latest updates, follow us on LinkedIn: https://www.linkedin.com/company/isg-limited/