A civil engineering perspective
We recently caught up with three of our chartered civil engineers, to get their expert analysis on the benefits of achieving a professional accreditation and what it means to them.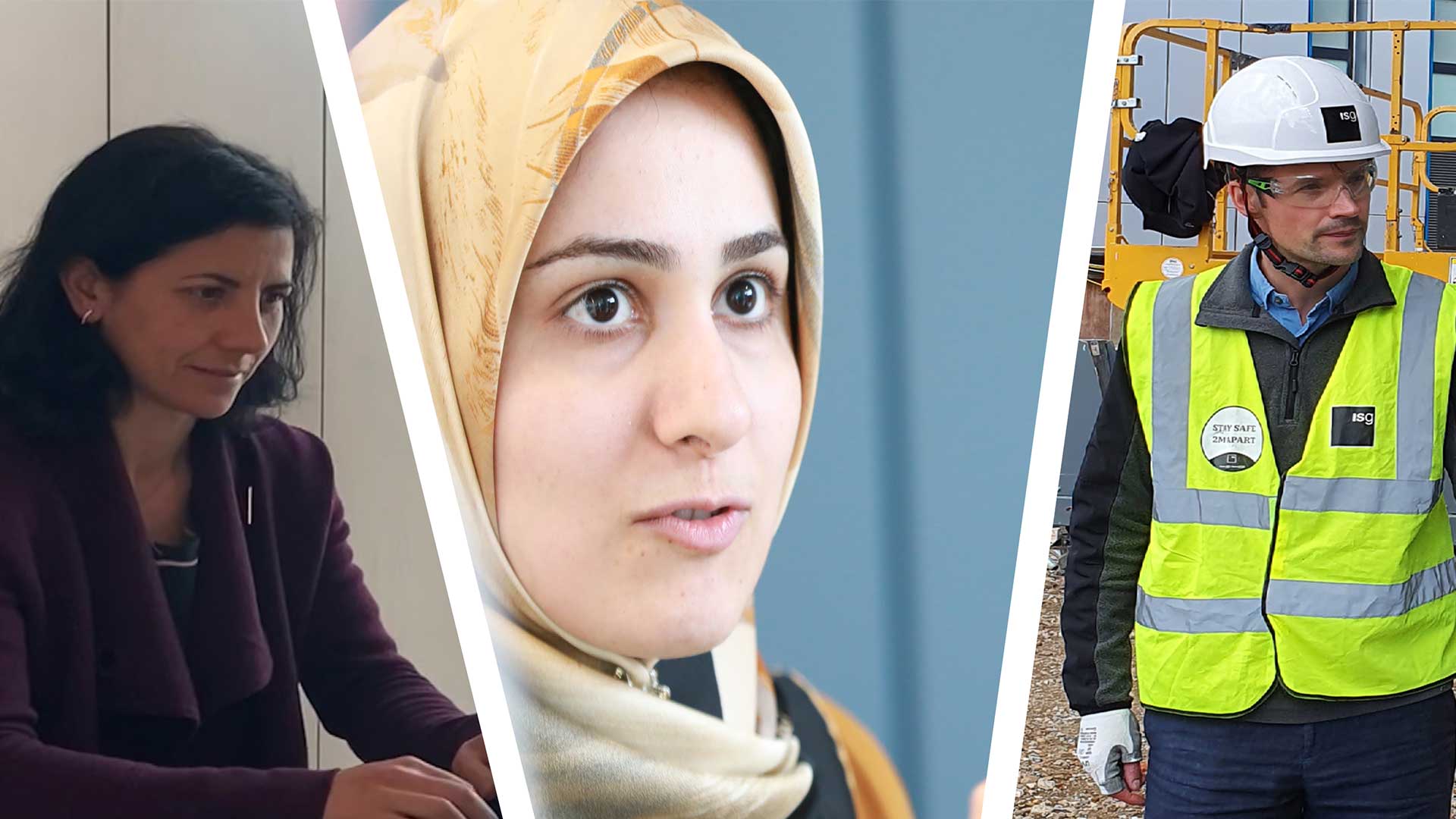 Project engineer Zahra Ghaffari, engineering manager Luisa Contini, and design manager Alex Whitworth, gave their expert analysis on the benefits of becoming a chartered engineer and what the future now holds for them.
What is 'civil engineering'?

The Institution of Civil Engineers (ICE) definition is 'everything you see that's been built around us. It's about roads and railways, schools, offices, hospitals, water, and power supply and much more. The kinds of things we take for granted but would find life very hard to live without.'
Civil engineers design, create and connect the world around us. They help make our villages, towns and cities work for those that live in them and can cover a range of different job roles.
Our engineers have worked on some iconic projects including Lord's Cricket Ground, the Icon Outlet at The O2 and the London Velodrome to name a few, and they help to design and deliver the places of the future that help people and businesses thrive.
To become chartered is to gain a specific level of skill or competence in a field of work, recognised by a formal credential from a professional body – in this case the ICE.
You've all become chartered engineers through the Institution of Civil Engineers (ICE). Can you talk through why you wanted to achieve this qualification?

Zahra: My plan since I joined ISG was to become a chartered engineer. I'm a very driven individual and gaining my professional qualification was a key goal. I had excellent support from ISG, as the business signed up to a training agreement with the ICE so that I could get the right support.
Being a female engineer in what can be seen as a male-dominated industry, I felt the chartership would give me a voice and credibility among my colleagues.
Luisa: As soon as I moved to the UK I started attending lectures at the ICE, and I was inspired by the range of topics and issues it taught. It was something I wanted to learn more about. My line manager was very supportive of my professional development and a key advocate for me to become an ICE member. I wanted my professional competence to be recognised internationally.
It has been a big milestone for me, and I have continued to build on my learning since passing my qualification.
Alex: It was mainly for personal and professional development. It also gave me the opportunity to be a part of an institute that is recognised worldwide for its expertise in construction. It has meant that I've had the chance to shape the future of construction and the projects we build.
Finally, it wasn't just about the end goal but more around the process. It helped me not only in my working life, but also taught me plenty outside of work. By becoming chartered I have improved my confidence and feel more fulfilled outside work, as this has helped to improve my work-life balance and has motivated me to continue to improve, both within ISG and in my normal day-to-day life.
"Being a female engineer in what can be seen as a male-dominated industry, I felt the chartership would give me a voice and credibility among my colleagues."

Zahra Ghaffari, Project Engineer
Can you tell us what you see as the main benefits of being chartered?
Zahra: The recognition, credit and trust I've received from my colleagues and fellow engineers. The qualification shows how hard you've worked and you are recognised as an engineer who can make decisions, be trusted, and knows their limits.
Luisa: I am now a chartered engineer in two countries (Italy and the UK) and am registered with the Italian and British regulatory bodies for engineers.
My professional competence will be recognised internationally as well as my commitment to constantly improving my knowledge. This is something that I am extremely proud of.
The process itself was also fulfilling, as it allowed me to really reflect on the wealth of experiences I have had, alongside the many lessons I have learned – both technical and all-round life experience.
Alex: Support for innovation and knowledge-sharing. It provides a platform to improve construction for new and experienced engineers, design managers and construction managers, and gives you the ability to challenge the status quo.
From a client's point of view, it is the perception that they are in safe hands. The ICE has a code of conduct related to aspects including health and safety, and sustainability; it puts these at the forefront of what chartered engineers do.
"I wanted my professional competence to be recognised internationally."

Luisa Contini, Engineering Manager
Now you are chartered what does the future look like for you?
Zahra: I'm very excited at what the future holds. This chartership has given me renewed confidence in my abilities and it is also recognised by colleagues and clients as it demonstrates that I'm competent and know what I'm talking about.
ISG has been very supportive in giving me the time and assistance to achieve my qualification.
Luisa: It will improve my career opportunities as I will be eligible for those roles where the chartership is a requirement. It's a great selling point for ISG, as it shows that our engineers are professionally qualified and that they can be relied on to provide the best service and delivery.
One of ISG's core values is 'Never stop learning', and this experience has certainly lived up to that.
Alex: Hopefully it will open doors for me to take further responsibility on ISG tenders to enhance my role moving forward. One key objective was leadership opportunities, and this qualification will now allow me to take a leading role in our already excellent engineering and design team.
I'd also say it is the knowledge-share that can only improve what ISG can offer as a whole on its projects, and it also gives me the opportunity to engage with the next generation of civil engineers.