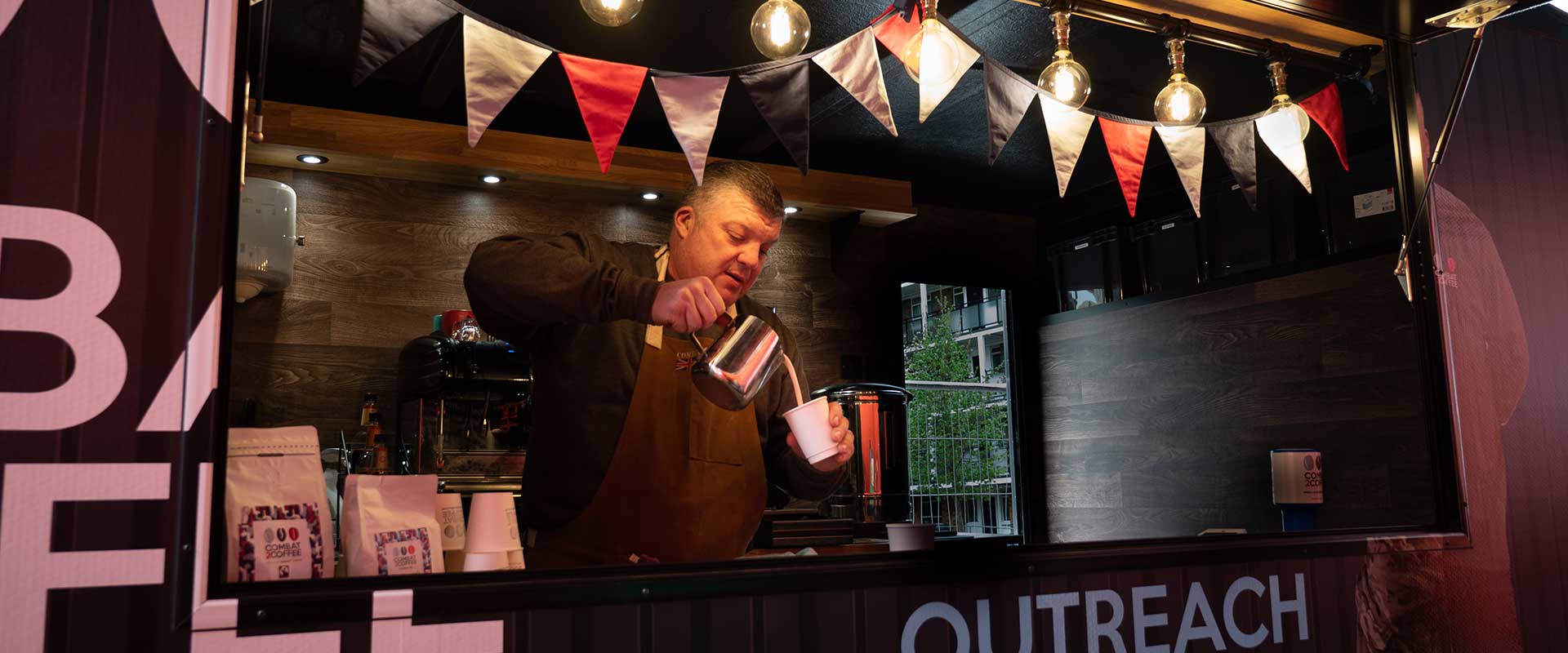 Nigel has dedicated his life to serving others; in the armed forces, as a prison officer and now as founder of Combat2Coffee.
Having been forced to retire from service on medical grounds, Nigel's life took a turn for the worse. At a point of dramatic change in his professional and personal life, he spent years struggling in silence.
It wasn't until he decided to speak out that life began to change. He was referred to a veteran's mental health charity, and joined a residential trauma course which focused on sharing experiences. Using the coffee machine in his room to welcome others and chat about mental health, Combat2Coffee was born.
Providing veteran and ex-offender rehabilitation along with barista training courses and coffee roasted by inmates at HMP Hollesley Bay, Combat2Coffee boasts a coffee shop and van that gives back to the same network that saved Nigel's life.
Nigel now focuses on another industry impacted by mental health – construction. He first met ISG at a logistics and distribution project in Essex, his coffee van giving a safe space for people to talk. With ISG welcoming Combat2Coffee to sites across the UK as part of its commitment to mental health, Nigel is helping change people's lives, one sip at a time.
Nigel has thrived in many challenging environments. Whether he's working with armed forces personnel in war-torn countries or inspiring ISG employees to open up about their mental health, Nigel is a force for good.
Beginning his career as a junior rank in 1992, Nigel's worked his way through the ranks; dedicating a 12-year career to the army. In a career filled with incredible ups and unimaginable downs, Nigel said goodbye to the armed forces in 2004 when he left to start a career in the prison service.
Nigel comments: "The army is all I'd ever known. This was a pivotal moment in my life, but I never realised the extent to which this level of change could impact my mental health in the long-term."
Leaning on the support of the army to help him into a new field, Nigel moved to the prison sector, joining HMP Hollesley Bay as a prison officer. But when a build up of mental health struggles collided with further personal and professional change, Nigel's life started to spiral, before ultimately hitting rock bottom.
"You meet so many different types of people in the built environment, but to see one person having an impact on so many – that's pretty spectacular."

Kaldeep Dhanda, Project Director, ISG
Head of ISG's central armed forces committee, business support manager, Guy Fairweather, comments: "Nigel's story really resonates with a lot of our people who have joined from the military. Being a bronze accredited business with the Armed Forces Covenant, understanding stories like Nigel's and the emotional challenges he's faced off the back of a career in the forces allows us to offer a better support system for our people."
Suffering for years in silence, Nigel's emotional breakdown forced the change he desperately needed. After being referred to veteran mental health service, Combat Stress, Nigel took on a six-week trauma live-in course to cope with the effects of depression, anxiety, and armed forces-induced PTSD.
Utilising the coffee machine in his room to invite people to have open conversations about their mental health sparked an idea. "The team at Combat Stress didn't want us shutting ourselves off ," explains Nigel. "It was then that I realised there was an opportunity to do something really powerful for other ex-veterans in my position – or anybody struggling."
So while Nigel's career saw him take on many roles in combat, it's the battlefield in his mind that inspired his coffee brand and support outlet, Combat2Coffee.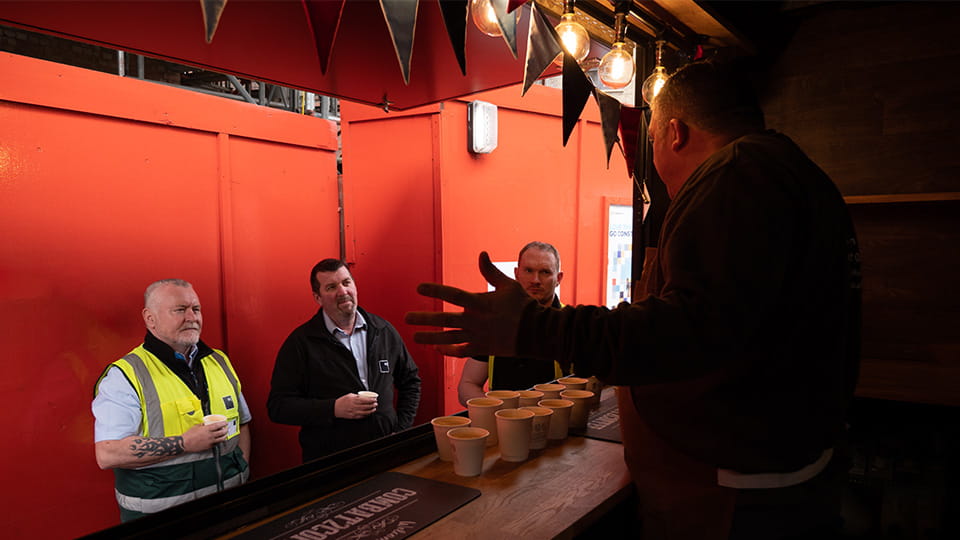 Getting support from Help 4 Heroes, Nigel partnered with his old employer, HMP Hollesley Bay, to create a coffee shop and prison-based roastery that supports mental health and employment opportunities for prisoners, ex-veterans, and those struggling with mental health – and now boasts a well-being focused coffee shop, The Coffee Cell, in Ipswich.
With coffee being the 'vehicle' that drives conversation, Nigel invested in an actual vehicle – a van – filling it with barista equipment and taking it around the country to drum up important conversations on mental health in partnership with other organisations; sharing charity support contacts on coffee bags and vocalising the struggles of his own experience with the people he meets. One of the first industries on his list: construction.
Senior social value manager at ISG, Lorraine Lane, comments: "The statistics around mental health in our industry are a difficult pill to swallow. As part of our social value objectives, we look to businesses like Combat2Coffee to support our people to be more open about their mental health."
In partnership with construction solutions business, O'Neill & Brennan, Nigel works with the head of social value, Sasha Simmonds, to form relationships with other construction firms across the UK. Sasha, who now works with Nigel's team to organise events on site, reached out to ISG's Lorraine Lane, to see if there was scope to introduce Combat2Coffee to ISG.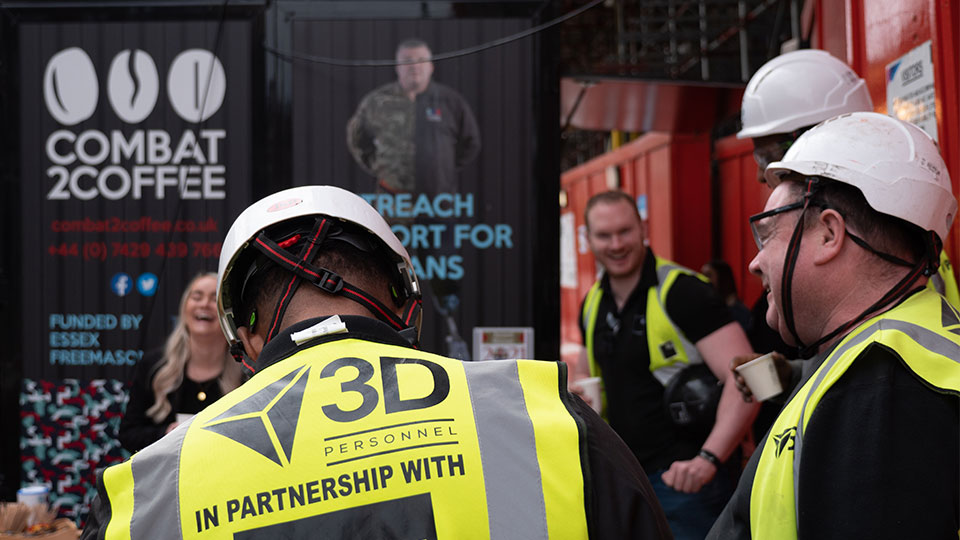 After venturing to one of our logistics and distribution (L&D) projects back in 2021, ISG's partnership with Combat2Coffee started its journey.
Visiting the L&D team from ISG's UK Retail division, Nigel set up the Combat2Coffee van on site as part of the client's drive to generate more social value through the development. The project, which started in February 2021, will see ISG remain on site for around 18 months, delivering a brand-new facility for a renowned global logistics firm.
Project director, Kaldeep Dhanda, comments: "Our client places huge focus on social value, so it's imperative for us that we deliver on the values that are important to them. Lorraine suggested Combat2Coffee and it went down immensely well with everyone on site."
"We've had such a positive experience with ISG – great engagement and at least one person on every site opening up about their mental health. There's a lot of common ground between the forces and construction, and a high percentage of ex-armed forces personnel join the built environment, so it feels like a safe environment to open up for a lot of people."

Nigel Seaman, Founder, Combat2Coffee
Since Nigel's introduction to ISG, he's travelled to a further four sites to visit people from across business units and has been in conversations with the business's facilities teams to have the HMP Hollesley Bay roasted coffee installed into machines across UK offices.
Nigel says: "We've had such a positive experience with ISG – great engagement and at least one person on every site opening up about their mental health. There's a lot of common ground between the forces and construction, and a high percentage of ex-armed forces personnel join the built environment, so it feels like a safe environment to open up for a lot of people."
Looking to the future, Nigel is on the lookout for pockets of opportunity to create more safe spaces for open conversation, and continues to support prisons by providing barista training and employment opportunities with Combat2Coffee, in a bid to help reduce the cycle of reoffending.
Kaldeep finishes: "It was great to see the positive impact Combat2Coffee had on my own site team, but it's even better to see how this initiative is flourishing across the rest of the business.
"In my experience, it's difficult to get people in our industry to open up, but Nigel's creating a web of support that's consistently growing. You meet so many different types of people in the built environment, but to see one person having an impact on so many – that's pretty spectacular."
"Nigel's story really resonates with a lot of our people who have joined from the military. Being a bronze accredited business with the Armed Forces Covenant, understanding stories like Nigel's and the emotional challenges he's faced off the back of a career in the forces allows us to offer a better support system for our people."

Guy Fairweather, Business Support Manager, ISG