Customer

LOCOG

Completion Date

December 2012

Value

£300m +

Area

120 sites/venues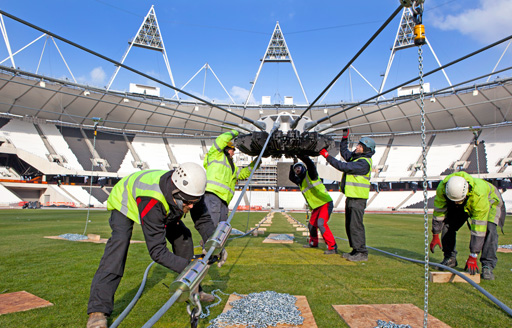 Overview
ISG's Olympic journey began in 2009 with the construction of the London 2012 Velodrome and led to the creation of the £300 million + 'event architecture' for the 'greatest show on earth' with the biggest Overlay project in the history of the Olympic Games.
As the only construction company to work on Olympic venues right across the UK, ISG delivered a six-month build programme in just over four months. The team accomplished the incredible: award-winning facilities, ahead of programme, on budget and providing a spectacular backdrop to London's glorious and unforgettable summer of sport.
Ultimately it was an amazing showcase for ISG's unique skills, not simply 'builders' but sharing the customer's vision; understanding, planning and being flexible enough to do whatever it took to deliver a successful project.
Olympic case study (PDF)
The added value
ISG quite literally topped and tailed the Olympic spectacular, from creating the infrastructure for the memorable opening and closing ceremonies, to managing wayfinding signage, timing and scoreboards, and transforming venues between events. ISG provided a 24-hour response crew throughout the Games and, post-event, ensured that Lord's Cricket Ground was ready for a test match just 13 days after it hosted the Olympic archery.
ISG surpassed targets for health and safety performance and sustainability, and delivered a complex package of high quality construction works on time and within budget. This success has been recognised globally, with London 2012 a winner in 7 out of 11 categories at the International Sports Events Management Awards, including Event Overlay & Facilities.
Project deliverables
Design and construction of the London 2012 Velodrome
Temporary site works – infrastructure and civil engineering to form the basis for venues
Fit-out of temporary venues – including 700 rooms at the Stadium alone
Non-competition warm-up and training venues
Containment – 200T at the Stadium
Tents – the largest being the Athletes' Dining Tent, which was the size of three football pitches
Temporary buildings / back-of-house facilities – including the installation of 200,000 temporary seats and the Media Village, home to 20,000 broadcasters and journalists
Hospitality facilities – catering for 4.6 million spectators on-park
Temporary services – water, power, waste management, HVAC and lighting