Customer

Royal Botanic Gardens, Kew

Procurement Route

Single stage

Completion Date

March 2018

Quantity Surveyor

Turner & Townsend

Value

£41 million

Form Of Contract

NEC Option C

Project Manager

Turner & Townsend

Structural Engineer

Ramboll

Area

57,049 sq ft

Program Duration

173 weeks

Architect

Donald Insall Associates

ME Engineer

Hoare Lea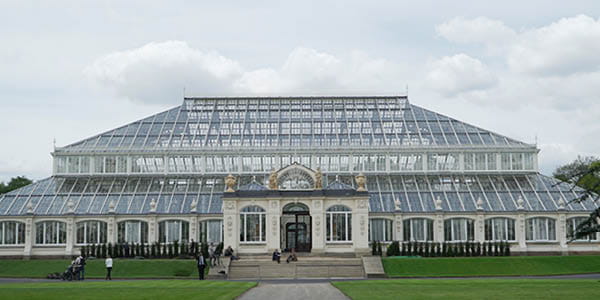 Introduction
Our restoration of the Temperate House, Kew, the largest remaining Victorian glasshouse in the world, has been successfully completed. In 2012, the Grade I listed structure was placed on the Heritage at Risk register, identified as an important building in imminent structural danger. In 2013, it closed its doors for a highly ambitious, five-year-long regeneration project, seeking to return the building to its former glory. The Temperate House reopened to a huge public fanfare in May 2018, and was described by naturalist Sir David Attenborough as "a breathtakingly beautiful space".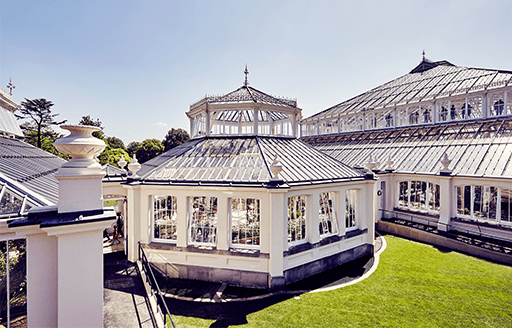 The project
Time had taken its toll on the glasshouse and the restoration has been a complex undertaking, working sympathetically with Victorian architecture and a later 1970's refurbishment under a strict heritage regulatory framework. The building has also incorporated modern technology where appropriate, an example being the paint system, with a minimum 21-year lifespan before re-coating.
Measures were also taken to improve the environmental control, optimising air flow and light levels for the benefit of the plants. Improved amenities for staff and visitors have now been provided, and the heating and ventilation systems have been overhauled, with a sophisticated new building management system and fully openable windows controlled by automated actuators.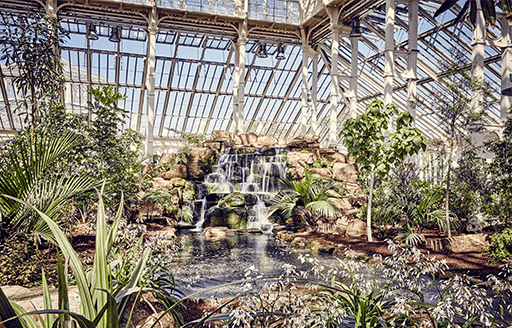 Challenges
Renovating a Grade I listed structure, on one of London's four UNESCO world heritage sites, with one vehicular access route, highlights the level of the challenge faced by the team.
Safely accessing the entire structure proved a monumental challenge, which called for an ingenious scaffold system. Linked, but structurally independent to avoid transferring any load onto the existing building, an internal birdcage and external scaffold system provided access to every single pane of glass and supported an enormous tented structure that enveloped the building. To put this into context – enough scaffolding was used to complete a full circuit of the M25 – over 120 miles in total!
69,000 individual parts had to be dismantled, logged, cleaned and stored during the project. Technology played an important role in this delivery, as the team was equipped with tablets and used coding software to register each piece's original location. In addition, every single piece of glass was replaced, totalling 15,000 individual panes, the combined weight of which was 57 tonnes.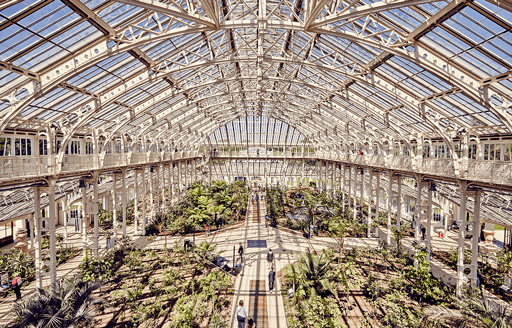 Sustainability
Environmental considerations are at the heart of Kew's strategy and a host of improvements will now protect the building fabric for another 50 years. A new heating and servicing strategy for the building utilises a new biomass boiler to provide sustainable energy, and installation of a metering system will now enable energy use to be monitored.
Community engagement lies at the heart of the new development and Kew's apprenticeship programme aims to provide young people from local areas of high deprivation with the skills, training and confidence to succeed in specialist horticultural careers. Ten young people spent a year shadowing Kew's horticultural display teams, and a further six apprentices were equipped with the skills needed to work in conservation and construction for heritage sites.