Completion Date

01/06/2011

Quantity Surveyor

Thomson Bethune

Value

£7 million

Form Of Contract

JCT Standard Building Contract with Quantities

Project Manager

Blyth and Blyth

Structural Engineer

Blyth and Blyth

Area

48,792 sq ft

Program Duration

65 weeks

Architect

Blyth and Blyth

ME Engineer

Blyth and Blyth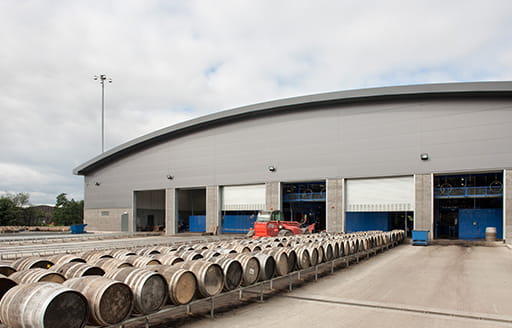 Overview
The construction of the world's first automated cooperage warehouse in Cambus, UK, has transformed the drinks manufacturing process, producing 250,000 casks a year.
Requiring a modern cooperage facility to produce new whisky storage barrels and renovate old ones, the customer can now increase productivity and ensure the new plant reduces the amount of labour-intensive manual handling the coopers undertake.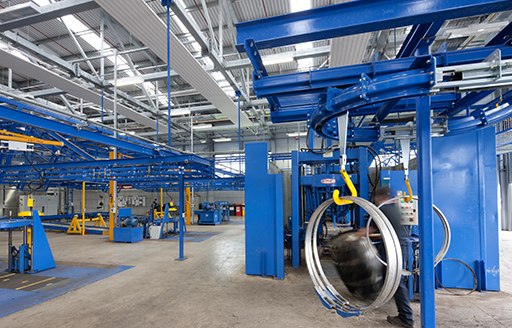 The Project
Situated in an existing bonded warehouse, the new site for the cooperage was originally used for cask storage. Prior to the main structure works, the site was lime stabilised to provide adequate load bearing. The building was future-proofed with as much clear floor space as possible for the conveyor systems and plant, and future modifications. The roof is load bearing and carries the weight of the services and suspended overhead conveyor lines.
The steel-framed single-storey building allows adjustments to be made to the barrel charring process, which affects the colour and the flavour of the final product.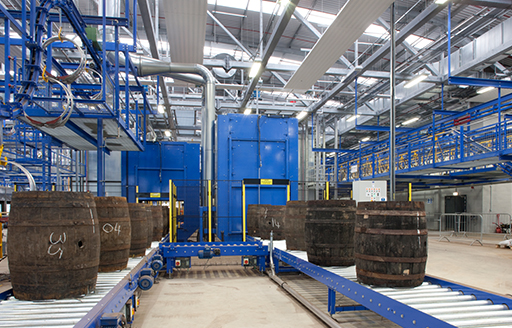 The Added Value
ISG was highly commended by both the Customer and Client Project Manager, and received a Gold RoSPA Award, for its health & safety performance during the construction process. Weekly meetings were held for all relevant parties and innovations such as altering the permit to dig system were implemented.
A key priority was allowing the Mechanical & Engineering works to advance before the specialist equipment installation began. To accommodate this, the M&E works were commenced earlier than planned and coordinated to take place at the same time as the installation of drainage and the construction of the floor and pits.