Customer

Imperial College London

Completion Date

December 2019

Value

£90m

Form Of Contract

NEC3 Engineering and Construction

Project Manager

Turner & Townsend

Structural Engineer

Curtins

Area

250,000 sq ft

Program Duration

130 weeks

Architect

Allies and Morrison

ME Engineer

BuroHappold Engineering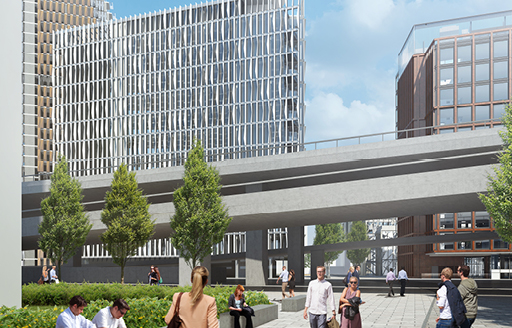 Introduction
Opened in 2020, Imperial College London's (ICL) new facility cements a space for its world-leading team to work together on the latest advancements in medicine and take healthcare to unchartered territories. Having graduated from Imperial in 1943, proud alumnus, alter mater Sir Michael Uren donated £40m – one of the largest alumnus donations ever – to construct the 13-storey building, which brings together medicine and engineering to advance treatment of musculoskeletal disorders and hip replacements, public health and neurological illnesses like dementia.
It was Sir Michael's own pioneering that discovered a waste bi-product of coal-fired power stations, ground granulated blast furnace slag (GGBS). This method retains the strength of concrete but produces a fifteenth of the emissions, reducing the building's CO2 emissions by 19,000 tonnes.
Designed to be collaborative, multi-disciplinary facility, the space provides Imperial's world-leading researchers, engineers, scientists and clinicians to drive the clinical translation of MedTech innovation through integrated clinical and imaging facilities, due to its close proximity to Hammersmith Hospital.
The project
The 14-storey arrow-shaped facility features a concrete frame structure. The nose cone, forming the apex of the arrow, will house the building's complex mechanical and electrical services infrastructure. A glazed façade with prefabricated and geometrically distinct concrete fins to two elevations will provide solar shading as well as complementing the building's striking design.
The Hub will incorporate a clinical facility side-by-side with multidisciplinary laboratories and offices for translational research initiatives in August 2029. Recently, the Hub topped out with guests in attendance including Sir Michael Uren's sons, trustees, the client, suppliers and employees.
Making it happen
Such a technical scheme situated in the heart of London – with a motorway and two other construction sites nearby – required close collaboration with the university, contractors and subcontractors. Regular communications kept the campus community informed, while noise-reducing barriers and low-noise-emitting plant helped manage disruption to the neighbouring scientific researchers and residents. Deliveries were managed effectively and holding areas prevented vehicles waiting on nearby roads.
Making a difference
Sir Michael's company, Civil and Marine Ltd, discovered a waste by-product of coal-fired power stations – ground granulated blast furnace slag (GGBS) – and harnessed its potential as a sustainable substitute for cement. GGBS retains the strength of concrete but produces a fifteenth of the emissions, helping to reduce carbon emissions at an important time for climate change.
Achieving a BREEAM 'Excellent' environmental performance rating, the sustainable positives are clear, and will create a legacy for construction delivery at ISG, and across the construction industry. Awarded an exceptional Considerate Constructors Scheme (CCS) score of 45/50, the CCS inspector described his visit as 'one of the most impressive and enjoyable among the 920+ I have carried out'.
"The Sir Michael Uren Hub is a game-changing facility that will help us 

rise to some of society's greatest healthcare challenges. We will show what is 

possible when engineers, medics, policymakers and the public collaborate on 

solutions to these problems."




 

"At Imperial, we 

consider ourselves tremendously lucky to work with such an esteemed group of 

clinicians, researchers and engineers, and we are grateful to the talented




staff at ISG who are delivering this project for us."

Professor Alice Gast, President, Imperial College London