Customer

The Great Room

Completion Date

November 2021

Form Of Contract

Main Contractor

Project Manager

JLL

Area

37,000 sq ft

Program Duration

15 weeks

Architect

Joyce Wang Studio (ID)

ME Engineer

Bescon Consulting Engineers
ISG has successfully delivered high-quality fit out works for The Great Room, one of the best co-working space operators in Asia, famed for its unique hospitality-inspired design ahead of hotel and office trends. Occupying 37,000 sq ft across three floors of newly completed Afro-Asia i-Mark, a 19-storey Grade A office development in Singapore's central business district, the new space was transformed into The Great Room Afro-Asia, the company's largest coworking location in Singapore within a fast-track programme of just 15 weeks.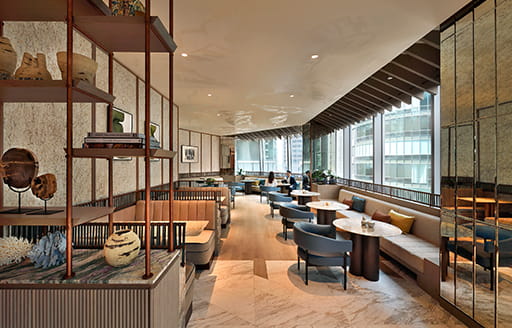 The project
ISG provided full fit out works including the installation of a custom-built internal staircase, interior finishes, slab demolition, custom joinery and electrical and plumbing (MEP). The highly specified fit out works involved a top-level critical infrastructure and thoughtful planning in the design to ensure the project is delivered with unmatched quality.
The space consists of a concierge section cum cafe, a discerning selection of workspaces from hot desks, on-demand executive offices, meeting rooms, phone booths to elegant event spaces - perfect for after-hour parties and social activities. A dedicated wellness room completes the dynamic space, providing a holistic experience to all occupants; very much in line with the now deeply-ingrained ethos of The Great Room – it's all work. It's all play.
"We are very thankful to have ISG onboard to manage every aspect of works onsite, and coordinate with the designer, suppliers and vendors in different countries. Frankly, we experienced quite a few hurdles with the ongoing Covid-19 situation globally, and it impacted the project timeline. However, the ISG team was able to come up with alternative solutions, and worked together with all parties to see things through crucial project milestones.



The team was always present, at times going further by for instance, providing additional design mock-ups at critical stages. This helped us make more informed decisions on unanticipated changes. People tend to say they can deal with Covid-19. However, when things actually happen, it's really the ability to think out of the box, mobilise resources in spite of constraints, and obtain buy-in from all involved, that counts.

This, ISG has delivered, very professionally."                                                                                                      

Angela Chin, Cost Management & Procurement Lead, The Great Room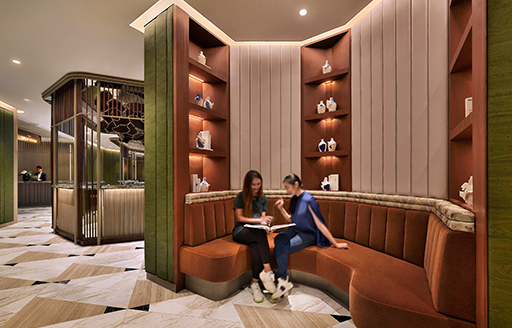 A distinct design with a touch of luxury
The Great Room, Afro Asia is envisioned to be a treetop sanctuary and ISG's fit out works played an intrinsic role in realising this design vision, with locally sourced marble from Hafary Holdings, and sustainable cork wallpaper laid atop the floors and walls of the newly fitted out space - all meticulously curated by The Great Room.

Key features that lend distinctiveness to the space include gradient mirror glass incorporated at Level 8 Stateroom, custom built staircase with aged copper finish, stencil art ceiling, special texture paint and antique mirror cladded walls.
Challenging the status-quo
Shifting Covid-19 measures, entailing restrictions and fluctuating manpower due to quarantine order were key challenges in delivering this project in a fast-track programme. The ISG team engaged additional manpower, and proactively ensured consistent and timely communication with the Hong Kong based interior designer and 29 direct vendors to resolve project issues and deliver on point at every project milestone.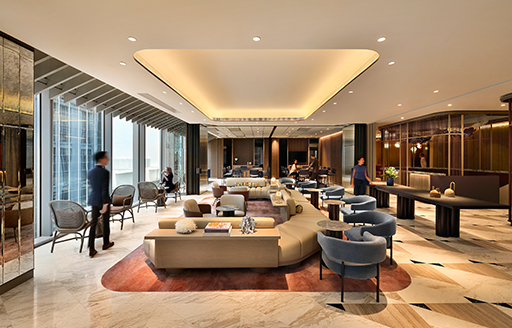 A focus on sustainability
The Afro-Asia building has attained LEED Platinum and Green Mark Platinum rating, the highest accolade for sustainability awarded by the Building and Construction Authority.
An energy-efficient chilled beam system is also built into the ceilings of all three levels, using water to transport energy to cool down occupied zones. Unlike conventional systems that uses all-air supply for fresh air and cooling purposes, this innovative system consumes comparatively less energy, and takes up less space for cooling purposes.