Customer

Cheshire Fire and Rescue Service

Procurement Route

Framework

Completion Date

March 2017

Value

£7.8m

Form Of Contract

JCT Design & Build 2011

Project Manager

IKG Consulting

Structural Engineer

BWB

Area

145,313 sq ft

Architect

TACP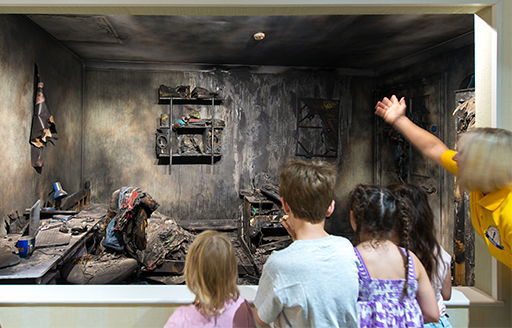 Introduction
The specialist centre brings safety and life skills topics to life through sensory tours, helping people from all walks of life, young and old, to stay safe in their own homes.
Learning takes place in a series of purpose-built indoor scenarios designed to be realistic, immersive and interactive, including:
a life-size three-bedroom house
a typical Cheshire A-road meandering through an urban and a rural setting
a courtroom, cyber-safety classroom, shop and police custody suite
a farm, railway station, urban park, forest, canal side and open water
an immersive virtual learning zone
It is also a working station with five bays, staff quarters, yard and fire training tower, as well as an advanced training facility.
The project
BIM software and tools were used throughout the build process and proved vital in the pre-construction phase.

The team shared 3D models – via collaboration portal, Conject - almost weekly, enabling the team to spot and rectify design anomalies before the construction phase.

This ensured the scheme was completed on time and to budget.
Sustainability
The project supported the Prince's Trust Team Programme, hosting a site visit for young people in the local area with an interest in construction careers. They spent time with the site manager discussing the programme, site roles and responsibilities, and how they could strengthen their CVs for future job applications.
An employability skills workshop was also delivered at the client's Warrington station.
The 12 apprentices working on the project were tasked with creating one of the scenarios in the immersive streetscape. They delivered a simulated, but realistic, building site scenario to teach visitors about site safety. This was provided free of charge to the client.
"Early engagement with the supply chain enabled ISG to explore value engineering options to help reduce costs. The client was impressed with all options presented to them and were able to proceed without compromising on the design quality. This extremely complex and unusual building has been delivered on time and to budget very well by ISG."

Iain Gammack, Project Manager, IKG Consulting