Customer

Glasgow Housing Association

Procurement Route

Negotiated

Completion Date

September 2012

Quantity Surveyor

Glasgow Housing Association

Value

£7.6m

Form Of Contract

PPC 2000

Project Manager

Glasgow Housing Association

Structural Engineer

Charles Scott & Partners

Program Duration

65 weeks

Architect

Pozzoni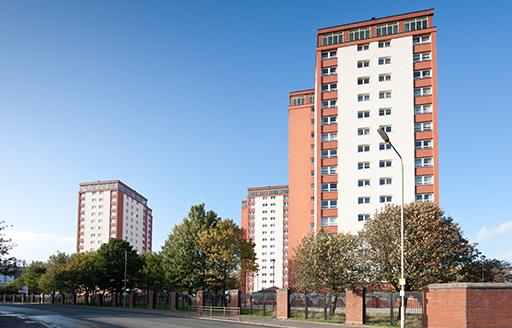 Overview
The render on 13 of Glasgow Housing Association's (GHA's) high rise blocks had started to blister. It was identified that this failure was due to a lack of water permeability in the top coat, which caused water to build up.
ISG was employed to replace the damaged render with a new system, designed by Alsecco, and to make repairs to the fabric of the blocks. Extensive tests and investigations were carried out and the new system was approved by BRE and vetted by three independent consultants.
The new system not only resolves the issue of the failed render, it improves the appearance of the high rises and has the added benefit of making them more energy efficient.
The project
The 13 high rises, which range in height from 15 to 24 stories, are situated across four different sites in Glasgow. The works were carried out by the use of mastclimbers, which were erected in 1 m high sections up the length of the entire building and secured to it at set intervals.
Initially the sites were surveyed, including a dilapidation survey to identify the scope of the works and a strength test on each building to determine the type of fixings required. Once the existing render had been removed and the fabric repairs had been carried out the new system could be applied.
The system used at GHA consisted of a series of layers of different materials, which were an adhesive mortar, two applications of a durable base coat render, a layer of glass fibre mesh, further layer of base coat render and a finishing layer of top coat render.
The added value
The project impacted on circa 1,200 residents as the blocks remained fully occupied and our customer care manager ensured that residents were kept updated on the progress of the works and held regular feedback sessions on each site.
Render was trowel applied to the walls and the risk of wind driven material could not be eliminated completely. To avoid excessive splash back wind levels were closely monitored and works halted in unsuitable conditions. A specialist car cleaning company was available on site to remove any spray quickly.
During high winds which caused damage across the city, the team worked quickly to minimise the impact. Areas were cordoned off and cars moved to avoid flying debris. The site was secured and objects tied down. The customer commented that they were pleased with our performance at this time in avoiding further damage