Customer

Catapult

Procurement Route

Bespoke PCSA

Completion Date

November 2014

Quantity Surveyor

CBRE

Value

Confidential

Form Of Contract

JCT Design & Build 2 stage

Project Manager

CBRE

Structural Engineer

Lucking & Clark

Area

16,000 sq ft

Program Duration

15 weeks

Architect

Nicoll Russell Associates

ME Engineer

TAP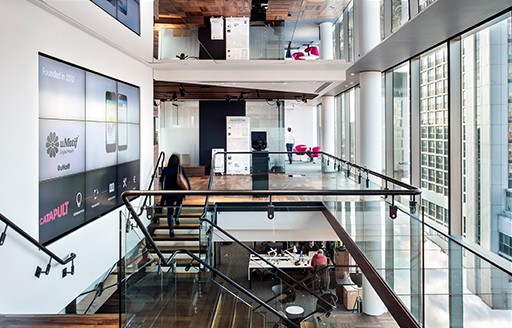 Introduction
Named one of the "Coolest places to work" by the Guardian, the Digital Catapult Centre in London has been created to help UK businesses unlock value from sharing data in faster, better and more trusted ways, transforming innovative digital solutions from start-ups into marketable services and products.
ISG's Engineering Services team delivered the Centre's fit out working alongside architects Nicoll Russell Associates and project manager CBRE, while structural and services engineering was provided by Lucking & Clark and TAP respectively.
Explore Digital Catapult
Working closely with the Digital Catapult Centre, ISG has developed an interactive app which lets you take a tour of the Centre from wherever you are in the world. Using 360 degree photography and video, you can uncover the story of the Centre, for which ISG delivered the fit out, and what drove its inspiring design.
Virtually experience the unique Digital Catapult Centre by downloading the app for iPhone, iPad or Android.
Explore our virtual app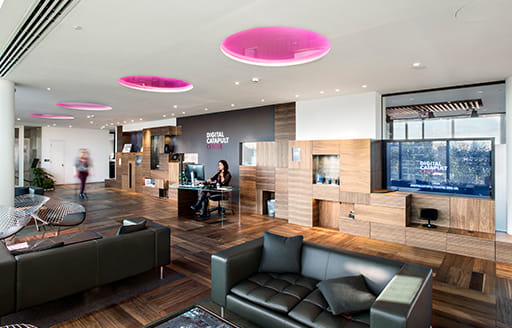 The project
The Digital Catapult wanted the centre to reflect the values of the organisation: open, agile and designed to promote collaboration. The tech sector evolves at such a rapid pace, so the project team worked together to create a contemporary space that would be as future-proofed as possible.
Occupying the eighth and ninth floors of 101 Euston Road, the Centre is located opposite the British Library and close to the Victorian Gothic splendour of St Pancras International station. It is in the heart of London's emerging Knowledge Quarter and in close proximity to many other organisations which play a part in helping to increase the value of knowledge sharing, research and technology.
As a showcase for the best in UK digital innovation, the Centre required spaces which could be manoeuvred to accommodate new configurations and technologies. It needed to function as a fully-flexible showcase and gallery facility while retaining the modularity to adapt to the changing requirements of occupants, installations and future innovations.