Customer

Orwell Housing Association

Completion Date

March 2013

Value

£10.8m 

Area

110,438 sq ft

Program Duration

97 weeks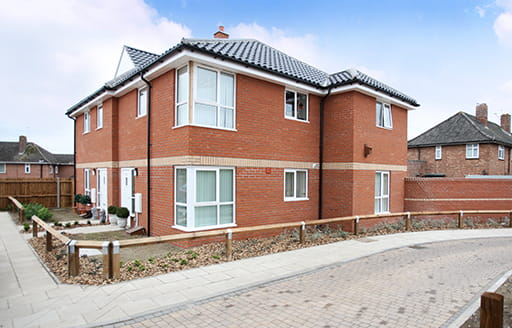 Overview
This project, covering 18 individual sites, was part of Norwich City Council's city-wide urban regeneration master plan. The scheme comprised the construction of 112 new dwellings on former garage infill sites across the city.
The project
The affordable homes are a mix of flats (57) and houses (55) and all were built using off-site manufactured timber frames, with a number of the properties boasting roof-mounted photovoltaic cells and rainwater harvesting and re-use systems.
Geographically disparate, the new homes have all been designed to reflect the surrounding built environment. Each individual development features specific architectural façade treatments to blend in with existing nearby properties.
Sustainability
As part of a commitment to skills and training, ISG created a number of employment opportunities within local communities for the duration of the projects.
The homes were designed to achieve a Code for Sustainable Homes 'Level 4' environmental rating. Whilst on site at Bowers Avenue, SMART metering was used within the site accommodation. This ensured that energy usage was automatically recorded and communicated via hand held display units, enabling energy usage to be controlled, and identifying and eliminating waste. By reviewing site consumption and cost, the site saw a significant reduction in energy consumption.
The flats on Exeter Street (since named Shetland Place) were awarded a Commendation Design Award by The Norwich Society, in the category of Residential Grouped.