The show did go on for the Women in Property Midlands Student Awards with a night of virtual celebrations
Women in Property was not about to let social distancing get in the way of holding its Midlands Student Awards 2020, sponsored for a second year by ISG.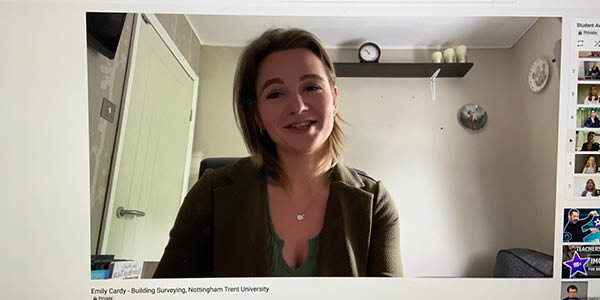 Women in Property was not about to let social distancing get in the way of holding its Midlands Student Awards 2020, sponsored for a second year by ISG.
In June, families, friends and professionals from the built environment industry all celebrated the achievements of nine talented regional student finalists…via the medium of Zoom.
The National Student Awards programme was established to seek out our top built environment students and raise awareness of the many amazing and diverse career opportunities available.
Emily Cardy was announced as this year's winner, nominated by Nottingham Trent University where she is currently studying building surveying.
The judges were glowing in their praise, describing Emily as 'confident, an excellent candidate, very professional, impressive and knowledgeable, an inspiration from the moment she set foot in the room.'
ISG is also delighted to announce that Emily has now joined the organisation as an assistant site manager with its Midlands business, initially working part-time during her final year at university, before moving into a full-time role following her graduation.
Emily said: "I am delighted to have won this award and to secure a role with ISG.
"The experience has made me realise that I should believe in myself and has encouraged me to share my experiences with people that may not believe they can do it.
"It doesn't matter what age, or gender you are, or what background you have, if you have a passion for property then the industry will want you!"
Wayne Flannery, regional director of ISG's Midlands business, was the event keynote speaker.
He is passionate about changing the conversation about construction, attracting talent with innovative and creative skills along with diversity and fresh thinking, to reflect clients and communities today.
Wayne commented: "Celebrating excellence, innovation and creativity in our industry's future pipeline of talent has taken on even greater resonance during these unprecedented times.
"Our sector's ability to provide agile and responsive solutions, when they were most needed, demonstrates the skills and expertise found in abundance within the built environment.
"The pace of change in our industry, over the past two months, has been rapid, further accelerating the clear direction of travel for our sector, with technology and digitalisation at its core.
"For Emily, and all of our finalists, this is a transformational time to forge a construction career, and an incredibly exciting prospect for the future vibrancy and direction of our industry, as we attract the brightest and best minds to grapple with the most important generational global infrastructure and built environment challenges."
Emily wins a cheque for £500, a trophy and access to Women in Property's acclaimed mentoring programme. She goes through to the national final, which is due to be held on 16 September.
ISG congratulates Emily on her win and we all wish her luck in the national final; before then the regional team is looking forward to working with Emily and supporting her continued development.