What does the future workplace look like in a world post-COVID-19?
The latest iteration of our digital Smart Series events explored the impact of human behaviour on the workplace and what it means for businesses and their people in a post-COVID-19 world.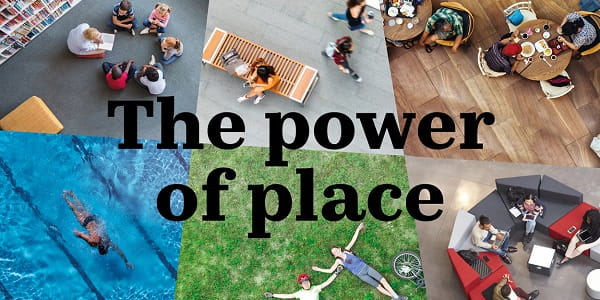 ISG welcomed over 250 leaders, experts and specialists from across the construction industry and beyond for the latest iteration of our digital Smart Series events, which explored the impact of human behaviour on the workplace and what it means for businesses and their people in a post-COVID-19 world.
Featuring a panel of leading workplace experts chaired by ISG chief marketing officer, Richard Hubbard, the thought-provoking debate centred around how significant shifts in human behaviour, brought about by COVID-19, have disrupted the landscape that businesses operate in, while considering what we can do to respond.
At the heart of the debate was ISG's 'The power of place' research report, a report which reflects insights from employees across a wide range of sectors both pre- and post-COVID-19.
With COVID-19 shining a light on the importance of place and connectivity in supporting wellbeing, Lee Phillips, managing director of ISG's UK Fit Out business, is confident that the role of the physical workspace will be redefined as we attempt to attract people from their homes back into the places that deliver value for people and communities.
"A blend of office and remote working is key," he said. "The workplace won't strictly be where 'business as usual' work gets done five days a week, but it will be a space of collaboration, connection and an overall brand experience for employees."
BT workplace construction projects director for property and facilities services, Phil Hobbins, shared that BT is focussed on injecting agility and flexibility into their workplaces, providing friendly environments that nurture problem-solving, one-to-one collaboration and embrace creativity as a product while facilitating "moments that matter".
"We have to be inspiring and inviting," he said. "We've got to encourage people to come back to the office and provide the home comforts, hospitality and tools to enable a change in culture."
BT isn't alone. Caroline Pontifex, director of workplace experience at KKS Savills, said that many employers are looking to use space more creatively.
"The challenge for us as workplace providers is, how do we allow spaces to flex and navigate capacity, so spaces aren't overpopulated or empty depending on the time of week," she said. "Some organisations are broaching the idea of sharing workspace with other businesses, and we're seeing employers prioritise rebalancing interactive space with focus space."
For on-site construction workers, of course, there hasn't been a remote working option during the pandemic. Build UK chief executive, Suzannah Nichol, said that with clear guidelines, sharing best practice and a learn-as-you-go approach, construction quickly found its groove – something we can learn from as we start to go back to the office.
"We'll start to think differently – we're going to be smarter about what we need from offices," she said. "It's less about attracting people back, and more about how we keep them in that environment."
ISG's findings show that the majority of employees` would prefer a balance of 2-3 days a week in the workplace – and in fact reported slightly more time than employers have suggested would be optimal for productivity.
With quality home workspace hard to come by, a lack of social connection and, particularly for younger generations, the links between the physical workspace and building a personal brand, this didn't come as a big surprise to our panellists, who noted the importance of finding balance if we are to achieve positive workplace results for employers and employees alike.
Phil speculated that a more flexible work approach may be the catalyst behind people moving away from major cities in the wake of COVID-19, touching on the potential for regional hubs, while Caroline shared that many businesses are starting to analyse their geographies, reporting a rise in interest in co-working spaces located in suburbs and smaller towns.
Lee was confident that, with the war for talent still a top priority, and with ISG's data highlighting that over 30% of employees would be more likely to leave their employer if they didn't receive their desired work flex balance, forward-thinking companies will look to create spaces that appeal to the world's most diverse and talented people – and location is important in that.
"We now have an opportunity to explore how companies could pursue operations in other regions," he said. "I believe there could be a shift in employer sentiment, and employers will begin to see the benefit of following employees rather than the other way around, ultimately opening themselves up to both talent retention and attraction."
So, the million-dollar question – what will the future workplace look like?
Health and wellbeing will be vital, concluded Caroline: "More outdoor space, natural light and making the workplace different from home will be needed to draw us back in."
Suzannah would like to see our cities and towns repurposed post-COVID-19, with the ultimate aim of better, more balanced lives, and a more sustainable future: "I'd like to see where we live and work come closer together so that we see less commuting, healthier work-life balances and, overall, a healthier environment."
For Phil, and BT, the workspace must work harder for people in order to give them the right experience going forward: "The right experience is reliant on the design of the workspace – the colour, lighting and aspects of the home environment – and we've also got to get connectivity and flexibility right. We need to change our behaviours and look at a blend of viewpoints for both people working at home and in the field."
One thing's for sure, with far-reaching challenges and opportunities continuing to emerge from the pandemic, we have a real opportunity to define what the future workplace looks like in a post-COVID-19 world.
The full ISG Smart Series webinar is available to watch below: