'Super Six' from ISG make finals of Construction Manager of the Year Awards 2021
#TeamISG is up for six awards at this year's Construction Manager of the Year Awards.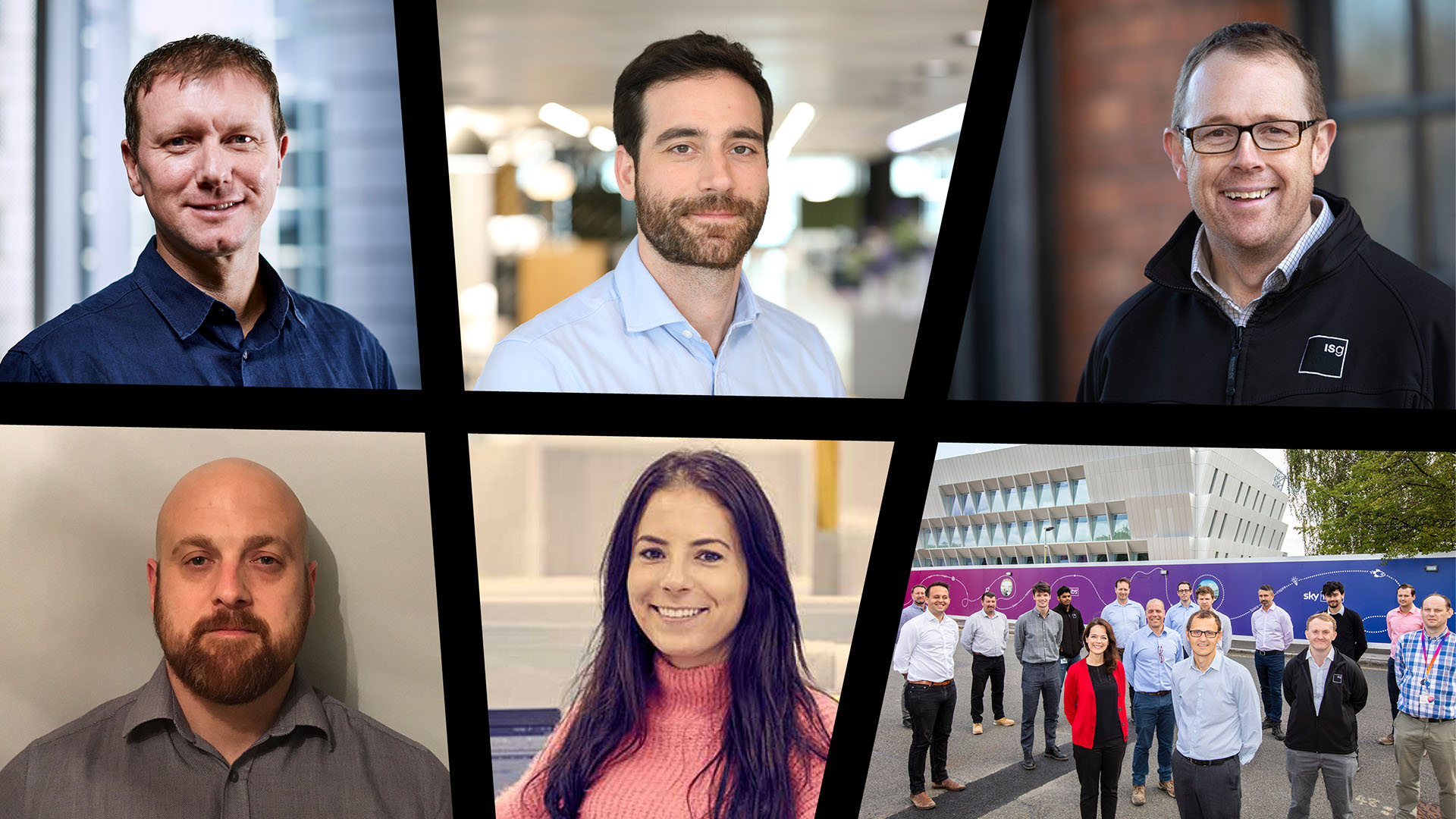 Jon Clayden, Jack Pitt, Liam Davies and Mark Gibson have been shortlisted across 'Accommodation over 4 storeys', 'Higher education' and 'Public and leisure' categories, whilst Magda Miazga has been shortlisted for the 'Rising Star' accolade and our Sky Labs project team for 'Team of the Year'.
The CIOB's UK awards celebrate those who go above and beyond to deliver buildings that make a positive impact on the lives of the people who use them. The award ceremony will be held on 29 September at the Grosvenor House Hotel in London.
Our finalists
Jon Clayden, Senior Project Manager in London, has been shortlisted for the 'Accommodation over 4 storeys' category as he led the successful delivery of The Chimes project in Westminster, for client Lifestory. A demanding project logistically, situated in London's city centre, Jon's leadership, and innovative thinking ensured that The Chimes project was delivered with an outstanding 97% client score.
He attributes this to the collaboration he instilled within the team, including the client and consultants, his drive for the highest of standards in quality, and health and safety management.
"We are absolutely delighted with the holistic-level quality and finish of the project. The Chimes has set a new precedent for technical integration, commercial brinkmanship and finish. I cannot express my gratitude for your steady guidance leading Lifestory here."

Tony Goldsby, Senior Development Manager, for Lifestory
We have two shortlists in the 'Higher Education' category, with both Jack Pitt, Project Manager, for the Sir Michael Uren Hub at Imperial College London (ICL) and Liam Davies, Senior Project Manager, based in the Midlands, for the University of Wolverhampton, School of Architecture and the Built Environment (SoABE) scheme.
Jack was commended for delivering the fit out of the additional laboratory and office space for the Sir Michael Uren Hub at Imperial College. Jack attributes successfully project delivery to ensuring that lessons learnt from the shell and core construction completed in late 2019 were implemented, and that exceptional quality was achieved.
Delivered within a tight deadline and in a live and operational building during the pandemic, Jack was driven to overcome obstacles to ensure the ICL Department of Infectious Disease Epidemiology and UK Government's Covid-19 response team could continue to carry out vital research into a global vaccine for the virus.
Liam was recommended by our client, the University of Wolverhampton, for this year's CMYA awards following his leadership in delivering the SoABE project.
Having studied Construction Management at the University of Wolverhampton Liam has come full circle and returned to his old university stomping ground, as part of the ISG team which transformed a derelict brewery into the new School of Architecture and the Built Environment.
Procured through the Pagabo Framework and recipient of the 'best project above £15m' at the Pagabo awards, the new building, designed by Birmingham-based Associated Architects, was the latest addition to the University's £100m investment in a new construction excellence campus.
Liam is now back on site at the university as he leads the delivery of the new National Brownfield Institute (NBI) building.
Mark Gibson, Senior Site Manager in the North West, was shortlisted in the 'Public and Leisure' category for the pivotal role he played in the delivery of a new, state-of-the-art facility for Cheshire Fire and Rescue Service.
Mark applied his extensive knowledge of the sector, along with his experience of complex temporary facilities, to ensure success on a project procured via the North West Construction Hub framework. Leading from the front, and despite the ongoing pandemic, Mark and his team have helped to raise the standard of fire rescue in Chester, with a better working environment for staff and enhanced facilities for community engagement, better suited to the practical needs of a modern fire service.
'Rising Star' category
Magda Miazga, Construction Manager based in London, has been shortlisted for the 'Rising Star' category as she continues to demonstrate her technical and managerial development in the early years of her career.
Magda has been overseeing significant structural elements on a project for ISG in London involving a new school, sports hall and a 14-storey residential tower. Magda is also working towards being an Incorporated Engineer with the Institution of Civil Engineers (ICE) and undertakes additional learning in her free time over and above ISG's extensive training programme.
Having come through our Early Careers graduate scheme, Magda's rapid development and her willingness to take up greater levels of responsibility, has seen her rise to a Construction Manager, in just two years since completing the scheme.
'Team of the Year' category
Our Sky Labs project team has been shortlisted for the 'Team of the Year' award as they continue to deliver Sky's new innovation centre, at their campus.
The innovation centre is being delivered with a significant focus on driving down embodied carbon, reducing waste through prefabrication and efficient design, and ensuring materials are responsibly sourced. One hundred percent of construction waste will be diverted from landfill, and ISG will be working alongside the supply chain to eliminate single-use plastic packaging during the construction phase. This is all part of
Sky's commitment to become Net Zero Carbon by 2030, two decades before the Government's target.
Sarah Bentley, Programme Head for Sky said: "I have worked with ISG's team at Sky since the project commencement in December 2019 in my role as Programme Head in Sky's Workplace Team. I have witnessed a very capable and enthusiastic team from the start with an open, honest and supportive culture clearly visible. They have taken time to understand my key objectives and strategic drivers and work consistently as a team to support me in achieving my own project goals. They have brought a shared and open approach to problem solving for the benefit of the whole project.
I'm looking forward to continuing to work with ISG to the successful completion of this project; and hope that they are as proud of all we have achieved as a team, as I am".

Sarah Bentley, Programme Head for Sky
We would like to wish all of our shortlists the very best of luck for the awards in September.