Open for business – ISG opens its site doors for a third year in a row
In March, our UK construction sites opened their doors to ten of our ground-breaking UK projects in support of the industry-wide initiative, Open Doors 2019.
15 April 2019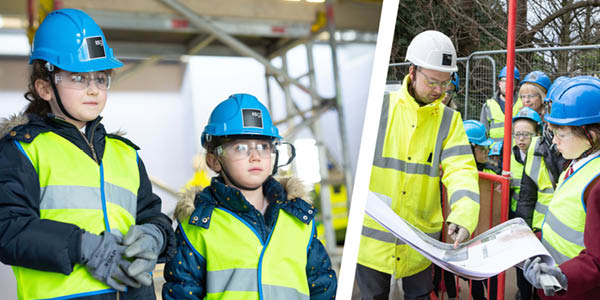 In March, our UK construction sites opened their doors to ten of our ground-breaking UK projects in support of the industry-wide initiative, Open Doors 2019.
This year we saw an impressive increase in our site visitors from 2018, with 180 people from a range of different disciplines participating in this year's initiative – our highest ever.
Led by Build UK, in partnership with the Construction Industry Training Board (CITB), Open Doors aims to inspire people from all backgrounds to pursue a career in construction.
The initiative is a unique opportunity to go behind the scenes of 'live' major construction sites and learn more about the diverse range of skills, professions and roles that are available in the industry.
Interested in how the week played out? Here's our recap from across the UK…
London
The Engineering Services team kicked off this year's initiative by welcoming twelve 16-year old students from London Design and Engineering UTC to Imperial College's Sir Michael Uren Biomedical Engineering Research Hub in London.
The group joined construction manager, Craig Frost, on an exclusive tour of the 14-storey facility, gaining an insight into how the facility will provide vital space for Imperial's world-leading researchers to work together and address some of the most pressing biomedical and healthcare problems of our time.
Students witnessed laboratory benches being installed but were also impressed by the concrete fins on the facade of the building that have been designed to resemble strains of human DNA.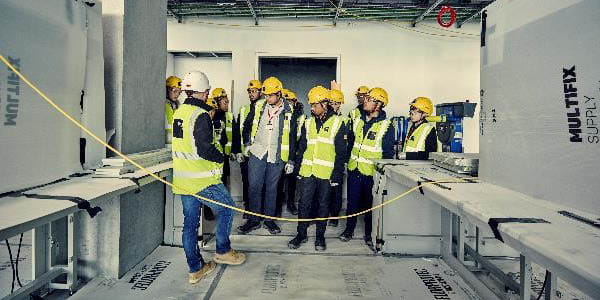 One student commented: "I really enjoyed today as it allowed me to get up close to the different aspects and high level of detail involved in the construction process, especially the aesthetics of the building – thank you ISG for having us!"
The UK Construction South team opened two of its London based sites as part of the initiative.
The first was at Richmond upon Thames College, where we are currently building a new 161,000 sq ft, five-storey, concrete framed teaching facility.
Our second saw visitors tour Wellington House in Wimbledon and learn more about how an extension and refurbishment is creating new office space for client, Threadneedle Pensions Ltd.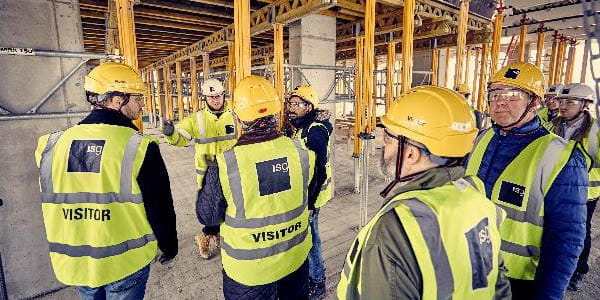 Guests were taken on a tour of the site and had the opportunity to hear from the site team on the challenges presented by the project.
North and Scotland
In the North, our teams flung open the doors to three of our projects: Cornbrook, Manchester; George Watson's College, Edinburgh; and Blundell Street, Liverpool.
Our Northwest projects, both for developer, Brickland, welcomed students from across the region.
Salford College and Salford University joined senior construction manager, Lee Holmes, and senior site manager, Ben Jackson, on site at our Cornbrook site, which will see a 363-apartment residential scheme built over the next two years.
They had the chance to witness the start of the slipform core and meet former Salford University student, Sayyid Allam, who is now working with ISG full time after completing a work experience placement with the team.
While in Liverpool, there was the chance to see the beginnings of our project to create a nine-storey apartment block, containing 200 one-, two- and three-bedroom apartments.
Ross Sangster, project manager, and Steve Barnes, senior contracts manager, showed students from Liverpool John Moores University and the community around the scheme.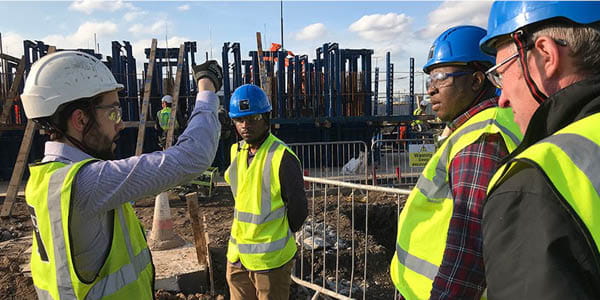 In Scotland, there were smiles of delight from students as young as five who had the chance to get a behind the scenes look at their new school – before anyone else.
Joined by their parents, head of the junior school, George Salmond, and site managers, Alan Stewart and James Ruddick, they explored the refurbishment and new extension project, which is expected to complete ahead of the new academic year in 2019.
West England, Midlands and Wales
In Cardiff, guests experienced the work on the 26-floor, 675-bedroom Zenith building in Cardiff's city centre, which is set to provide luxury student living once complete in summer 2019.
The key strategic project is built on a very limited site, so students were able to see how concrete slip form was used to help build quickly and efficiently on a difficult to access site.
On Wednesday we welcomed students to the iconic School of Architecture and Built Environment at the University of Wolverhampton.
They were given a sneak peek behind the hoardings of the new £26 million facility, which is set to become Europe's largest built environment education campus.
"It was very informative and interesting; I can't wait for the next invite to see how the building is progressing."
It was a busy day as we also opened Ladywood Leisure Centre; the new £8.5 million sports and fitness facilities for Birmingham City Council and Sport England.
The students were given a tour of the upgraded facility, featuring a 135-station gym, 25-metre swimming pool with timing equipment for competition events and spectator seating for 250 people, teaching pool, dance studio, relaxation, sauna and steam areas, and café.
To finish the week, built environment students headed to the University of Bristol to explore the new Humanities Hub.
Students were shown how the complex new development is constructed on a restricted site within the grounds of the faculty's Grade-ΙΙ listed Victorian villas.
Coleg Y Cymoedd tweeted: "What an amazing project! We really enjoyed our visit and learned a lot."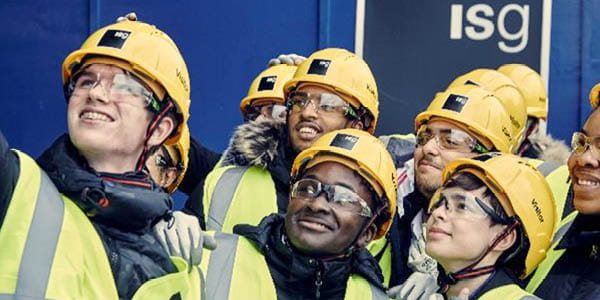 And with that, ISG's sites closed their doors on 2019 for another year.
For more information, check out our dedicated Open Doors page on the ISG website.
Should the construction industry be opening its offices too? Read the thought-provoking article by Dr. Vicky Hutchinson, ISG's head of social value, here.