Open Doors 2021 Inspiring people to pursue a career in construction
Earlier this month ISG took part in Open Doors 2021, opening the doors to 10 UK projects and London headquarters to help inspire those interested in a career in construction.
Delivered by Build UK, in partnership with the CITB (under the banner of Go Construct) and in association with the Considerate Constructors Scheme and Building magazine, the industry-wide Open Doors initiative goes behind the site hoardings to showcase the fantastic range of careers available in construction. This year's event ran from Monday 4 to Saturday 9 October.
Welcoming prospective early careers talent, people considering a career change and those with a keen interest in construction, ISG's 10 project sites were spread across England, Scotland and Wales and covered a variety of sectors. From Japanese bank, SMBC, in London, all the way up to the Rosebank Distillery in Scotland, attendees across the UK had the chance to gain invaluable experience in understanding the journey of constructing a building, the thinking behind the innovative design process, the key job roles that are involved and the types of skills that can be gained from a career in the built environment.
Emma Brown, careers coordinator at Brentford School for Girls, whose sixth form students joined one of our tours at our Sky Labs project in London, said:

"We enjoyed a fantastic visit to Sky Labs, and it was an amazing opportunity to learn about the project's journey.

"The tour and presentation proved to be a valuable experience for our students, as each of them got to hear in detail about ISG's various early careers programmes. We'd just like to say a big thank you to the project team for welcoming us to site."


Emma Brown, Careers Coordinator, Brentford School for Girls
In an Open Doors first for ISG, it also opened the doors of their headquarters in Aldgate, London, to provide an exclusive insight into the areas of the business that support the successful delivery of our projects. It also gave attendees an opportunity to see a live workspace and to witness first hand what office life is really like.
 "The insight into the structure and careers that ISG provided at their open office event was brilliant and very inspiring. We really appreciate that ISG were able to accommodate our learners and also our staff."

Douglas Barrett, Construction Manager, Ormiston Latimer Academy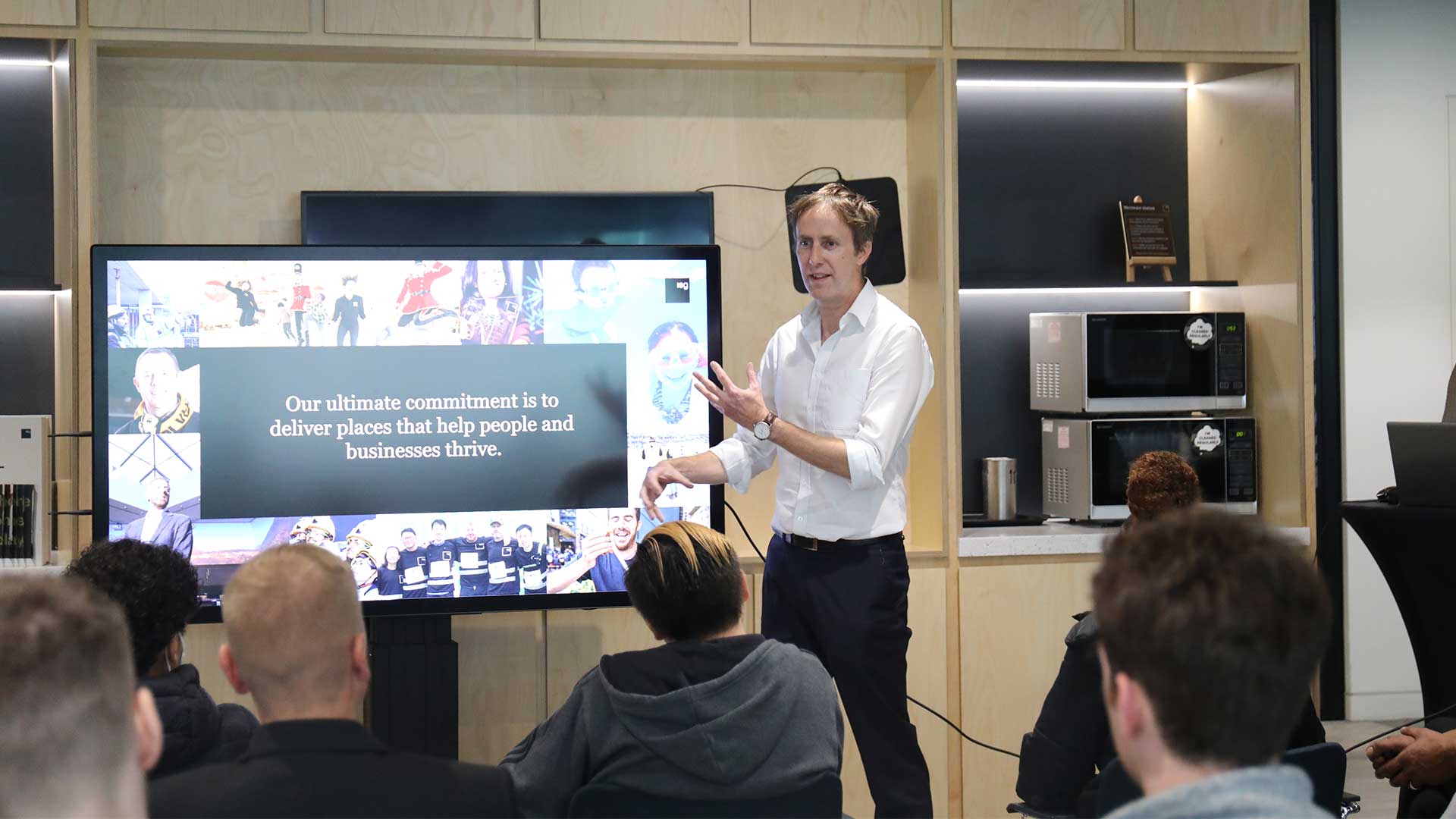 In another Open Doors first, ISG hosted for ISG a virtual panel session, titled 'More than a building'. The panel session was hosted by ISG's Strategic Advisor for Education, Jane O'Leary, and Jane was joined by four panellists from across the business – construction manager Magda Miazga, apprentice quantity surveyor Katie Dennis, head of visualisations London Simon Spink, and senior bid writer Sharnie Ellison – as well as by Tim Coll, projects director for TMJ Interiors, to provide a supply chain partner point of view.
The session saw the panellists delve into more detail around the wide variety of roles that contribute to the project journey, and the different skills sets needed to work in construction. The panellists also discussed their own journeys and how they started in the industry, before contemplating the different pathways into construction, including giving key insights into apprenticeships and graduate schemes.
You can watch the full 'More than a building' panel session by clicking here.