Meet Amy L'Estrange, Divisional Design Manager
We spoke to Divisional Design Manager, Amy, to get an insight into her experience where she tells us why stepping into design management was the best career move she ever made.
We spoke to Divisional Design Manager, Amy, to get an insight into her experience where she tells us why stepping into design management was the best career move she ever made.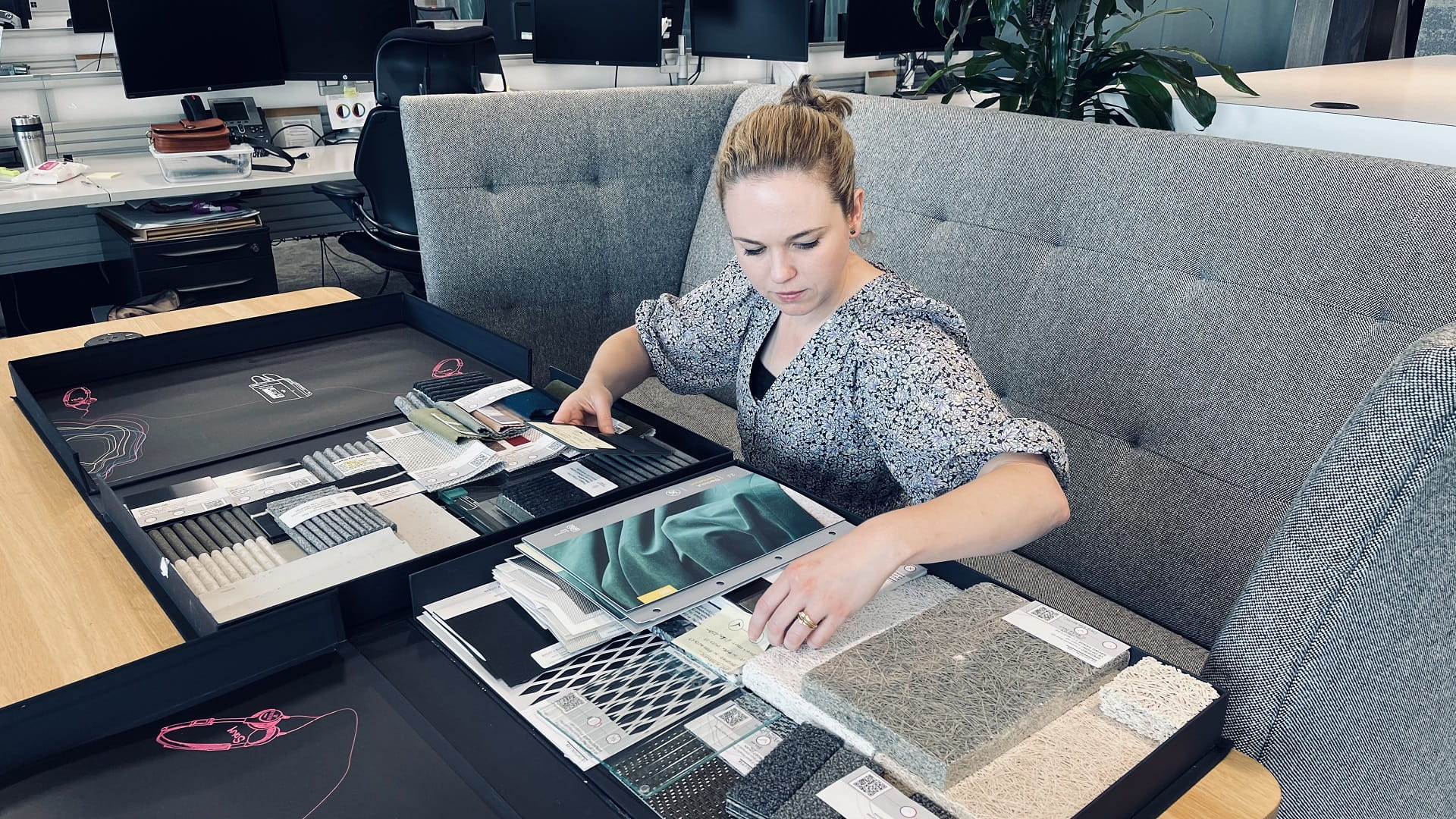 From being inspired by working on some of the most awe-inspiring projects for clients like Deutsche Bank, Wells Fargo and Cinven, Amy has enjoyed building relationships with inspiring teams and learning from individuals that are the masters of their trades.
For Amy, the measure of success has always been to see clients happy, not only with the product but with the journey working alongside the team, developing great relationships built on trust.
In a fast-paced industry that is constantly evolving along with client needs, to anyone with curiosity, passion and eagerness to learn, Amy cites, it's an incredible industry, with no better place to call home than ISG.
Did you always aspire to be a design manager within the construction industry?
I actually started off in architecture, with the expectation I'd always work as an architect. I travelled from Australia to Italy to complete part of my studies in Milan, and then returned home to complete my master's degree – but one thing I knew for certain is that I'd fallen in love with Europe and wanted to return, to work in London.
A friend that works for ISG mentioned the idea of design management to me, which wasn't something I was familiar with, but once explained to me, it sounded so interesting. I approached the recruiter I was working with at the time and their advice was that if I were to pursue a role outside of being an architect, I'd not be able to get my foot back in the door. I can comfortably say now that I'm glad I wasn't deterred by this, it's been the best career move I ever made. It's a shame that sometimes people go into the industry with a limited idea of the opportunities out there, when there are so many incredible related roles for you to hone your skills, personally I've never looked back.
I've even been lucky enough to travel in this role, fulfilling another of my passions, as some of the details in the fit out projects we work for involve amazing materials that are manufactured overseas. I've had the opportunity to go and inspect the quality of stones that are ultimately crafted into show stopping features on projects like grand spiral staircases.
What were your first impressions on joining ISG? Was the construction industry what you expected or did you have any preconceptions that have been changed?
I benefited from a well-rounded architectural education, working on projects from concept to delivery – so I was lucky enough to have spent quite a lot of time on site and had a fair idea of what it would entail. So, I wouldn't say it was unexpected, but my interest is continually piqued by the variety of projects I'm exposed to, especially here in London, where the level of detail and quality of designs are remarkable.
This was the first construction company I'd worked for, my first project being at Deutsche Bank's asset and wealth management offices. What stood out to me instantly were the people and teams here, as well as the trade contractors involved. We got to build really strong relationships and I felt incredibly lucky to learn from individuals that are the masters of their trades. Relationships are definitely the cornerstone to a successful career and I've been really fortunate to be surrounded by the people I have in the last five years at ISG.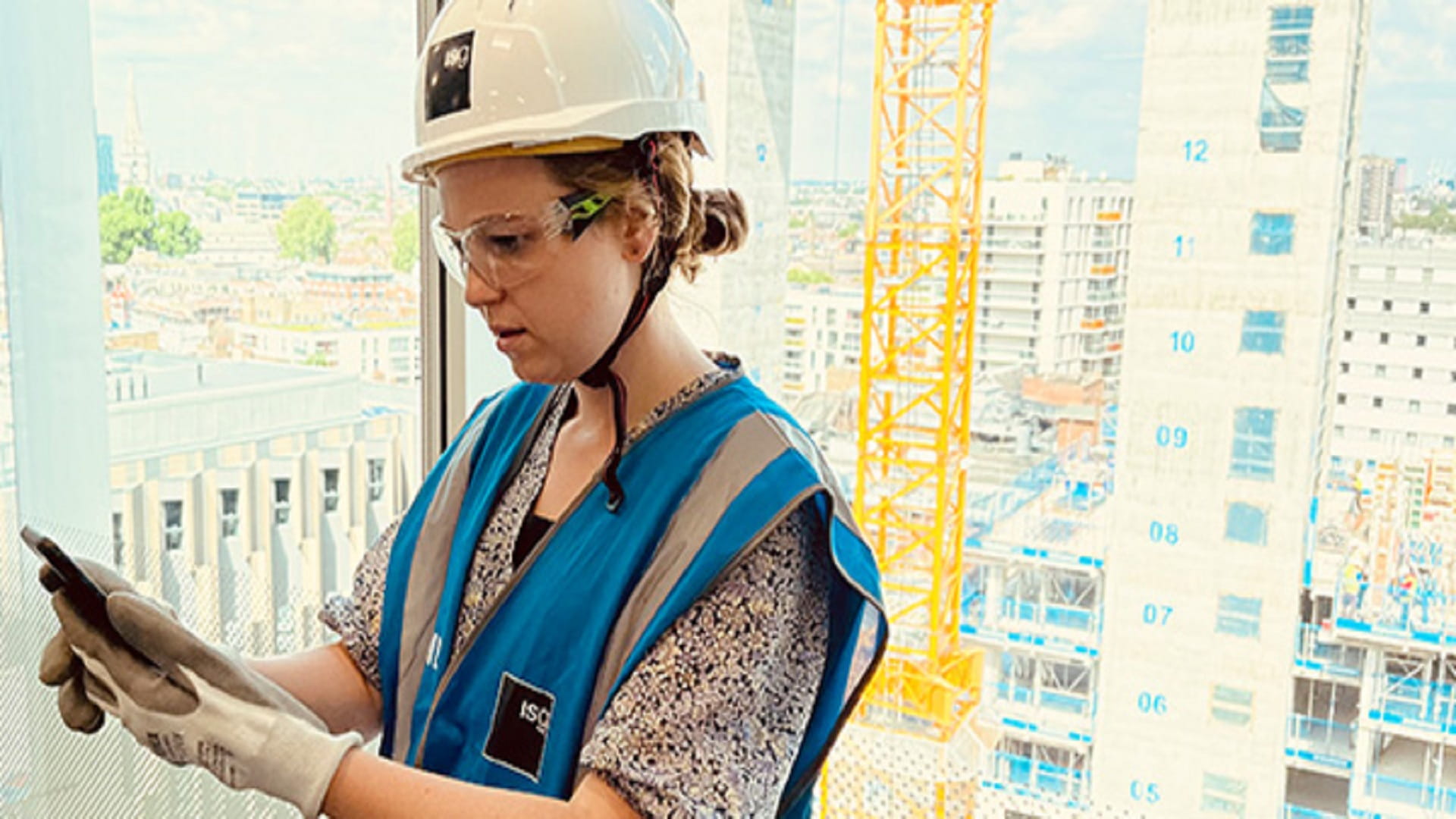 You mention the variety of projects you enjoy being exposed to, we've all experienced rapidly changing ways of working over the last year, has this bought with it new opportunities in your role or the projects you're working on?
Last year was certainly unexpected and restrictions came into play whilst I was in the midst of an active project, so it very quickly went from having meetings in person to communications remotely over Teams. As an industry, it was impressive to see how quickly everyone adapted to the new ways of working and keeping the project teams engaged with the build on site. I was lucky enough to already be working with a 360 degree documentation software on our site since January 2020 so this became incredibly beneficial once COVID-19 lockdown commenced as we already had the tools in place to undertake virtual site walkarounds with the team and could regularly review progress, quality and details under construction which was particularly important as we were working in a grade 1 heritage listed building.
From a design perspective, COVID-19 didn't change the design of the particular project I was working on but elsewhere we had clients going back to reflect on the future of their workspace and that's been fascinating to be a part of as workplace is remainaged in London. We've seen clients looking at how to facilitate truly flexible spaces including meeting rooms that can be moved around buildings and complex portioning designs as they try to assess their future spatial requirements. Lower occupancy rates don't necessarily equate to proportionally less space as it is used differently. Ultimately as we get back into offices the process will be driven by end users – if they find the space isn't working optimally this will be the catalyst for change.
Operationally we've been able to overcome challenges to work safely and efficiency gains have been accelerated. What's crucial and front of my mind is to ensure we can maintain the great relationships and communication with client and consultant teams as well as all the trades as we embed into new ways of working. By nature, sometimes it's easier to have conversations and collaborate on complex issues in person and it's all about relationships and building trust so that everyone feels equally informed and invested in the designs. That's why ISG has a really great team of design managers as many come from architecture and interior design backgrounds and are inherently passionate about design and are committed to impacting the successful execution on projects. It's a great part of our role, whilst we may not be designing, we're an extension of the team who can positively influence the quality and execution through every facet of the delivery.
What is your benchmark for a successful project? What do you place of the highest personal importance above anything else?
Without a doubt seeing the end finished product is so satisfying, but for me the ultimate benchmark is when you finish a project and the client is not only delighted with the quality of their space, but they also enjoyed the journey and built positive relationships. It's a very collaborative process and you get a great deal of joy from seeing everyone happy and able to celebrate the success having enjoyed working together.
"...for me the ultimate benchmark is when you finish a project and the client is not only delighted with the quality of their space, but they also enjoyed the journey..."
What excites you most about construction and the direction it's heading in? In what areas do you think ISG is leading the industry?
I think ISG's greatest asset is its people, who are skilled and passionate in equal measure. For me in my role, design management is becoming more prominent than it was 10 years ago. We're totally integrated full circle from inception to delivery and a trusted partner for the designers, project managers and client teams to ensure their vision is executed successfully. More often than not I'll be there through every step of the process, being the person on the ground to ensure everything is managed smoothly, including reacting to any changes to provide complete assurance and co-ordinating all the teams in working cohesively to achieve the desired finish.
Any top tips for building a successful career in construction?
You've got to be adaptable and embrace change. Now more so than ever, our own industry is evolving and becoming more technologically advanced whilst responding to ever changing client worlds. Each individual project is unique and fast paced, no one day is ever the same, but if you are curious and eager to learn then it's an incredible industry to work in.