Avoiding the unintended consequences of decarbonising projects of scale
To discuss the opportunities and challenges of mega scheme decarbonisation, ISG gathered an expert panel from a diverse range of disciplines across the built environment.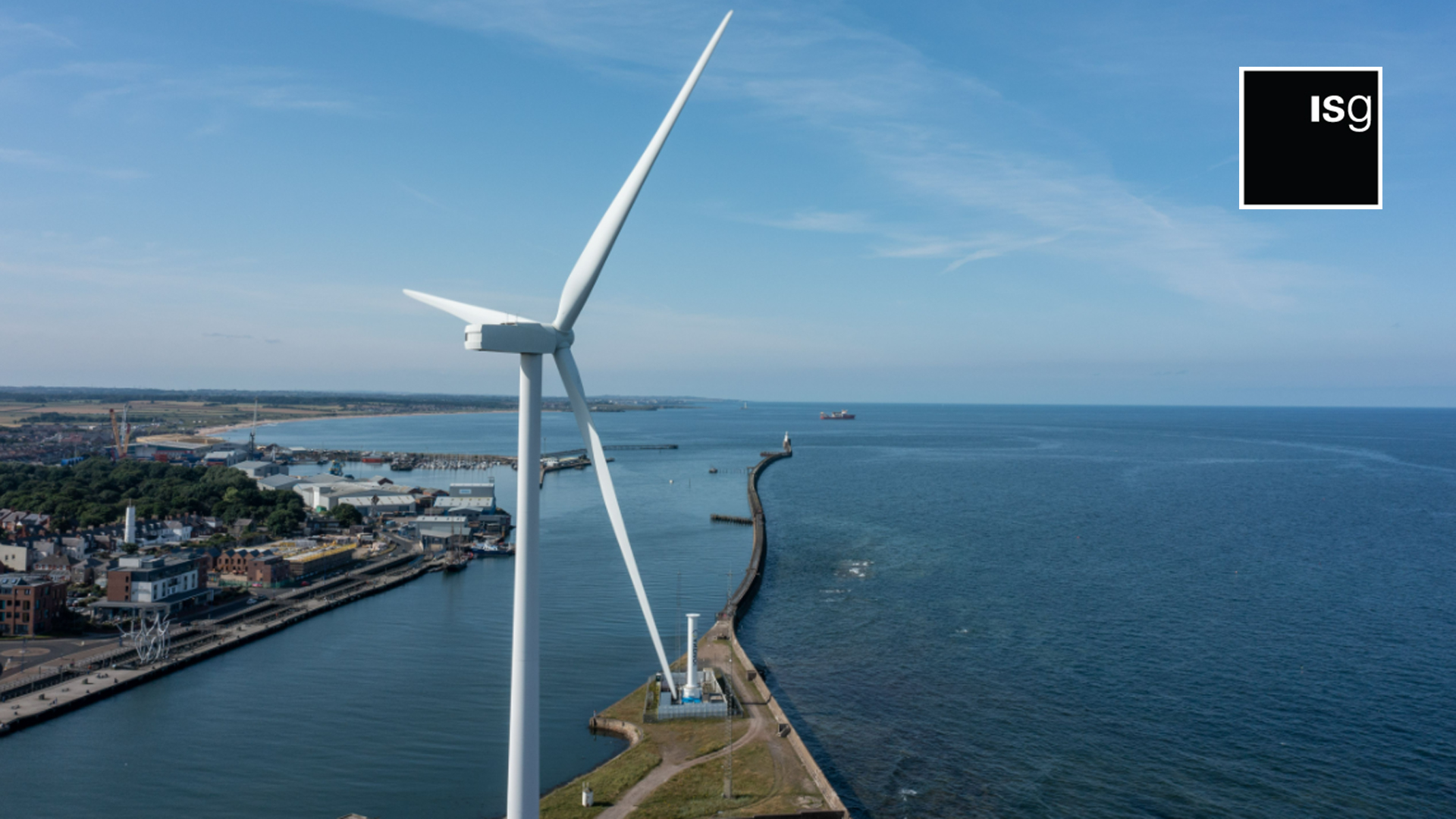 The decarbonisation of our built infrastructure is the challenge of our generation. When it comes to projects of scale and technical complexity, affecting positive change across a relatively small number of large projects can have a disproportionate impact on reducing emissions and accelerate innovation.
To discuss the opportunities and challenges of mega scheme decarbonisation, ISG gathered an expert panel from a diverse range of disciplines across the built environment.
Kicking off the discussion, ISG's group director for sustainable business, Debbie Hobbs is finally seeing momentum building around the principle of property valuation being directly impacted by environmental, social and governance (ESG) metrics – predominantly focusing on net zero. Working from the internationally agreed science-based target initiative – by 2050, global energy use needs to reduce by 80% – this means in the construction, operation, and process load of our buildings.
"The big call out here is that if your contractor does not understand, or is not engaged on, the carbon liability of your manufacturing processes, then that's a huge issue coming down the line and a major risk of future tariff and reputational damage."


Debbie Hobbs, Group Director for Sustainable Business, ISG  
Our future energy demand curve must reduce to a fifth of its current size, so claims of using renewable-only energy sources, without a forensic focus on driving down energy demand, merely shifts the demand problem down the line. "Certain energy intensive sectors may become untenable, as they become uninvestable, due to their high energy demands and poor ESG credentials."
Eugene Smethurst, director – infrastructure Europe at Atkins, is working on approaches to make carbon visible to clients – looking at the input and output, and the infrastructure that wraps around it. In the manufacturing sector this is more complex than it might first seem. "We have people looking at buildings, then somebody looks at the process, somebody else looks at inbound, embodied and operational carbon. Then you need somebody to start looking at how you achieve change – and that's where we fit in with our Green Factory of the Future initiative."
Eugene points to many engineering sector white papers that at a first glance show a negligible energy gap between future state demand. However, on modelling what happens when process gas and domestic gas supply is taken out of the network, there is a significant disparity between renewable capacity and UK energy demand. "We're going to need a lot more electrical energy than we have access to currently and even with battery storage, we have this large gap. Microgrid and local generation is going to be the most important piece of the jigsaw and it looks like all infrastructure needs to move towards electric."
Craig Woodburn, head of ESG at Britishvolt, is focused on supporting ESG data systems and setting the future strategy at the UK's foremost investor in battery technologies. One focus area is the carbon reporting framework, but wider than that effectively bringing a range of data to track and report what stakeholders need to know, looking to provide unmatched data transparency. "In the future, legislation is dictating that every battery we manufacture must have a carbon footprint on them – so we need to know along our supply chain the embedded carbon in the raw materials, the processing and ancillary elements, and the specifics contributed from our production facilities. Getting a consistent measurement, validation and reporting process is key."
Mark Bryden, co-founder and director of Bryden Wood is a self-confessed data and analytics evangelist and this is having a profound impact on decarbonising projects. "We think that designers have to become experts in managing data, because that's where you find out what you're really achieving and you can iterate much quicker. You can fail much faster and you can get real time results and then you can try again. We don't just do things quicker - we do things many more times." Mark is referencing his organisation's extensive use of computational design and algorithms to run vast numbers of iterations of building designs for a particular site, building type and process.
"We ask the computer – if I break a few of my rules, could you make the design more efficient? You define which rules can be broken and which must remain intact – then you run the process again, up to 10,000 times in a day so you get this massive amount of information that tests all the different possible outcomes. We then use this data that to be transparent about the good and the bad parts of every design."
Mark delves into the capex vs opex debate with his insight that on a recent hospital project, they have measured the cost around medical outcomes, rather than capital and staff costs. This solicits approval from the panel as there is a universal acceptance that we must transform our procurement drivers from a short-term cost horizon to a holistic whole life perspective based around sustainable principles.
Ben Breaden, associate director of Buro Happold, outlined a number of specific sustainability challenges his practice faced on a prominent tech project in Cambridgeshire. The building had significant energy and water demands, as well as local planning constraints, which included meeting 10 percent of the building's regulated energy use via renewables as wind power was not possible due to planning challenges.
The solution was to make the building envelope achieve Passivhaus thermal performance standards and install 5,000m2 of photovoltaic panels on the building roof. Ben highlighted that although the PV installation met the 10 percent regulated energy threshold, in reality this accounted for perhaps just one percent of the actual energy consumption of the building.
"We would have needed around seven mega-watts of renewables to cover the actual load of the building, which would not have been possible with the planning constraints for site. The second major challenge with this building was the amount of water it used – equivalent to a town of 30,000 homes and more than the existing network could actually provide. It is possible to recycle 90% of water in that type of facility, however without regulation driving this as a requirement, the capital cost is prohibitive."
Ben recognised that these types of challenges are only going to become more prominent in the future and that bringing together partners from industry, government and regulators would be key to successfully navigating these complex issues. "More fundamentally is the question do we actually need a new building in the first place? If we do, is there any option to repurpose an existing asset or part of one?"
"Do we know how much of a building's structure we can reuse and if aggregate can be reused on site, for example, in foundations? And how do we select sites that offer the best chance to achieve net zero rather than being dictated by other policy drivers. How do we select sites which maximise the potential for low energy district heating and cooling networks and also allow waste streams to be joined up - taking waste heat from one building and using that for another? We need infrastructure that allows mega-factories to have bi-directional transfer with the grid. The question is then how we capitalise scale to influence the supply chain and accelerate new technologies and methods?"
Michael Lock, associate director at Savills Energy, brought a challenge to the panel around the use of gas in our energy grid. "What is going to happen to those organisations that are currently major users of gas? Can we expect in the short to medium term that they will continue to need to use gas at scale for industrial processes? A large hospital might have a 35MW electricity demand combined with a 35MW demand for gas. Does that mean we're looking at needing a 70MW renewable energy supply for every hospital in future putting further strain on the already constrained transmission and distribution networks?"
Michael also acknowledged the need to make buildings perform better through management and performance upgrades. Michael suggests that there still needs to be an honest debate on the role of gas in the future energy mix. He also flagged the issue that power requested by mega scale operators, might not always represent the power actually being used, and this built-in resilience insurance could impact our ability to accurately determine true demand.
Paul Dickson, divisional director – high-tech manufacturing at ISG, stressed the importance of viewing energy as a commodity and we all need to do better to protect that commodity and track where and how we use it.
One of the biggest challenges is linking up the building management system (BMS) with the energy management system (EMS) and robustly collecting and interrogating data from both systems to optimise performance efficiencies


Paul Dickson, Divisional Director - High-tech Manufacturing, ISG 
"Value engineering exercises can indiscriminately blight our ability to collect data as BMS and EMS systems are often hit hard in cost saving rounds, and it's crucial that we work with our industry stakeholders to demonstrate the importance of that capex investment in systems that provide operational transparency for our buildings."
Alma Sottile, sustainability consultant at Rebelleon, wanted to explore the barriers that are preventing environmental and social value considerations from being implemented during decision making. She recognised there are two key barriers standing in the way of dynamic change – one technical in nature, the other a behavioural blocker.
"There's a technical barrier, in terms of the availability of the sustainable materials and energy sources and their scalability on a mass level. But the main barrier is associated with behaviour, and if we really want to drive change it is necessary to challenge the conservative mindset underpinning the industry and recognise that people and planet must be considered in conjunction with profit during decision making. We need to commit to following this through the entire construction process – from design through to project delivery and beyond."
Alma believes that a good way to tackle both barriers is by implementing lifecycle thinking. Assessing impact in this way helps quantify the environmental and social implications of a company or service to prompt correct decision making, but it also identifies the effect of each of our actions on the environment and on society as a whole.
"We shouldn't really fixate on carbon - it's really important, especially within the built environment, but it's not the only source of impact for environmental harm. If we narrow our focus to one environmental issue and a single part of the lifecycle, that could lead to burden shifting. So we could simply just move the damage to somewhere else."
Circling back to the discussion around current and future gas usage, Craig acknowledged that a mixed energy environment is preferential for a range of reasons, including energy security and resilience. But he was confident that with the right approach it's possible to drive down gas reliance. Britishvolt's new gigaplant in the North East town of Cambois has designed out the requirement for gas – all operations are entirely electrical.
On the subject of energy mix, Mark highlighted work his practice is doing in the USA within the small or micro nuclear format. They are evaluating the use of small-scale advanced heat sources replacing steam generation units in the country's 1,500 existing coal fired power stations. The recurring theme of unintended consequences from decision making around the race to net zero again raised its head with the panel relating to the environmental impact of nuclear as a fuel source and its well documented legacy.
The significant benefit that Craig cited in terms of behaviours and approach towards carbon is that Britishvolt is a start-up and is currently in the process of building its first facility. "Our carbon footprint is currently our people, mostly working from home as we're not up and running our production facilities. This gives us the opportunity to get that engagement with our people from the outset to shape those conversations around what carbon, but also the wider ESG agenda, means to us. We are able to embed this into our culture from the start and this shapes all of our thinking in everything we do."
"We're extremely mindful that once we are operational our environmental footprint will be larger than it is now and we need to have an open and honest conversation about how what we do is part of a much bigger picture addressing decarbonisation. Our products can help reduce the carbon footprint of transport, and the footprint will continue to reduce over time as materials refining and recycling is localised. So is the high embodied carbon content of batteries justifiable?".
Debbie recognised the challenges of planning for industries that actually don't exist today but will emerge over the coming decades and the impact these will have on energy use and emissions. This is a nuanced debate - blanket restrictions on carbon could be harmful to vital activities that cannot currently be delivered in an energy efficient way. However, this means other sectors of the economy must reduce their energy consumption even further, for the UK to work off a 'zero carbon' grid.
Building on this point Alma reiterated the need for lifecycle thinking and the prospective lifecycle assessment of products in the future. Theoretically there could be a challenge that products using more carbon today actually reduce our overall carbon footprint in the future – adding increasing complexity to the debate. The key is transparency of motivation and a clear pathway towards decarbonisation as a result of action taken.
Maria Smith, director of sustainability and physics at Buro Happold, echoed the group sentiment on long term perspectives. "One thing I worry about are the actions that we take to reduce the embodied carbon of a project to 50% might actually lock us into it being stuck at that level of 50%, rather than necessarily thinking about the journey all the way to net zero."
Maria believes that the industry is relatively good at thinking around impacts beyond carbon up to the site perimeter – but is potentially not as focused on knock on effects – again those unintended consequences. "We've been doing a lot of research around the health impacts of living close to areas where certain materials are being manufactured, and we're not doing enough yet to account for those impacts in the choice of our service and material specifications on projects."
Playing it safe just isn't something that Maria thinks is going to work in the future. "Some projects look a terrible idea to get involved in because of the nature of what they are – but actually the potential we have to influence design, process and specification means that we will have a profound impact on environmental abatement. We don't want to divest all the 'grubby stuff', we actually need to make sure we're fully engaged with it."
Ben wants to focus minds on the energy efficiency of process equipment, recognising that the industry has made huge strides in reducing the energy associated with building services. "I don't see the same level of focus on process equipment, where the design criteria is based much more around resilience as a primary driver because nobody wants machines to break down and interrupt production. We need to balance this important consideration with the need for energy efficiency – perhaps through regulation."
Eugene shined a light on the costs associated with running process equipment and the drive to mitigate this increasing expenditure, however, recognised that the problem could be a siloised working culture - building designers that work in isolation from process designers. Ultimately people listen to the sustainability debate, but many are driven solely by the product business case. It's about context – "The building side is normally the poor relation because it doesn't produce the product that makes the money that keeps the business spinning."
Michael added his insights on the efficiency debate through personal experience. "The number of audits that I've completed on leisure buildings that are not utilising installed variable speed drivers or inverter drives within their equipment is unbelievable. The investment has been put in to make equipment more efficient – but nobody has actually programmed it correctly or is managing the process."
This is the operation and maintenance side of the wider carbon discussion – "I refer to this as the net zero 'spring' because it's not a linear approach. It's not a flat line because you need to revisit your building services often to report and optimise and then go again and continually repeat this cycle."
Michael's solution is an annual energy MOT
"The four-year cycle of an energy audit, whose findings you don't do anything with, has to change. You wouldn't drive a car that has failed its MOT, so why would you keep doing the same things that lead to you repeatedly failing an energy MOT. Initiatives like this will drive behavioural change – as well as linking it to taxation, maybe through business rates."  


Michael Lock, Associate Director, Savills Energy
Looking at whether increasing regulation is desirable, Maria sits on the steering group for Built Environment Declares and ahead of COP26 conducted a survey for practices to reply around their support of different policy ideas. "We had about 250 companies from across the industry respond and it was around 95% in support of regulating embodied carbon through building regulations and even considering embodied carbon as a determinant in planning applications."
In theory this could mean that local authorities could have a carbon budget or quota for projects being submitted, and this would impact on decisions to prioritise specific building types that come through the planning process. "Open access to information on land ownership for vacant and derelict buildings, as well as being able to share data on what materials are available due to demolition works were also common responses from the survey."
The results underline the view from Maria that: "The role of government is not to limit us, but to facilitate these sorts of changes. Consensus is now building around the kinds of regulation that we would like to see." Debbie's observation around people fixating around embodied carbon drew support from participants
"Perhaps the most significant wave of change in consumer expectations to date, being here as we forge ahead on the race to net zero - brands need to be agile to withstand global pressures, thinking beyond their usual offering to attract people back."


Debbie Hobbs, Group Director for Sustainable Business, ISG
We also understand that few sectors are more accustomed to disruption than retail, but it's an industry built on a deep understanding of the customer. Perhaps the most significant wave of change in consumer expectations to date, being here as we forge ahead on the race to net zero - brands need to be agile to withstand global pressures, thinking beyond their usual offering to attract people back.
Could electric vehicle charging points be a new accelerator for retail and hospitality destinations? Whilst people wait for their cars to charge, will they want to have their hair cut, visit a restaurant or the gym? Existing public transport structures are also looking to upgrade, with electrification of fleets needed in all locations and the infrastructure required locally to support this. We're also already seeing the first drone airport progressing in Coventry, how will this impact the sub-centres required for onward distribution? How we live and consume has undoubtedly changed irreversibly and this will require immediate investment in supporting infrastructure if we're to keep pace of the rate of change required and that rightly is being demanded of us.