Alexander Yee charts Business Development in Malaysia
We sit down with Alexander Yee, who joined the business at the height of the pandemic in 2020. As the new Business Development Director for Malaysia, he shares ambitious plans to strengthen local ties and carve out new markets in Penang, Melaka and Johor.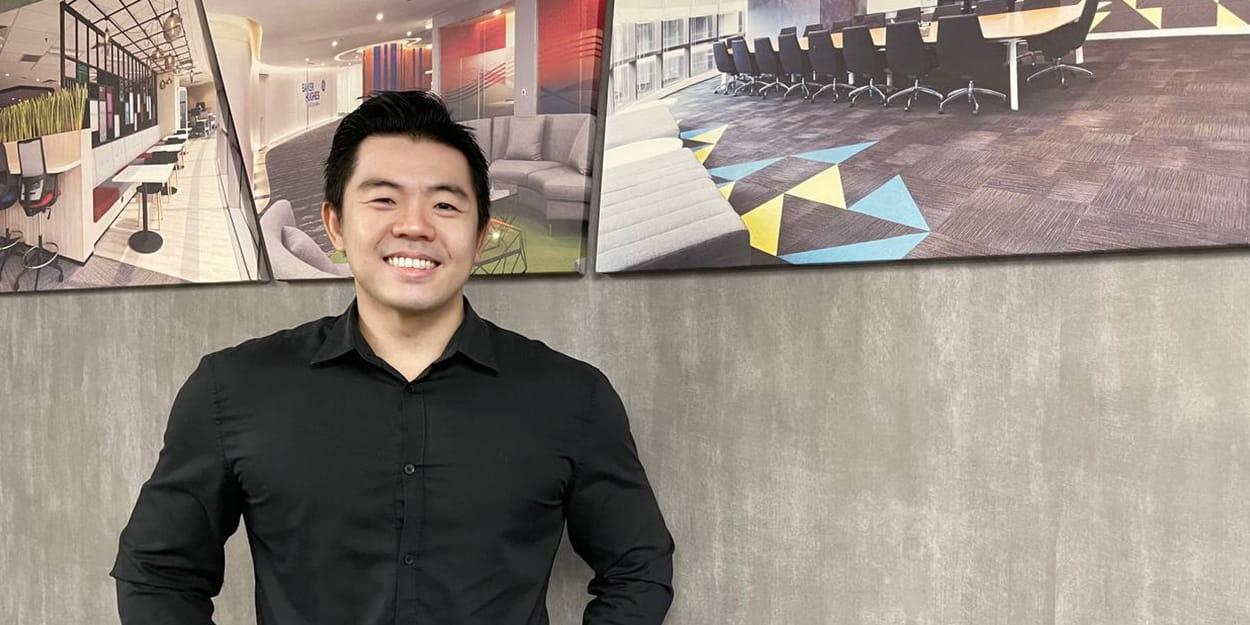 We sit down with Alexander Yee, who joined the business at the height of the pandemic in 2020. He shares ambitious plans to strengthen local ties and chart new markets in Malaysia.

Share a bit about your background in business development
I was encouraged to venture into business development by the management when I was a management trainee engineer at Sony. Since then, my role evolved from quality engineering, procurement, logistics and engineering design to securing sales and managing key accounts in Philips and General Electric. My experience lies in the lighting and carpet industries, which have long standing business ties with the fit-out industry. It was not a difficult decision to progress to this role and pursue new challenges.
What are some key projects you were involved in?

There have been various big wins over the course of my career. Some of the wins are notable key accounts with sustainable business transactions such as 7-Eleven, Dairy Farm, HSBC, Standard Chartered, Regus, and Air Asia. Although these were product-based, I always believed that the outstanding service that I provided, and key account management are key factors to win clients over.
How would you describe the Malaysia market?
2020 has been an unprecedented year globally. Going into 2021, there has been a spike in the number of Covid-19 cases and the situation is fast-changing on the ground. Nonetheless we remain optimistic, and we expect growth to reignite gradually as economic activities slowly adjust and recover in the coming months.

In terms of opportunities, the new Central Business District known as TRX (Tun Razak Xchange) is currently the biggest driver for the construction industry in the next three years, particularly for global financial institutions and large corporate offices. We are also seeing expansion in industrial technology-led sectors where they are greenfield as opposed to ready-builds.
What you do like about your role here?
I have seen first-hand the capabilities of the Malaysia team when they successfully delivered projects including Arup's new regional headquarters at Powerhouse and the Havi Logistic space even during the Covid-19 pandemic. We have cultivated a strong reputation and construction expertise in Malaysia's banking sector over the years , having completed the offices of global institutions including Standard Chartered, Citibank and other financial services providers. Our exacting quality standards have resulted in new projects in the pipeline as our returning clients expand their footprint within Malaysia and across the region.
Having completed the customer experience survey with our clients, I have personally received fantastic feedback from them regarding our firm commitment to delivering projects within the agreed timeframe, with quality and superb documentation. Everyone, no matter their different roles and positions, comes together to win and deliver as a team.
What do you hope to achieve in your current role?
The projects that we have won during this period are mainly from Kuala Lumpur and Selangor. We aim to expand our reach to other cities including Penang, Johor and Melaka, where most of the industrial sectors are based in. We have an in-house engineering team and that is to our competitive advantage. With such expertise and extensive fit-out experience in Malaysia, we will continue to establish meaningful business relationship with M&E consultants, and Datacenters (DC) consultants and providers. There are many untapped opportunities in these growing sectors.

For our existing customers I am building on the relationships that ISG has and my aim is to develop these relationships to help provide support in areas where our customers geographical footprint extends within Malaysia. We have worked before outside of KL and the future plan is to increase this to ensure we have a balanced portfolio of work opportunities across the country.
What is the most important principle that you apply to work?
I have always believed that we should listen first before speaking, speak frankly but diplomatically, delegate with empowerment by learning to trust, and respecting different cultures.