Customer

Hackett London

Quantity Surveyor

Hackett London

Project Manager

Hackett London

Area

9580 sq ft

Program Duration

13 weeks

ME Engineer

JPS Maintenance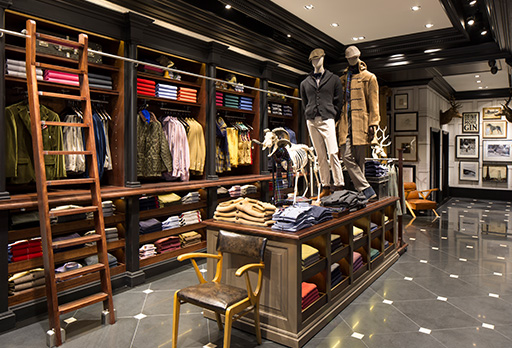 Introduction
Luxury menswear and accessories brand, Hackett London, is known across the world for its quintessentially British style.
As Hackett's trusted partner, ISG has delivered over 40 store fits outs across the UK, Europe and Asia; including the brand's stunning flagship store – and largest store to date – on London's iconic Regent Street.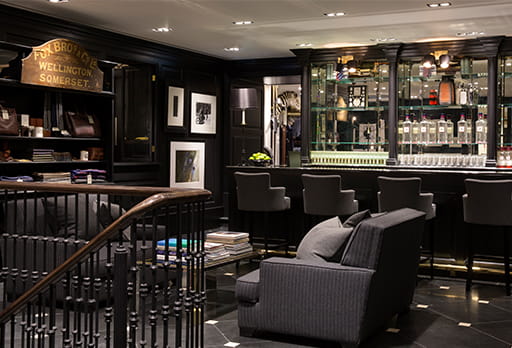 What we did
Hackett's Regent Street development saw the internal design teams for both ISG and Hackett working together to deliver a one-of-a-kind concept store for the luxury retailer.
Creating a modern and high end shopping environment, the project saw the development of eight new departments, from formal accessories to childrenswear.
Accompanied by a full basement level dedicated to Hackett's Aston Martin Racing range. A collaboration built on the natural synergy of mutual brand appreciation for British heritage, excellence and tradition.
But the pièce de résistance sits with the newly introduced Hackett gin bar, sponsored by Beefeater 24.
The concept seeks to enhance the customer experience of Hackett's clientele, bringing a more unique and high-end shopping experience that encapsulates the luxuriousness of the brand; and redefines its presence on one of London's best-known high streets.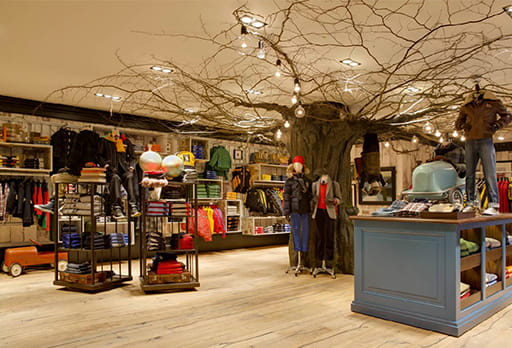 A bespoke joinery offering
With joinery being a main component of Hackett's store design, it's imperative to the client that the consistency remains from store-to-store.
As a longstanding customer, ISG is familiar with Hackett's joinery requirements, producing various items for the retailer over the years. All lovingly hand-crafted from ISG's joinery facility in Whitstable, Kent.
The Regent Street scheme was no exception. Over 100 bespoke pieces were developed for the store; from a table fitted with an iPad for the children's department, to the large-scale mirrors antiqued in-house.
The team also created granite worktops and antique brass grills for Hackett's Gin Bar, and tailor units were produced for the Mayfair suiting area.
Following the design process from concept to completion, ISG worked closely with Hackett to develop the design intent, advising on the feasibility and the setting out of a number of furniture pieces using computer-aided-design.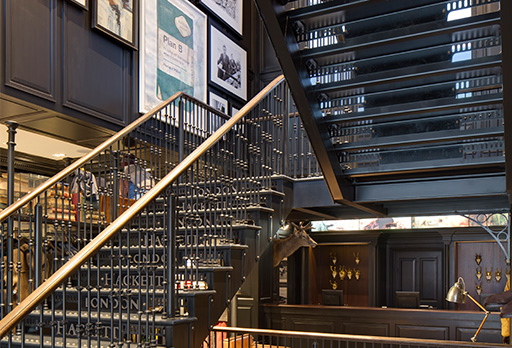 Overcoming challenges
Delivering a full refurbishment to the existing space in a fast-track programme meant that the project team had a tight 13-week programme to turn the project round, ready to launch ahead of the busy Christmas period.
The fit out required meticulous planning to deliver the significant number of fittings and finishes within the allotted timeframe; including the challenging construction of a bespoke feature staircase with a continuous oak handrail.
To deliver a staircase of this calibre, the basement and ground floor had to be relocated, with an interconnecting stair level being constructed between the ground level and 1st floor.
"When a partner intrinsically understands your business and target market, the relationship becomes far more fruitful and opens up exciting opportunities to add value and fully utilise the experience and local market knowledge of experts. This is why we value our relationship with ISG so highly; they are agile, informed and passionate about our portfolio wherever they are engaged around the world."


Vincente Castellano, Managing Director, Hackett