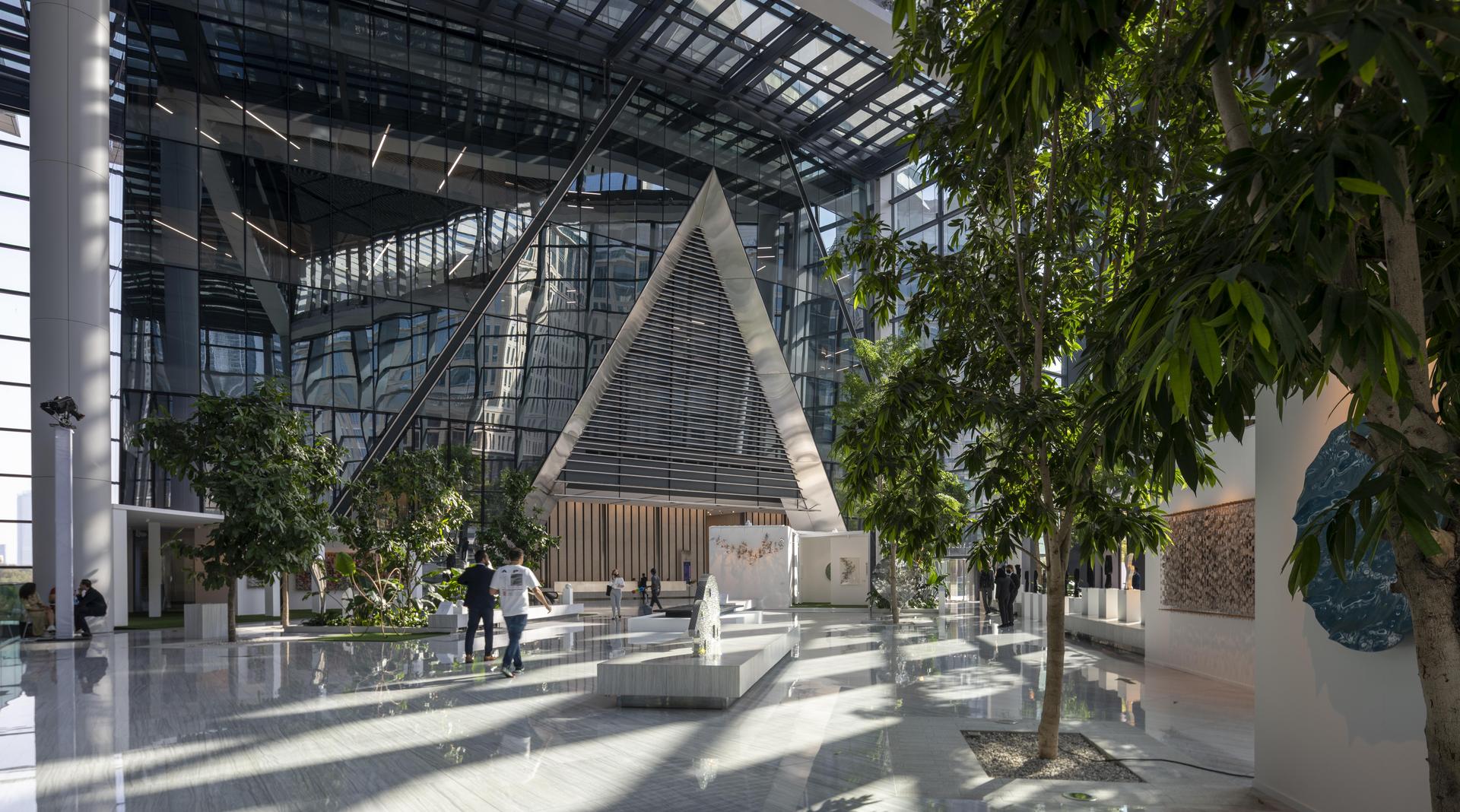 ICD Brookfield Place (ICDBP) is an iconic mixed-use development at the heart of Dubai International Financial Centre (DIFC), with an exclusive member's club, state-of-the-art gyms and a retail space for a unique shopping experience.
ICDBP is one of Dubai's largest commercial properties and home to multi-national financial, technology and luxury brands. The space boasts exclusive dining experiences, with fine dining restaurants and contemporary home-grown F&B concepts.
ISG was appointed as the exclusive framework contractor for the entire ICD Brookfield Place building, as a dedicated landlord partner for all construction works required on the 53-floor development. To date, ISG received and delivered 419 orders within the three year framework agreement, with an expectation of further phases of work in the future. ISG's scope of work encompassed everything from high-specification office fit-out projects for renowned international financial and law firms, to intricate work in communal areas, and MEP as a trusted and collaborative delivery partner.
ISG delivered over 85,000 sq. ft of retail space and workplaces, including a comprehensive fit-out over two floors for ICDBP's high-calibre Micro Suites, 1Rebel Gym, the Niche community space, and a turnkey fit out that earned 'best-in-class' customer experience for Linklaters. In addition to creating outstanding office space to 3 international firms within the banking and financial sector.
ICDBP embraces the UAE's sustainable agenda, and is aiming for a stretching net zero carbon target by 2030. The building has already achieved the prestigious LEED® Platinum certification, the highest rating awarded by the US Green Building Council. In accomplishing LEED® Platinum, ICDBP becomes the tallest and largest office building in the EMEA region to achieve this highly sought after accreditation, taking its place among the top 20 of the world's largest LEED® Platinum projects.
At ISG, our workspace solutions support and reinforce your vision and values. Enhancing your reputation through innovative and creative space is what we do, all delivered with the highest ethical standards and with our global reputation for pushing the boundaries on sustainable construction practice.
Explore some of the projects we've delivered at ICD Brookfield Place: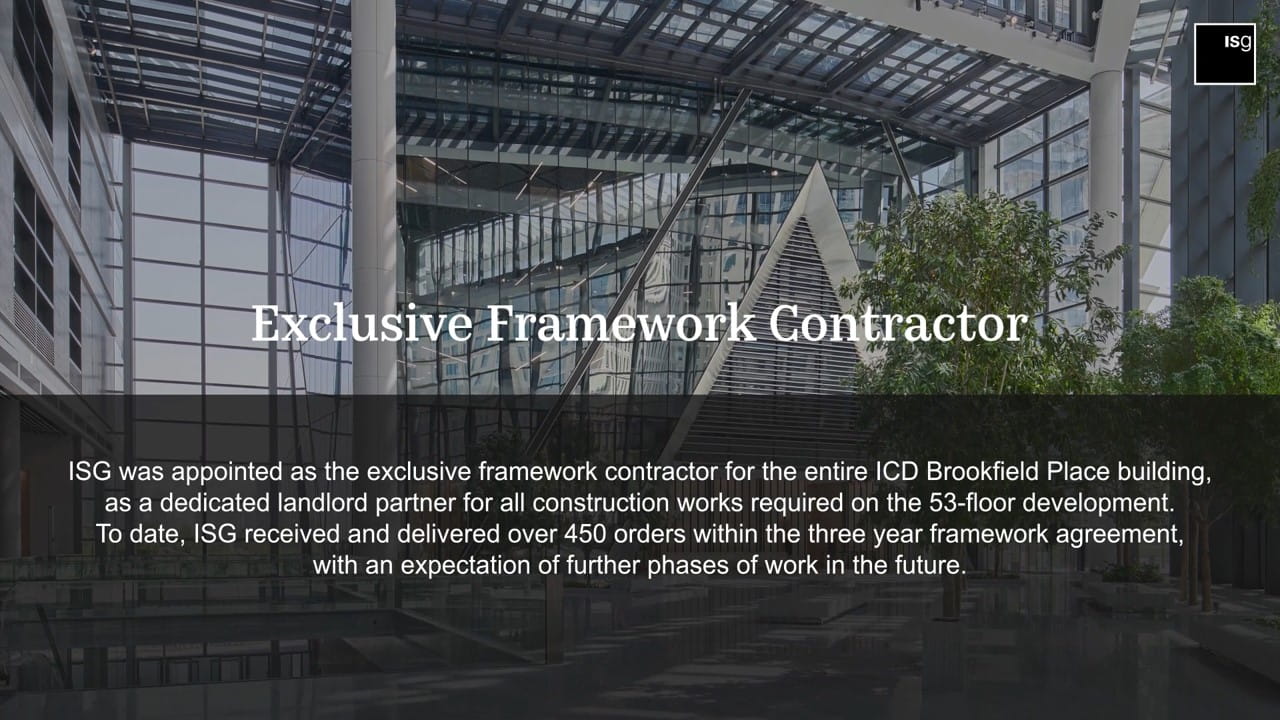 A preview of some of the projects delivered by ISG in ICD Brookfield Place in Dubai, UAE.

A comprehensive fit-out of two floors, from shell and core to flexible workspace. The works were in line with ICDBP's high-calibre work environment, and the design concept to Brookfield's USA micro suites and flex offices. Area: 36,000 sq ft.

ISG delivered a turnkey fit out for the offices of this global law firm in ICD Brookfield Place. The scope included the complete fit out from shell and core. The works were conducted in line with Linklaters global sustainability guidelines. Area: 9,000 sq ft
1Rebel, the King of Gyms, chose ISG to fit out of its first luxurious fitness destination in ICD Brookfield Place. A key motivation behind the project was ISG's commitment to welfare, diversity, equality and inclusion in the workplace. Area: 11,600 sq ft

A collaborative social space designed to incubate young urban professionals, designed in partnership with Roar Design, with vibrant interiors to reflect the ethos of this unique concept. Area: 1,500 sq ft