Customer

Linklaters

Procurement Route

Traditional

Completion Date

April 2022

Value

Confidential

Project Manager

Turner and Townsend

Area

9,000 sq ft

Program Duration

16 weeks

Architect

TPB/BHG (ID)

ME Engineer

CBDSP
ISG delivered the turnkey fit out of an office located in ICD Brookfield Place to house the new Dubai office of Linklaters. The scope includes the complete fit out from a shell and core state comprising ceilings, gypsum partitions, glass partitions, operable partition, MEP, AV, IT, carpet, tiles, shower room, server room, meeting rooms, offices, focus rooms, staff café & a large collaborative open plan work space.

The works are in line with Linklaters international guidelines and regulations for sustainability and fit within the modern high-standard Landlord design fit-out guidelines.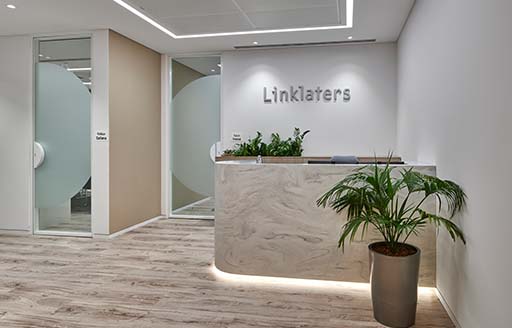 The project
The construction was a great success, achieving occupancy on time for Linklaters to move from their existing office to the new office at ICD Brookfield Place.
A successful project close-out was at the top priority for Linklaters and Turner & Townsend which ISG achieved without any issues, scoring a 10 out of 10 from both for our final customer experience (CX) survey.
"The ISG Dubai team have worked incredibly hard to deliver a successful fit-out project for our new Dubai office. They worked as an integral part of our project team providing proactive input throughout the design, procurement and construction process. The end result has been well received by our local team who are enjoying a new office environment which better supports agile working."

Jonathan Lace, Head of International Premises and Business Continuity, Linklaters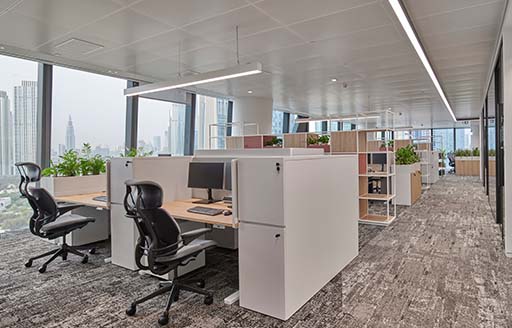 Challenges
Close coordination with client and designer to mitigate buildability issues post design freeze, front end
Construction within ICD – structural base-build steel beams & achieving design ceiling heights
Freight / shipping delays eroding float on programme & squeezing in completion tasks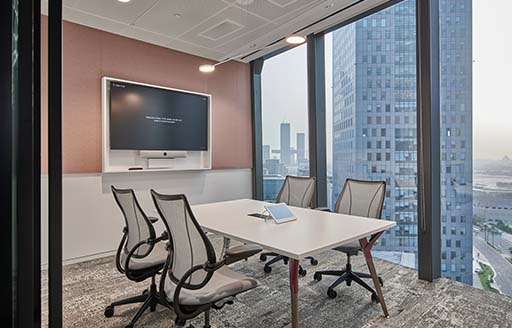 What we did
Raised the issues via RFI to Design Team and arranged workshops to discuss the solutions/proposals we offered to agree with all parties and close the issues. This had a direct impact

on the project's critical path, which ISG was able to mitigate by using smart construction sequencing
ISG used BIM to produce shop drawings for this project. This resolved many clashes on the design at the early stage of the project, preventing unnecessary delays. Issues were raised to the design team and the solutions were agreed upon during workshops. This resulted in the lowering of ceiling height to ensure mechanical HVAC system ductwork could pass under the existing steel beams.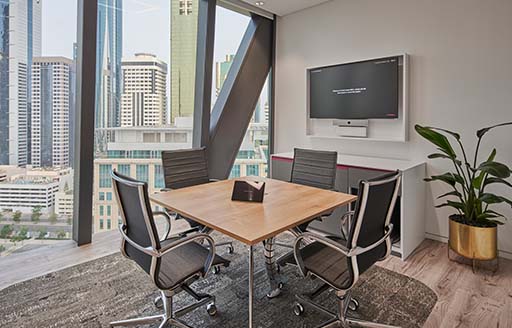 3. Difficult to mitigate & provide solutions to a global crisis so communicating well ahead of time & regularly updating all stakeholders was essential. ISG experienced several procurement packages that were ordered on time, manufactured on time & dispatched on time to avoid experiencing any delays.
This meant the final finishes activities were compressed towards the end of the project. However, ISG provided timely solutions such as the installation of temporary carpets for scheduled final authority inspections.