Customer

FTI Consulting

Procurement Route

Design and Build

Completion Date

August 2023

Quantity Surveyor

Colliers

Project Manager

Savills

Area

2,370 sq m

Program Duration

22 Weeks

Architect

ISG & DWP

ME Engineer

Oxypro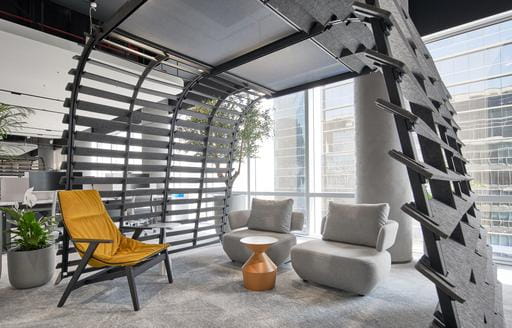 Introduction
ISG successfully completed a full design and build, turn-key project for FTI Consulting, the global business advisory firm. The new project is exemplar of a new era of workplaces, designed around purpose, people and environmental performance.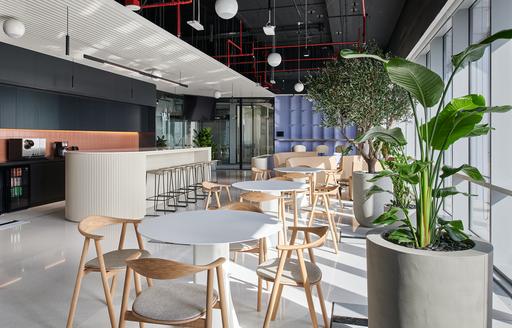 The project
Appointed main contractor for this project, ISG successfully delivered an unmatched design and built a workplace solution that is agile, connected and highly ergonomic. The team completed highly customized fit-out works for the company's new workspace at Burj Daman in the Dubai International Financial Center. The full suite of works included interior fit-out, electrical and plumbing (MEP) works, as well as proprietary IT, security and the AV systems installations.
An evolved work environment designed for inclusivity
Covering 2,370 sq m, the space accommodates office and dining spaces, kitchen and social lounging areas, break-out rooms and an open plan seating arrangement for dedicated workstations was designed and installed to create a collaborative and informal work setting. Soundproof office pods provide quiet spaces for individual work and meetings.
A dining destination just for employees complete with essential kitchen facilities, with a modular-designed coffee machines, provides optimal space and comfort for the staff. The common area overlooks Dubai's unique downtown area.
State of the art meeting facilities and smart technology
The boardroom and meeting rooms are equipped with the company's proprietary smart TV and interactive board equipment, designed to enable seamless online and offline interactions between colleagues attending virtual and hybrid meetings.
Sustainability
Sustainability and comfort were key objectives in our client's vision. We partnered with Climatize Engineering consultants to set the project's strategy to achieve the LEED v4 Silver Rating certification, ID+C from the US Green Building Council (USGBC). Together we worked on the energy consumption and daylight models, construction and operational waste management solutions, and scorecards to verify the high sustainability standards are met.
Special features
While designing the space, the primary objective was to create an impactful and diverse environment, which made a lasting impression while also being versatile and adaptable. This was achieved through the use of accent colors and contemporary details, aligning perfectly with the client's expectation.
Key design features included an open space with standout design elements, clever partitioning of the multi-functional areas to maintain connectivity. A sophisticated color palette was used, and the design team created stylishly concealed ceilings with integrated lighting solutions with consideration for acoustic, sustainable and fire life safety requirement.
Overcoming challenges
Working in a multi-tenanted occupied building comprising of banks, retail spaces and law firms it was vital that all works were coordinated to limit the amount of impact we had on our neighbouring tenants. This required nightshifts, early starts and late evenings. Access control to a grade A building caused its own challenges requiring attention to details and plans made weeks in advance to ensure all subcontractor documentation was reviewed and approved by the building's management.
Having a client project team that was based overseas, we used Openspace to demonstrate the weekly site progress and payment applications. Had we not had access to this technology providing clear and consistent updates would have been a challenge.
Managing several stakeholders, the ISG team were able to deliver the space in a relatively short construction period of 22 weeks. With the span of the programme, multiple mock-ups were prepared, and changes were made to ensure the space was delivered as per client's expectations and required specifications.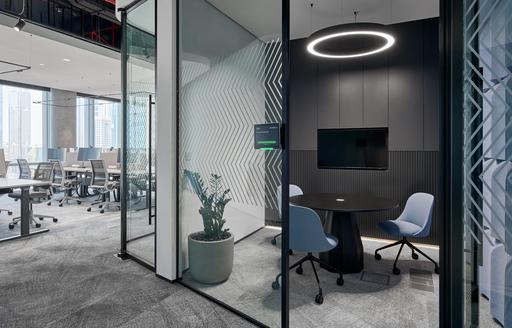 Adding value every step of the way
In a unique approach to giving back, ISG launched its first site-based donation drive where over 90 workers working on the site had access to pre-owned outfits.
Engaging with different stakeholders across all areas of the business to ensure it brings the client's vision to life at every stage of the fit out. The project's relationship driven approach has seen ISG working directly with the client on every aspect of the design and build.