Customer

Dubai Holding Entertainment

Procurement Route

Traditional

Completion Date

August 26th 2022

Quantity Surveyor

JLL

Form Of Contract

Bespoke – Lump Sum Fixed Price

Project Manager

North 25

Structural Engineer

ASG

Area

100,000 sq ft

Program Duration

241 Days

Architect

Bluehaus Group

ME Engineer

Bluehaus Group
Operated by Roxy Cinemas inside Dubai Hills Mall, ISG delivered this grand scale cinema project covering a total area of 101,000 square feet across three floors. The cinema hosts a total of 15 cinematic screens and 1183 seats. The star attraction is "Roxy Xtreme" located on the first floor – UAE's largest cinema screen measuring 28m by 15.1m, and equipped with state-of-the-art laser projection and DOLBY ATMOS sound. "Roxy Xtreme" opens its doors to the public on Wednesday, 31 August 2022.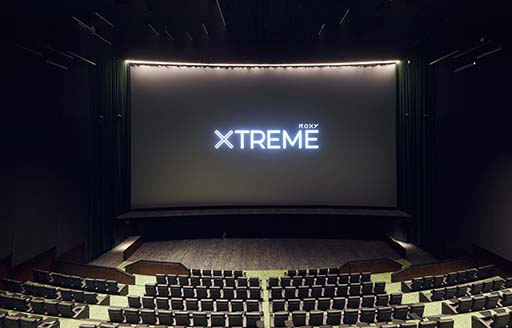 Introduction
Besides "Roxy Xtreme", its star attraction and biggest screen with it being the size of two tennis courts at 423sqm, the new Roxy Cinemas at Dubai Hills Mall also features heated seats, a licensed bar and a "Hall of Fame" where stars who visit will have their hand or footprints immortalised.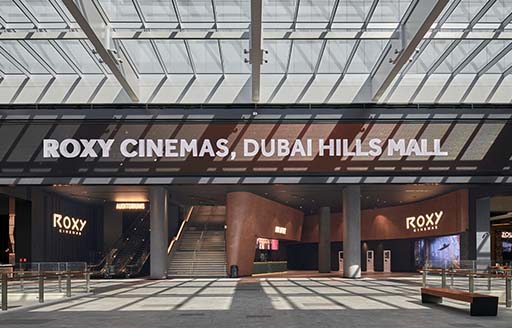 The project
ISG's scope of works includes, structural steel works for stadia seating platforms, projection platforms and suspended corridors, acoustic treatment inside the cinemas for wall panels, ceiling tiles; acoustic/floating floors and carpets, joinery including doors, concession and ticket counters' paneling and bespoke seating, cinema-grade acoustic gypsum partition systems, vertical transportation including four escalators, three lifts, loose furniture, signage, screed works and kitchen equipment for all F&B counter services, lighting, MEP and IT/security.
"ISG has gone above 

and beyond expectations and really helped in any way to get the project 

delivered on time, this care is something that 

isn't often seen 

from a contractor. 


We would like to work with ISG again on future refurbishment




works for Roxy." 

Erik Stevens and Anna Gioarsa, Roxy/Dubai Holding Entertainment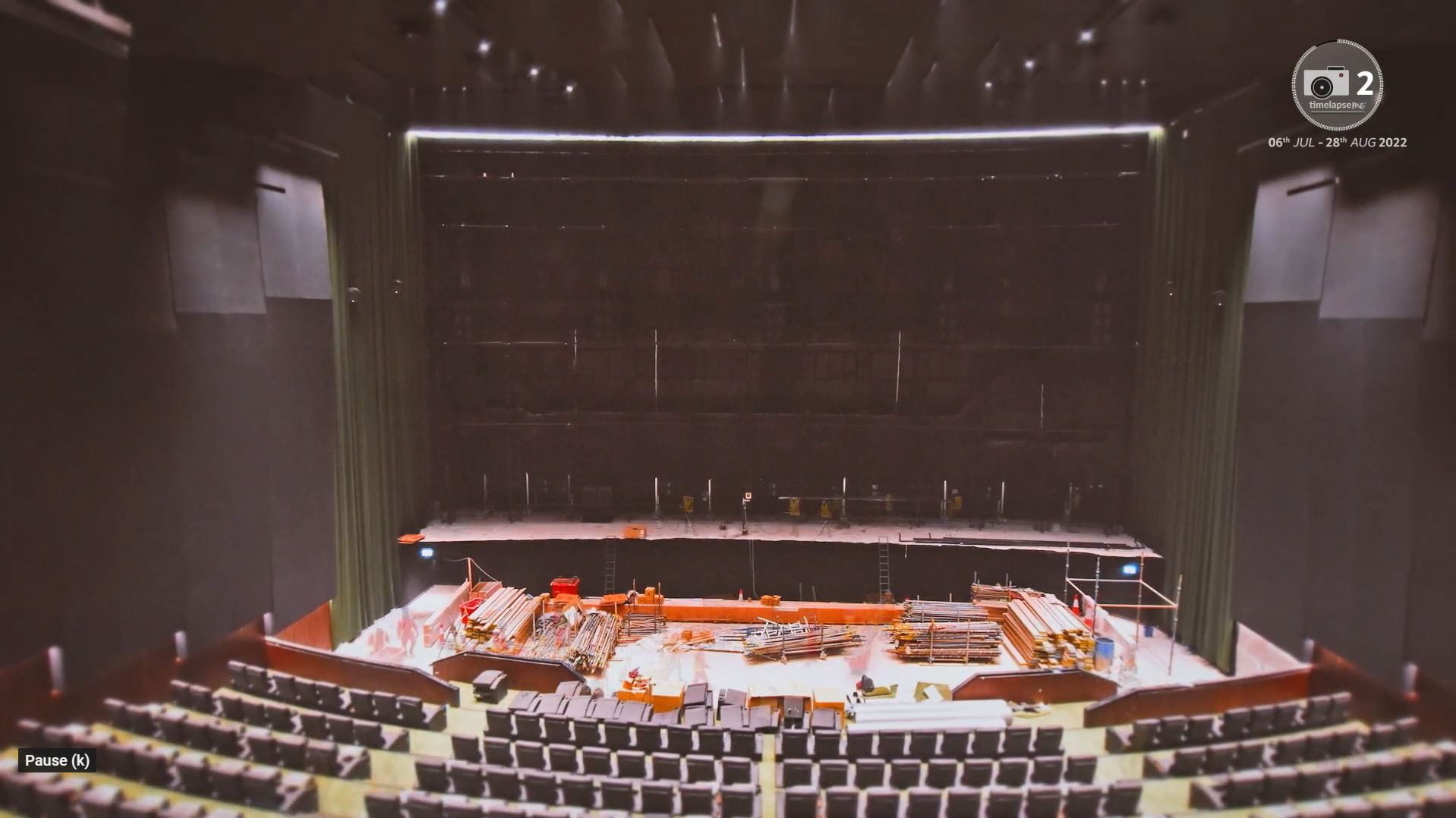 Watch the making of "Roxy Xtreme"– the MENA region's largest cinema screen delivered by ISG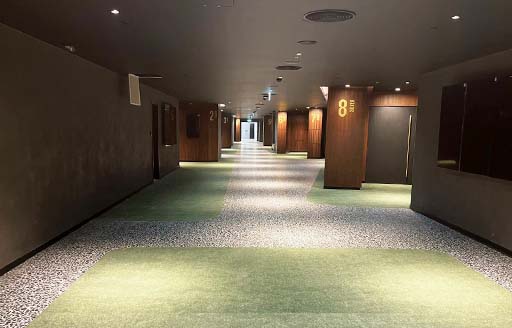 The first floor has seven luxurious silver auditoriums along with two fully equipped kitchens, food and beverage counters, and the main access to Roxy Xtreme, offering an abundance of options for moviegoers.

Timber cladding was used on corridor walls, complimenting a blend of green carpet and black/white terrazzo tile flooring, giving a warm, outdoorsy feel to the space, inviting you to a cosy cinematic experience inside the cinema rooms.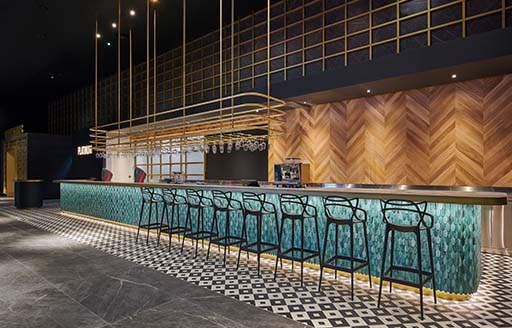 The ground floor features ticketing counters hand-crafted with decorative Italian mosaics, back offices, digital display walls and self-serving kiosks with a with a grand staircase spanning across all 3 levels as well as escalators and lifts, which were installed in a live, fully operating mall environment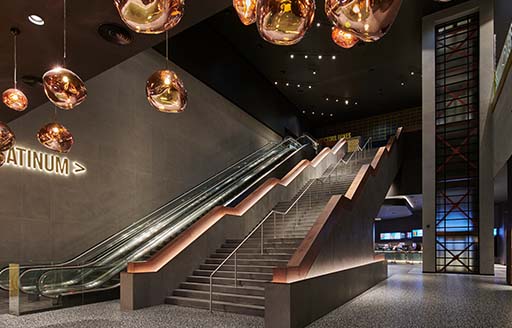 Challenges
There were logistics constraints for the delivery and installation of 360 tons of hot rolled steel which had to be delivered in live mall environment with limited access points.
The installation of 20m high partitions, without using large access equipment due to logistics constraints of no large machines allowed onsite.
Optimising co-ordination with several client direct suppliers providing key installations including seating, TMS, screens, audio systems and digital screens.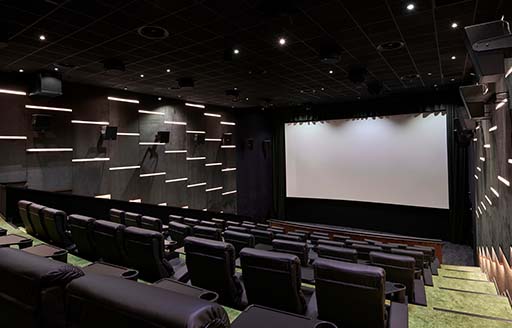 What we did
ISG implemented a robust plan using multiple spider cranes to maneuver the steel into the space and install in line with the program durations during hours permitted by client and landlord.
ISG staged scaffolding with long-term foresight to allow for efficient modification to allow partitions to be built, while having other works such as steel installation proceed in tandem.
ISG arranged and coordinated robust coordination meetings bringing all key stakeholders to ensure a smooth and seamless delivery. The ISG team also continuously used transparent and open communication to build strong relationships with all stakeholders.