Completion Date

25 April 2021

Quantity Surveyor

Turner and Townsend

Area

1,500 sq ft

Program Duration

10 weeks

Architect

Roar Design (ID)
The project
The project involved the complete fit-out of a retail space located at the ground floor of ICD Brookfield
Place, one of the prime retail spaces in Dubai now, which went live towards the end of 2020. This space was fitted out in line with the ID design provided by Roar Design with the MEP design developed by ISG inhouse.
The space is intended to cater to needs of the client which includes marketing, art exhibitions, tutorials, presentations etc. The scope included all MEP installations, AV, IT, security installations, gypsum walls, fabric ceilings, textured wall finishes, wallpaper, customisable furniture, fixed furniture, wooden/metal ceilings, vinyl flooring, carpets, wall panelling, façade works.
The fit-out was completed from the ground up with the blockwork demise walls also built by ISG under a different work order, as part of the framework.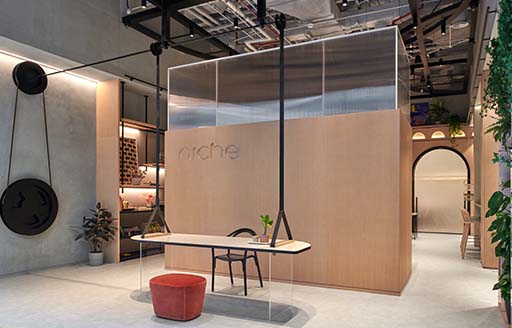 Challenges
MEP design was in-house through our supply chain and TSM team and the ID design was through Roar design. Co-ordination was a challenge with the tight timeline.
Challenging timeline considering demise walls, design and execution to be carried out in 2 and a half months.
Small area with limited space for high level access. Slab to slab height of 8m.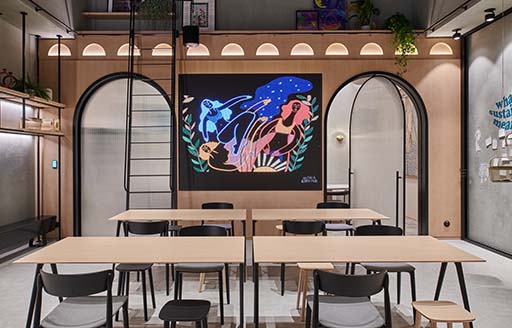 What we did
Having weekly workshops with ID designer to develop the design to shop drawings and taking the MEP design in parallel with consistent communication on the challenges to the ID designer so that both designs would sync well from the get-go.
Fast tracking MEP design and executing high level works early on fixed scaffolding built for the construction of block demise walls.
Working both shifts by staggering trades for better site coordination.