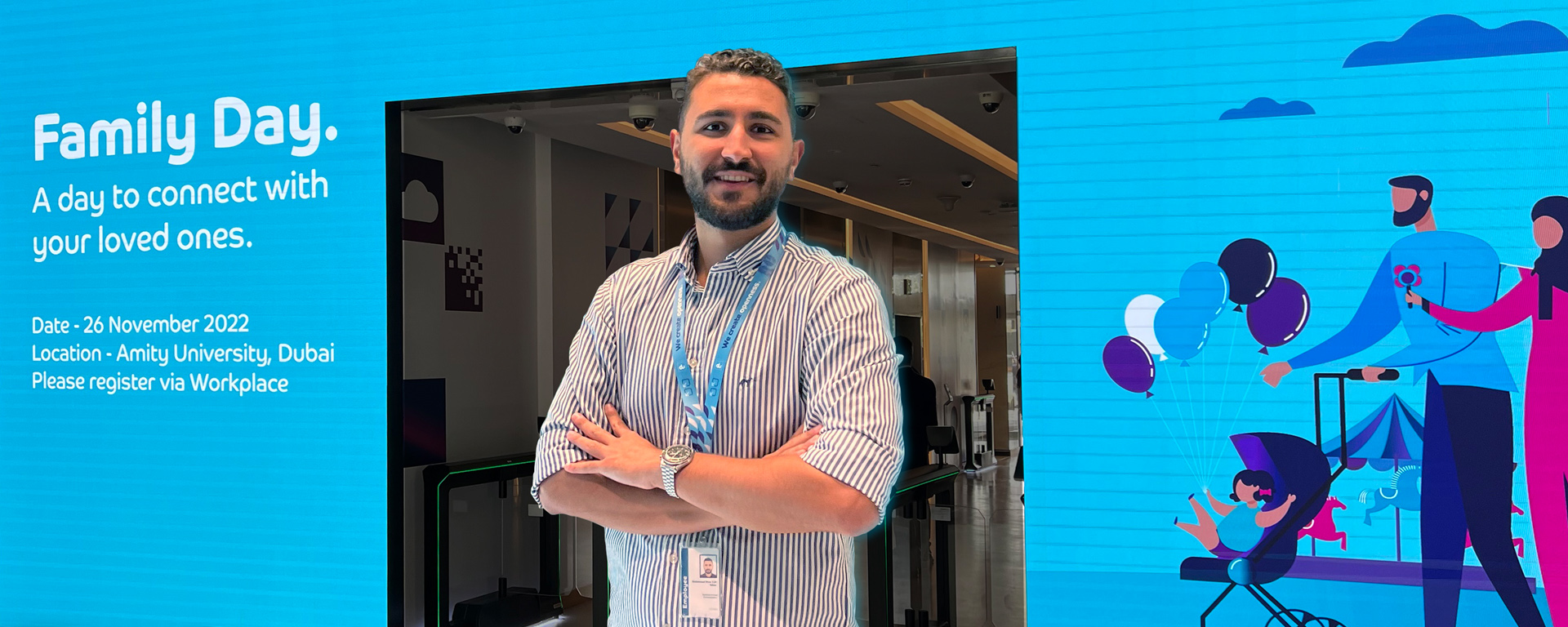 Muaz Tellawi, Internal Communications Specialist at du, moved to Dubai in 2017 to pursue a career in communications. An enthusiast in the art of communicating (as well as volleyball and off-roading), Muaz was looking for a project to inspire him.
In December 2021 ISG began work on delivering du's Dubai headquarters at the luxurious Dubai Hills Estate. Muaz was tasked with sharing new campus updates with du's employees and building excitement around the new space, stirring up anticipation for its recreational and wellness facilities.
He says: "I manage companywide announcements and events for our employees and feel invested in their well-being and engagement. I know most of our staff by name, and they have become family to me. My job is not only to ensure that the du brand is communicated to our colleagues, but also to ensure that they are happy and enjoy being in the workplace, with everything employees may need under the one roof. The physical office space and environment play a huge role in achieving this."
Muaz feels lucky that he works with a tech brand with a strong culture of inclusion - and sees du as a microcosm of Dubai with its ambition and diversity. All spaces at du's headquarters are fully accessible to people with disabilities and are wheelchair friendly. As a result of its people-focused approach, du was recognized by Facebook for hitting new global milestones for employee engagement – one of Muaz's proudest moments. du's leadership also acknowledged the role the communications team play in leading internal communications campaigns, bringing together all employees despite their different nationalities, cultural backgrounds, and interests.
We are all aware of the changing landscape of our professional world. Worker welfare has never been more broadly prioritised, and empty grey cubicles are the new microwavable fish – something not to be brought into the workplace. When ISG delivered the new offices in May 2022, they were serving something different.
To build a space that is comfortable, empowering, and agile takes close collaboration; du and ISG built a relationship based upon mutual trust. As the primary fit-out contractor ISG were beneficiary of du's communication skills, understanding the specific requirements and vision for the project. The new offices are housed in a seven-story building, spanning 140,000 square feet of tech powered multi-use spaces for the company's 1,000 employees.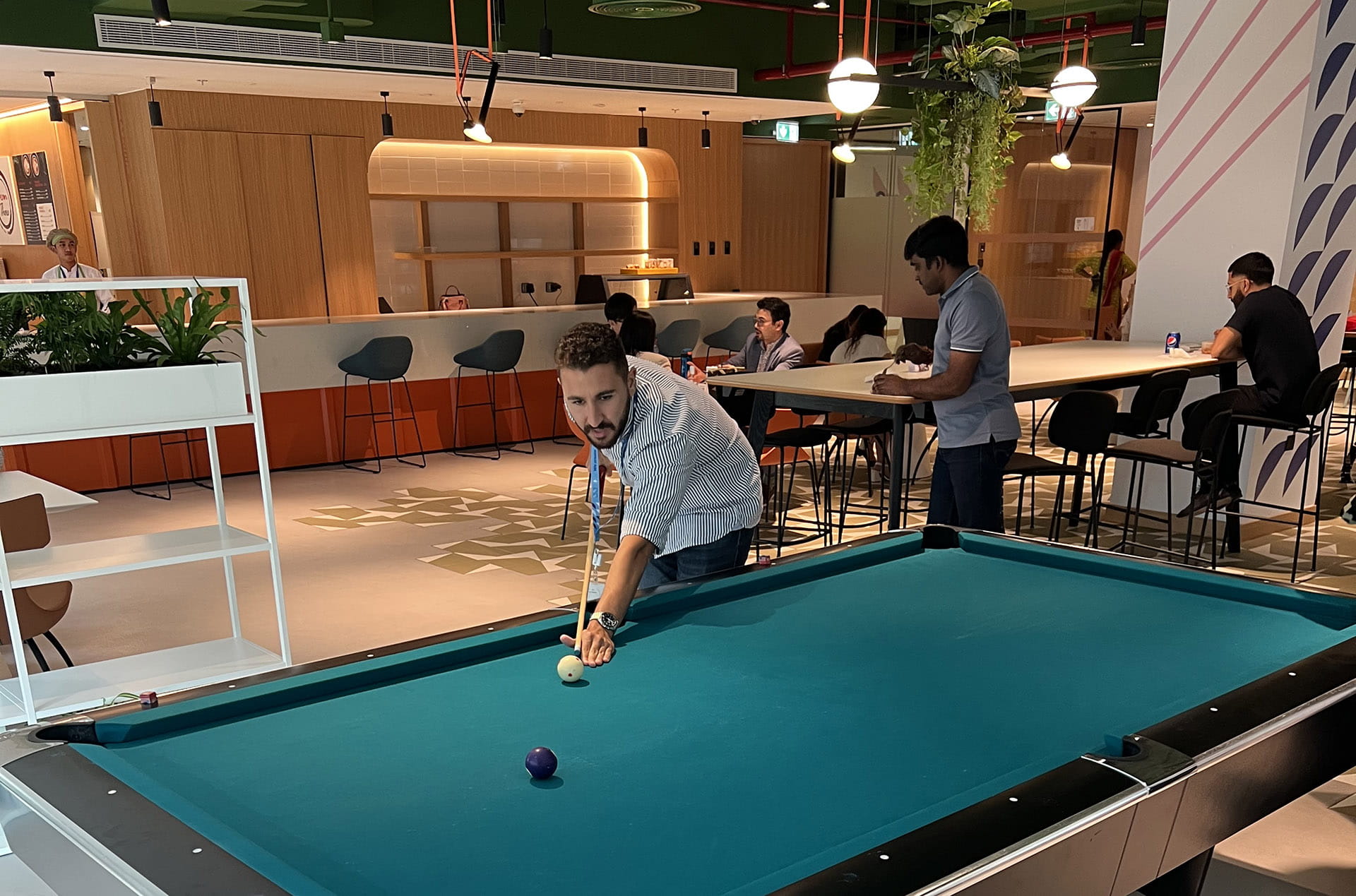 The "traditional" office space was challenged, and the new multi-use space fosters a positive work culture with a focus on teamwork, inclusion, recreation, and innovation. It includes diverse multi-use spaces which are equally suited for both collaboration and socialization. It also hosts a health clinic with doctors, nurses, and a physiologist as well as immigration and visa services – the aim being multiple services accessible to all employees in one place. A collaborative corporate home for all employees to engage, enjoy and work smarter within.
"Moving to our new HQ has helped me a lot in achieving new milestones in my role, employee engagement reached new records, and the openness of the space has encouraged a more active and social lifestyle."

Muaz Tellawi, Internal Communications Specialist at du, Dubai
Muaz says: "As a communications professional, I particularly appreciated ISG's frequent and transparent communication over the weeks and months that we had them on site and beyond. This not only resulted in this fast-tracked project being completed on time, which was very critical to us, but it also helped me in shaping a detailed employee engagement plan, around the new office, using the information and progress images that were frequently received from ISG's project team. No one likes change but ISG's understanding of the importance of communication helped me in overcoming any challenges in getting our employees excited and onboard with the move."
Muaz believes in the importance of thoughtfully designed space that uses science-backed design elements and digital tools to boost employee productivity. "The multi-purpose space is great - it's simple but such an effective and fun space. We have used it for yoga events, personal training sessions and award days as well as launching new programs within du. We host "tech Thursdays" once a month where we invite an external expert to discuss trending technology topics. Our biggest one was with Meta. Events with our CEO and leadership, and social events such as birthdays are hosted here too. ISG built a lot of flexibility in this vibrant space, and it has become a focal point for all employees."
Ultimately, Muaz says that: "Moving to our new HQ has helped me a lot in achieving new milestones in my role, employee engagement reached new records, and the openness of the space has encouraged a more active and social lifestyle."