Customer

du

Completion Date

May 2022

Quantity Surveyor

Savills

Form Of Contract

Fidic 1999 short form

Area

140,000 sq ft

Program Duration

20.5 weeks

Architect

Bluehaus Group (ID)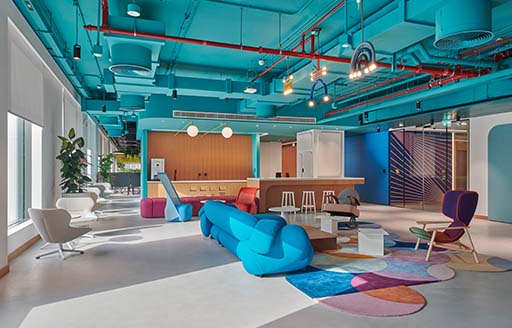 Introduction
The new Emirates Integrated Telecommunications Company (du) HQ boasts classy executive offices, CEO and chairman suites, convertible meeting rooms and majlis, staff cafeteria, and lounge, all housed in a seven-storey standalone building at Dubai Hills Business Park. Dubai Hills is well-known for being one of Dubai's emerging locations for luxe living, drawing a discerning clientele and working professionals to the area.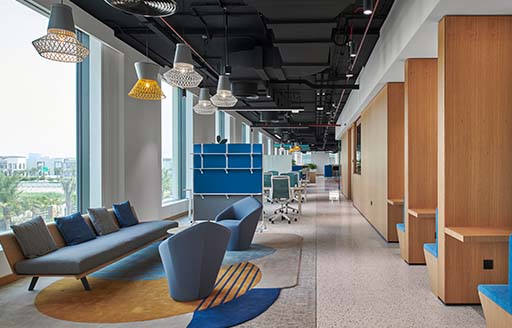 The project
Tastefully fitted out by ISG from shell and core condition, du's HQ covers 140,000 across seven storeys, boasting a top floor for executive offices, CEO & chairman suites, meeting rooms & majlis, open and closed office spaces, cosy and collaborative areas that include cafeteria and lounge.
The purpose-built HQ aims to inspire innovation, collaboration, and efficiency in a future-proof sustainable environment. The new HQ will support du's accelerated-growth strategy and fast-track its transformation into a digital telco.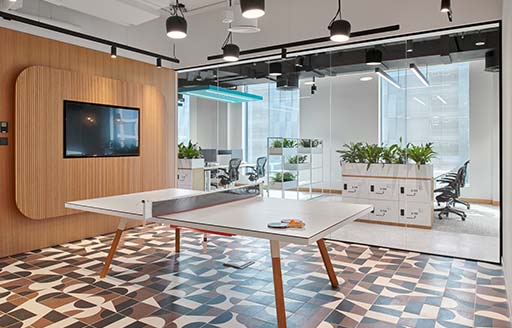 Built to the high quality and aesthetic requirements of du and in accordance with Bluehaus Group's design package, du's new headquarters is designed to bring the company's vision of culture, productivity, and employee well-being – the four key elements that form part of its ongoing transformation agenda (TA). du has a strong culture of employees from diverse backgrounds working towards a shared vision, taking pride in what they do, celebrating their successes as one team, and giving back to the community.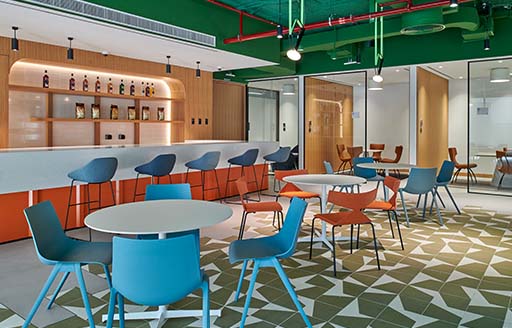 With detailed planning in place to ensure successful project delivery, ISG adopted the latest activity-based workplace solutions in line with du workplace and technical building requirements policies. The team kept to the detailed programme on this project while having safeguards in place, enabling du's 1000+ employees to move into the new HQ on schedule. The company's office was previously based in Dubai Internet City.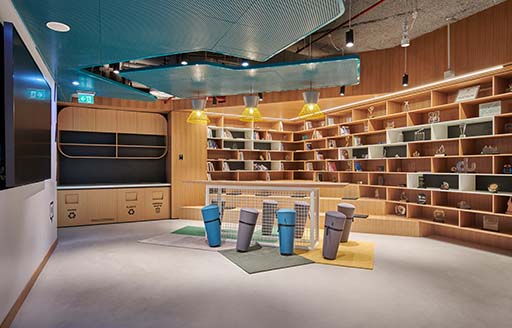 What we did
Delivering works across seven floors concurrently required very precise resource planning. Orders were placed with our supply chain as early as possible and resource levels were always monitored to ensure the programme was kept on track.

This was executed through detailed planning, which was tracked daily via a KPI tracker to measure the daily output. Any resource issues or delays were therefore flagged early and ISG were able to get additional resources where needed. At critical stages, there was a total of 950 men on site for four weeks with a record number of manhours for the business within a month.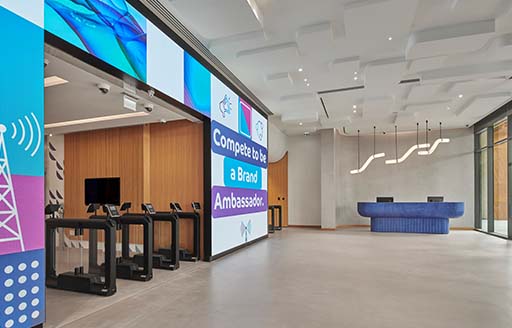 The project teams also managed procurement lead times that were constantly changing. With early engagement with all suppliers, ISG was able to procure directly with specifications and set up a dedicated reporting process on procurement activities, which included mitigation measures including airfreight options and site walks to sequence alignment with all parties. This ensured proper supply chain management and balanced the expectations of all stakeholders.

High-tech lifting plans were executed by ISG and its supply chain partners to lift large-sized and delicate construction materials to the roof and other hard-to-reach locations, in fulfilment of the high-specs design and quality requirements demanded of a world-class workplace of the future.