Du HQ in Dubai Hills gets featured in Love That Design
Designed by the Bluehaus Group and constructed by ISG, the new headquarters of du, the UAE's leading telco, has colour and connection at its very heart. 

Full of colors and spaces that conspire collaboration, the new du headquarters is housed in a seven-storey standalone building in Dubai Hills Business Park. Designed by the Bluehaus Group and constructed by ISG UAE, the space now stands as a 134,000 sq ft complete with office space, training rooms, breakout areas, a multipurpose hall, wellness amenities, clinic, toilets, entrance lobby, prayer rooms, innovation hub, lift lobbies and staircases. 'Coming together' takes a major focus in the headquarters, not just because it's an office but also because the very ethos of du's motto is to connect people effectively.
The full feature article can be found on Love That Design with a summary below.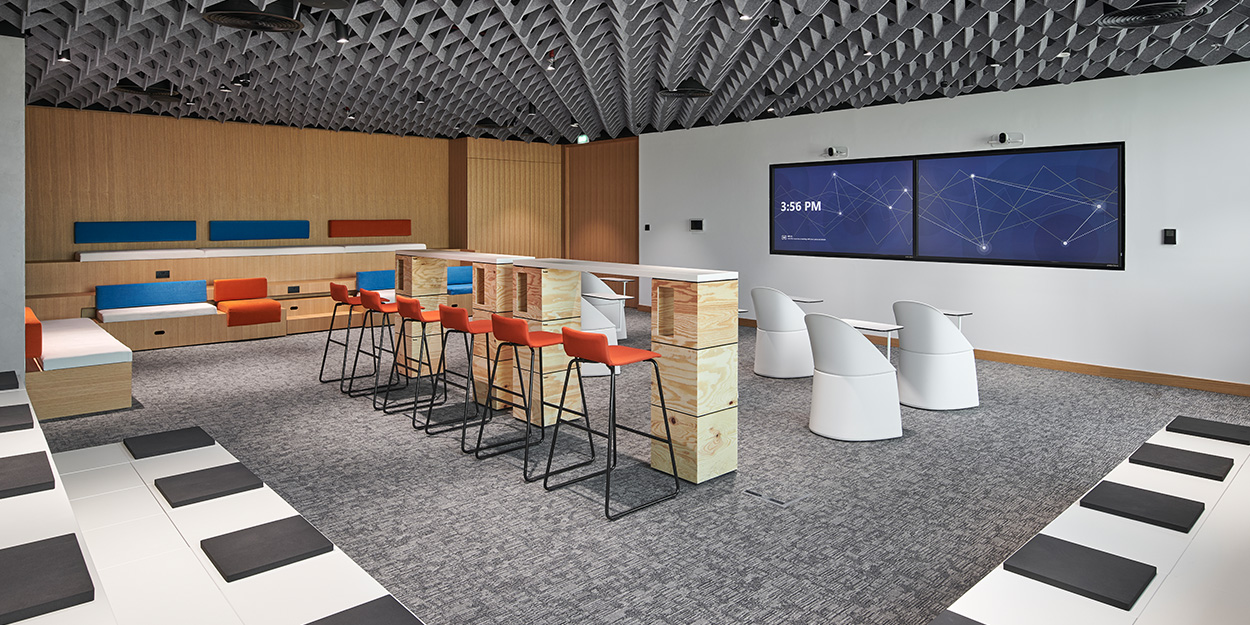 The brief
From its inception, the brief from the client, du, was not extensive but extremely particular. The headquarters were to prioritize employee wellbeing and happiness, along with having technology at the forefront of the entire narrative. Once the big picture was sorted, requirements of having activity-based workspaces, spaces that encourage collaboration and reflection, the need for noise-managing interventions and creating a welcoming environment for hosting bubbled up.

The brief, in-line with the ongoing evolution of workspaces, reflected du's vision to set a benchmark for office environments. "Given the transformation of the workplace over the past decade into a mix of workplace, hospitality, F&B and wellness, the prospects are endless. The pandemic, with its work from home spin, has accentuated greater agility, freedom, and choice within the workplace. Workplaces now have the onus to be flexible towards a range of possibilities, they are now 'a destination not an obligation'. In such a scenario, the bar is set high. Offices have to be a place where team members and teams want to go, enjoy and are energized by. They have to provide spatial iterations – a space that is everything to everyone, something that brings team members together when required or allows them to focus when needed", Bluehaus Group voices out.
du's vision for their headquarters and Bluehaus Group's belief can be seen parallely manifested in the project. "The thinking was driven by the necessity to simply connect people, on all levels, to flatten the hierarchy, boost the communication amongst teams and to almost bring the spirit of start-up that du once was many years ago", comments Bluehaus Group.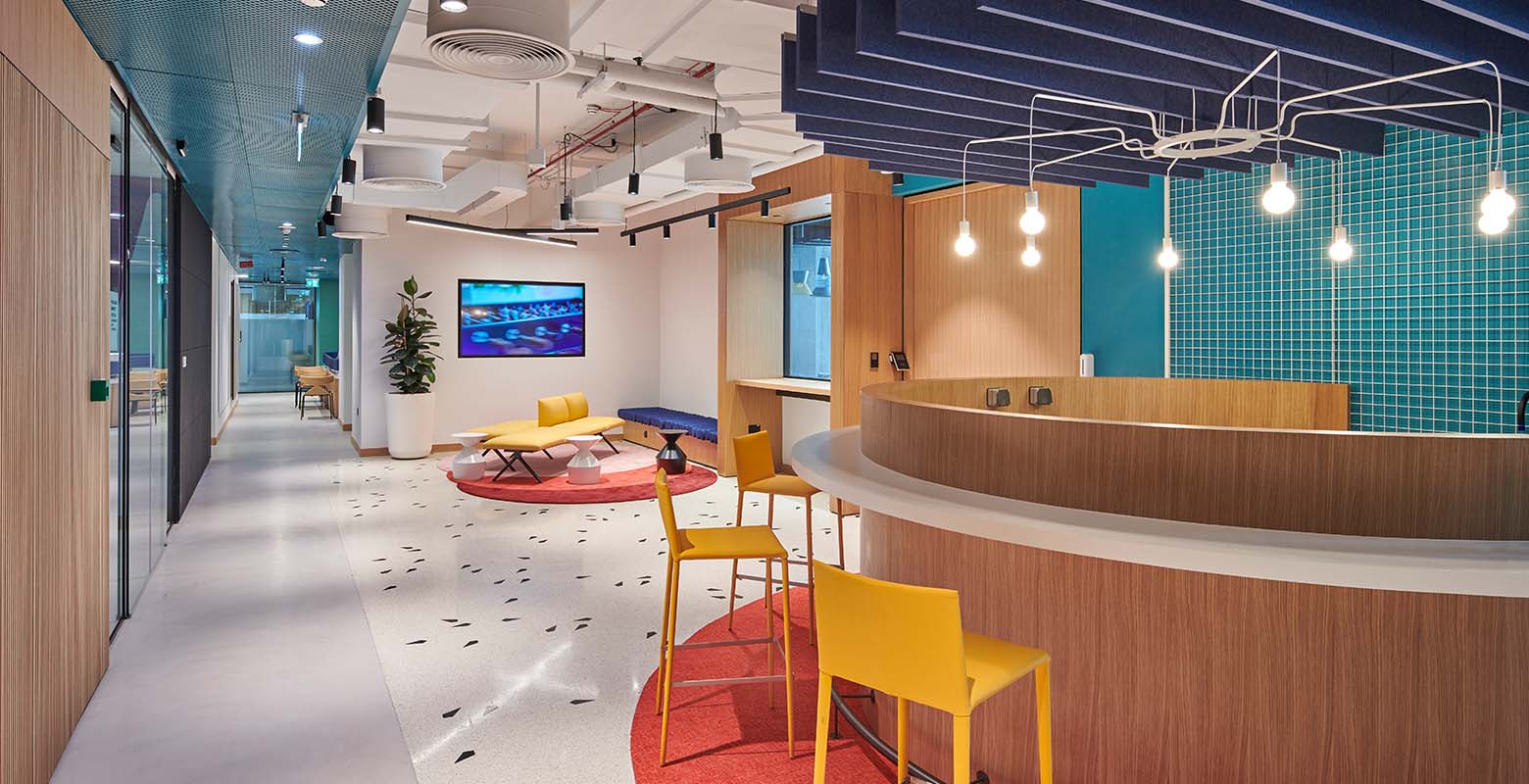 The Spirit of Collaboration
Coming up with design interventions that effectively act on pain points never comes innately, especially when there exist three counterparts to a team – the client – du, the designers – Bluehaus Group and the contractors – ISG. Each counterpart has to be willing to listen and act on what's best for the welfare of the project. While Bluehaus and du were able to arrive at consensus through repeated meetings with the seniors and team leaders, and cultivating a fun but targeted relationship, ISG was responsible for bringing this vision to life.
"In space-making, effective coordination meetings are key, and sets the conditions for success. Early engagement is essential so getting those collaborative and engaged sessions in with Bluehaus to review every page of the blueprints and design documents from the very outset was the most important first step. This ensured we were fully aligned on the design requirements and deliverables from day one. Weekly progress meetings with du, and workshops with partners and the consultants strengthened our onsite planning and commitment to delivery. As a standard process, all meetings are recorded and sent to all involved on a daily basis, ensuring that everyone is clear on expectations and their respective tasks at any point in time. The use of the technology solutions played an integral role in the validation and ensuring programme and the highest quality control standards", comments ISG.
Technology And Sustainability Every Step Of The Way At The Du Headquarters
Even in implementation of the project, ISG made use of technology to achieve their goal and bring about sustainability. Advanced digital construction tools, such as SnagR and OpenSpace software management systems assisted ISG to monitor the live progress of complex projects, capture field data easily, automate reporting, and visualize sophisticated analytics in real-time.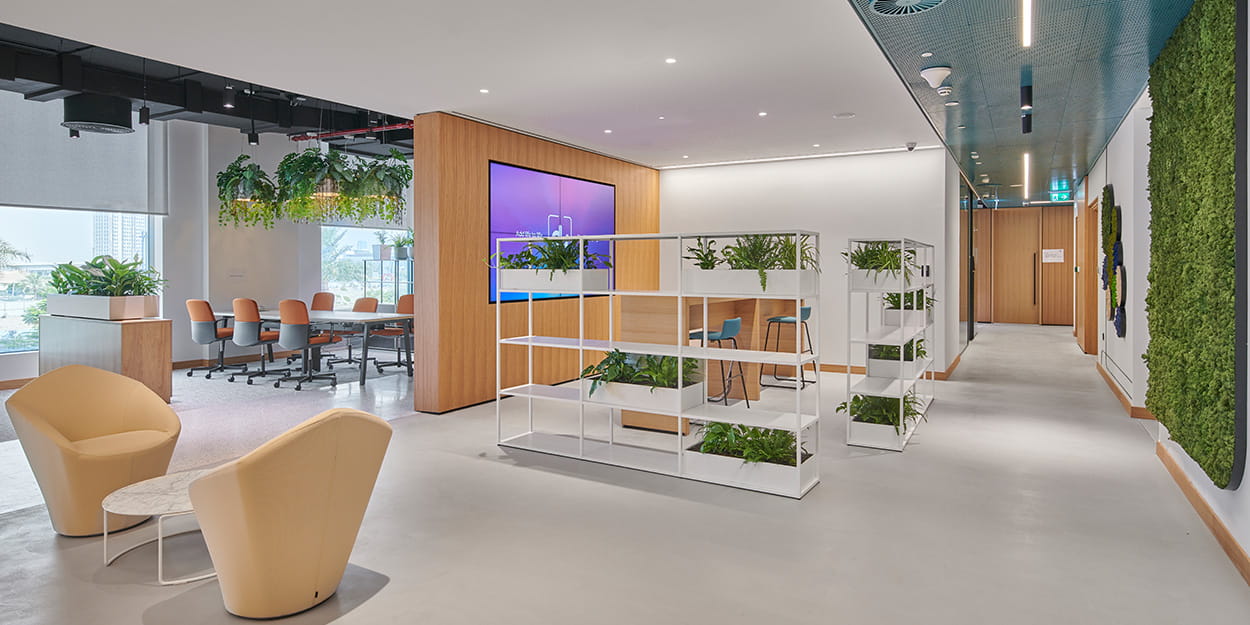 "This technology democratizes our delivery programme for clients and provides transparency and access to key information so we provide live reporting from our sites to clients across the globe. We conduct accurate site surveys with live video walkthrough and reporting through OpenSpace. There's a major sustainability win using this technology as it reduces the need for frequent site visits, mitigating the carbon impact and personal resource issues these bring. It also aids real-time decision-making and enables our project team to close out all work quicker and with enhanced efficiency"

Steve Ramsden, Managing Director, Southeast Asia and the Middle East, ISG
On the materiality forefront, ISG took du's desire of being sustainable to heart, "Working alongside our suppliers, ISG ensured that materials used conformed to high sustainable standards. Examples include the acoustic wall paneling, which is certified with the Global GreenTag and WELL v.1.0 & v2.0 standards, and wood materials used that are FSC Certified for responsible forestry. In addition, existing doors were repurposed with new finishings to blend in with the new interior design. All waste materials were segregated and delivered to a recycling management company."

Being a leader in the industry, ISG has all its processes organized from step one. They elaborate, "At tender stage of the du Headquarters, we build our programme from ground up using proven data along with benchmarking of similar projects. The tender programme goes through a series of gateways that studies and identifies float analysis and risk. Our people are our biggest asset, and with the du project team having an extremely solution focussed approach, it enabled the team to identify risk and mitigate this at early stages. Early engagement with our supply chain also allowed us to identify and provide solutions to any key challenges we believed could occur on the project in a timely manner."
Ultimately, the efforts on all three sides came to fruition, Bluehaus Group couldn't help but be full of pride about the entire journey. "This is not a project, it's a saga. The story and the journey impacted so many people; on an individual level, as well as a team that worked as a heartbeat together, and the Client's project team and also on a cultural level changing the way du employees feel about their organization. We are immensely proud of the outcome and feel this story should keep being told for these are the reasons we love what we do".