Steve Ramsden is 5th on Design Middle East Fit-Out Powerlist 2022
The Powerlist recognises leading firms at the forefront of the thriving fit-out sector in the region based on landmark projects delivered, cutting-edge technology, and remarkable achievements. Below is a excerpt of the article.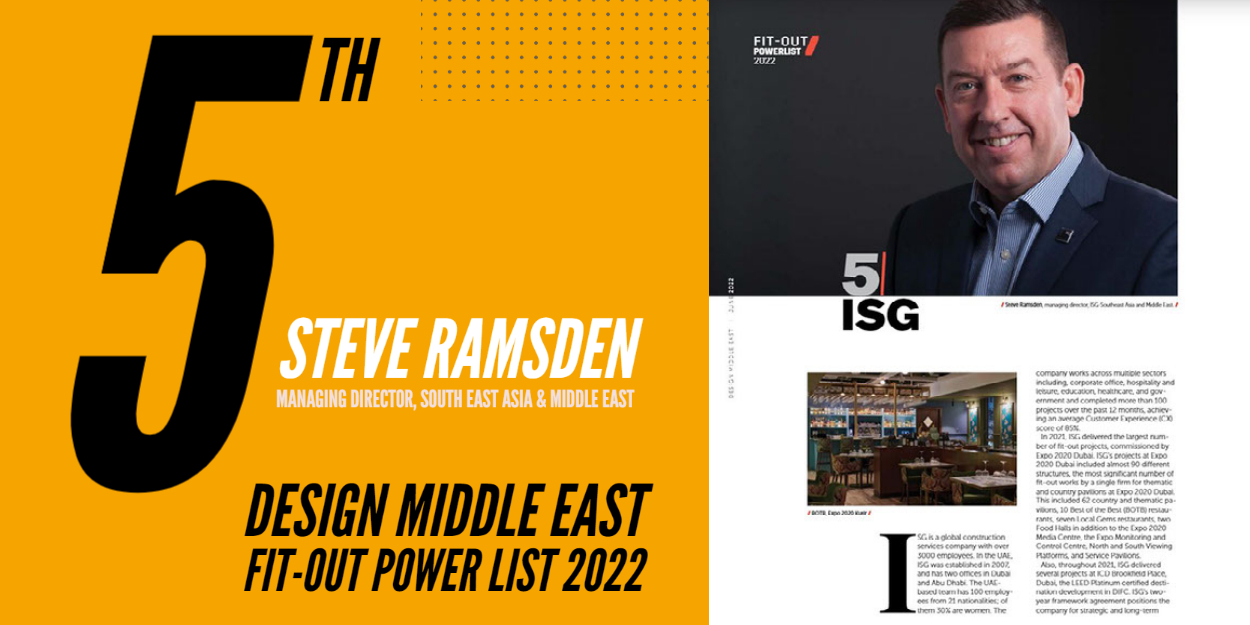 In the UAE, ISG was established in 2007, and has two offices in Dubai and Abu Dhabi. The UAE-based team has 100 employees from 21 nationalities; of them 30% are women. The company works across multiple sectors including, corporate office, hospitality and leisure, education, healthcare, and government and completed more than 100 projects over the past 12 months, achieving an average Customer Experience (CX) score of 85%.
In 2021, ISG delivered the largest number of fit-out projects, commissioned by Expo 2020 Dubai. ISG's projects at Expo 2020 Dubai included almost 90 different structures, the most significant number of fit-out works by a single firm for thematic and country pavilions at Expo 2020 Dubai. This included 62 country and thematic pavilions, 10 Best of the Best (BOTB) restaurants, seven Local Gems restaurants, two Food Halls in addition to the Expo 2020 Media Centre, the Expo Monitoring and Control Centre, North and South Viewing Platforms, and Service Pavilions.
Also, throughout 2021, ISG delivered several projects at ICD Brookfield Place, Dubai, the LEED Platinum-certified destination development in DIFC. ISG's two- year framework agreement positions the company for strategic and long-term involvement as a trusted partner for engineering and construction services, supporting ICD in realising its investment vision for the iconic development.\
Projects delivered include highly spaced corporate office space, F&B and leisure spaces. In 2022, ISG has been appointed to several large- scale projects including, the fit-out the new headquarters for Du in Dubai, the complete refurbishment of the iconic Jumeirah Mina A'Salam Hotel and the fit-out of new Roxy Cinemas in Dubai Hills Mall, to name a few.
ISG employees are active members in the community and have recently volunteered in the 1 Billion Meals Initiative during the Holy Month of Ramadan. The company has also raised funds for the Dubai Centre for Special Needs, travelling over 435km in the process. Managing Director, Steve Ramsden, kicked off the initiative with a six-km walk on the opening morning, with other activities including badminton at Dubai, World Trade Center (DWTC), cycling at Al Qudra, and an employee-led Kite Beach walk.
Steve Ramsden has been at the helm of ISG's Middle East business since 2016. During his tenure, ISG's presence in the region grew significantly and the UAE business achieved its best results in 2021. The company completed more than 100 projects and delivered the largest number of fit-out projects commissioned by Expo 2020 Dubai.
"We feel proud of our teams' performance over the past 12 months. The pandemic has had a huge impact on how we operate and deliver projects, but ISG adapted quickly by implementing various continuity strategies that built on our experiences in Asia, which had started the COVID-19 response cycle, ahead of us here in the UAE. This high level of readiness and agility placed ISG in good stead throughout the pandemic, was well noted by our clients, and will remain vital in the future."


Steve Ramsden, Managing Director, Southeast Asia & Middle East