It would always be personal the first day David instinctively stepped through the doors of Sandwell Hospital – the very place where he was delivered into the world a few decades before. Only this time, it was David's turn to return the favour by breathing new life into the transformation of its new £400m PFI mega scheme, Midland Metropolitan University Hospital.
With over 25 years' experience in the construction industry, David's ability to deliver technically challenging healthcare and life science projects made him perfect for the role. However, with his previous employer facing bankruptcy a few months later, it was his refusal to give up on the scheme that led to a chance opportunity to work on behalf of the NHS Trust.
For David, it would be a unique opportunity to understand the needs and wants of the contractor and NHS Trust when it came to the delivery of large-scale hospitals builds – and experience first-hand why the healthcare sector is so important to the country.
Born in the early 1980s, a few months after his beloved Aston Villa won the European Cup, little did David know why he would be returning to the same hospital 30 years later.
Having left school at sixteen to become an apprentice site engineer, David's career in the construction industry was inspired when he was a child by his fascination for his father's hand-drawn designs.
"As a proud Midlander, I hold my season ticket for the claret and blues close to my heart. With a shared passion for attending the big match days, it was no surprise that I would follow my father into construction eventually. With him being a draftsman by trade, I often dreamt about transforming my father's drawings from lead and paper into bricks and mortar. It's something that has stuck with me throughout my career and still today."

David Hollywood
"In my early years in construction, I was fortunate to dedicate eight years to part-time college studies and a Construction Management degree. Like any new starter joining the industry, it enabled me to develop my theory and practical experience across a range of different roles and disciplines. I've been fortunate to work in pretty much every site role since!"
David's first taste of project management is something he remembers well, leading the £16m refurbishment of The Nottingham Academy – a complex scheme that required the school to remain open to teachers and students throughout the construction process.
"I was fortunate to be part of a great project, client and team. It was a great experience for me because as main construction partner, we were able to collaborate with the customer on tailored solutions for highly-technical challenges that ensured the school could carry on teaching and with minimal disruption."
With The Nottingham Academy achieving zero defects in handover and one of the company's highest-ever customer satisfaction scores, it wasn't long until David was rubbing shoulders with the best talent in the industry as a finalist at the prestigious 'Construction Manager of the Year' Awards in 2012.
"It was an incredibly proud moment for me to be recognised by my peers. But I soon needed a new challenge and after joining a Leadership Development Programme, I was offered the role of Supply Chain Director where I managed all international construction spend and the sustainable growth of my former company's supply chain.
It was an experience that would benefit him three years later as Project Director on the £400m PFI healthcare scheme, Midland Metropolitan University Hospital – part replacement for Sandwell Hospital, the very hospital where he was born.
"Hospitals differ from schools in that they need to operate 24/7 without any disruption to critical infrastructure and are constantly under pressure to deliver the best patient experience and clinical outcomes. I use the philosophy – 'right first time' – because we face a race against time and there is simply no other way to deliver the UK's next generation of world-leading hospitals."
"Returning to my childhood hospital, it felt very 'personal' from the outset and it was evident there would be several design hurdles to overcome before we started. I remember all the hours my father would spend drawing meticulous plans and concepts, and the different versions that he lay scattered out across the floor. After going back to the drawing board, I knew to safeguard Sandwell and West Birmingham's new future as a 'super-hospital', it was crucial we focused on quality and safe delivery."

David Hollywood
The announcement that David's former employer would go bankrupt sent shockwaves through the industry and meant that Government officials, the NHS Trust, consultants and supply chain partners now needed to work together quickly. This meant finding a way forward – a bit like his favourite football team would do on a match day – only this time, the goal being to deliver a world-leading hospital to the highest commercial, quality and programme standards.
"Collaboration was crucial. Overnight, team members went from rivals to partners, and a 'Dunkirk Spirit' took over", recalls David.
"There was real passion amongst the team to ensure the NHS Trust received the service it deserved. And for me, it was the start of a three-year career hiatus providing consultancy services to support the Trust in the re-procurement and delivery of the scheme. Paying homage to the fantastic service and care my mother received almost four decades previously, I was determined to finish what I had started and found myself based at the NHS Trust for the next three and a half years."
Maintaining excellent working relationships with the NHS Trust was crucial despite the difficult circumstances brought on by the COVID-19 pandemic. Experiencing the issues our NHS Trusts face first-hand was crucial for David and his team in successfully getting the scheme back on track in early 2021 and where it is now in the final stages of construction. It's due to this unique mix of contractor and client-side experience that David currently finds his attention focused on leading the delivery of some of ISG's next generation of megaschemes.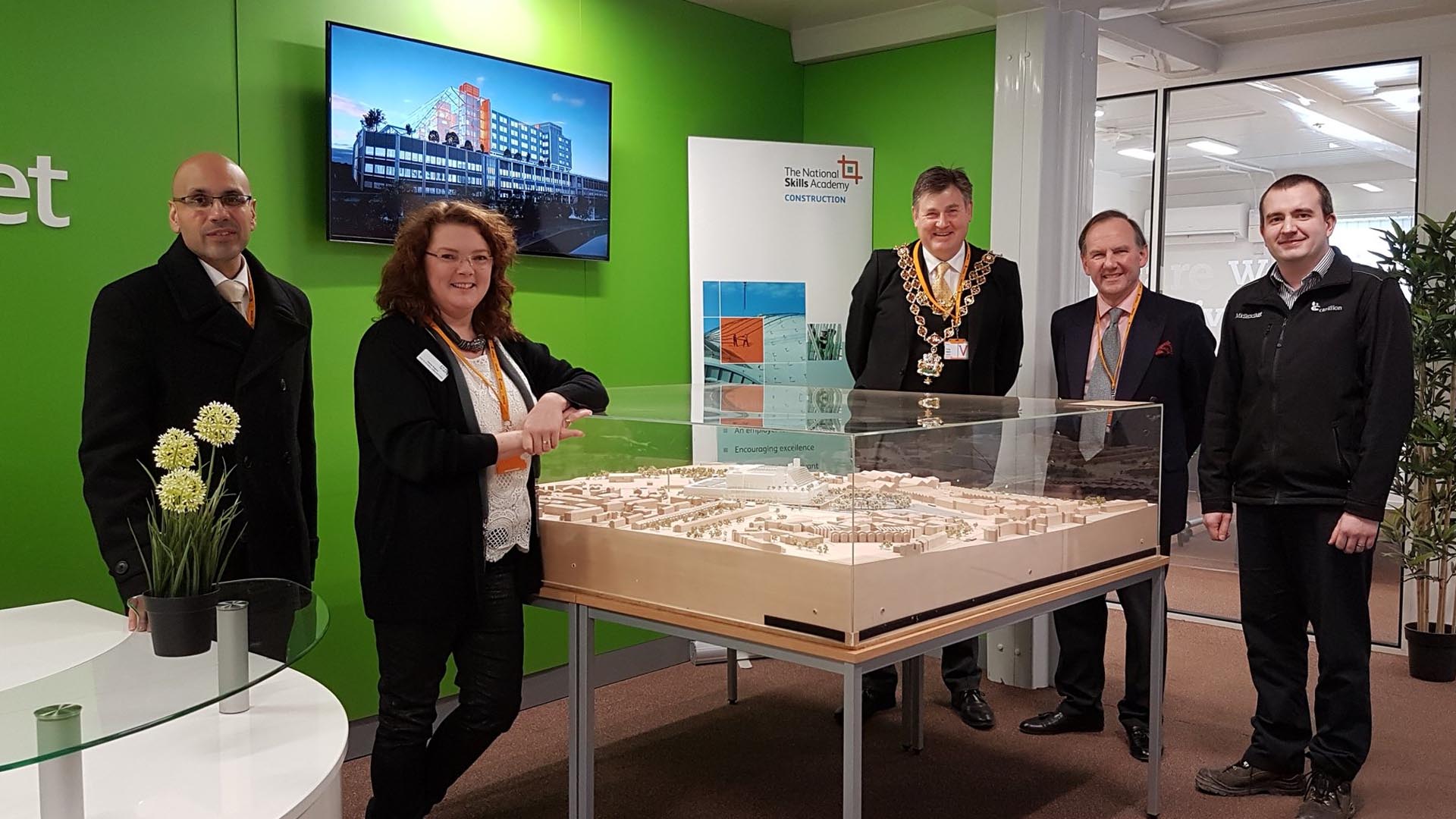 "The global pandemic has highlighted how important the healthcare sector is to the country and with the UK government's construction pipeline now unveiled, it's clear that it will get the investment it deserves. The healthcare industry and Construction Playbook are already on a pathway to Net Zero. It's paramount our healthcare spaces are healthy too – future-proofed, accessible and sustainable for many years to come".

David Hollywood
"At ISG we design and construct differently – our teams making greater use of Building Information Modelling (BIM) and a Platform approach for Design for Manufacturing and Assembly and Disassembly (P-DfMA+D). Procuring with whole life costs in mind; designing for deconstruction and recovery through nature-based construction solutions; and maximising social value outcomes, we collaborate with our clients and supply chain partners to drive the correct behaviours that will normalise our pathway to Net Zero."
With 5% of all carbon emissions caused by healthcare environments – approximately 92% of energy consumption used by hospitals – the simple truth is that 40% of the UK's current carbon emissions are attributable to the built environment and energy consumption levels must be lowered by 80% to achieve Net Zero targets by 2050 – Read more in our Sustainable Buildings Monitor report.
"To achieve Net Zero targets by 2050, technology will certainly play a role in reducing energy use by 80%, but actually it's processes, the right forms of contract and quality controls that will prove key."
Debbie Hobbs, Group Director for Sustainable Business, ISG
Using the latest BIM 360 Cloud software, we can reimagine how healthcare spaces are designed, built, and operated. This can be a large-scale hospital design and build scheme at
Royal Marsden's Oak Cancer Centre
Trust in Sutton that will be home to over 400 healthcare professionals, or a top-of-the-range research facility like University College London's new £160m home of Neuroscience, where we will install the world's most advanced MRI scanners to drive the latest advancements in medical technology.

For David, just like his dad's drawings, he is a big fan of how our next generation of hospitals are designed. "Brilliant collaborations such as unitised cladding and modular plantrooms are helping fast-track innovation and drive efficiencies. By eliminating the need to constantly redesign standard spaces and creating processes to move activities from site to factory, we have bought ourselves time and capacity – both key to delivering the infrastructure revolution."
Forty years ago, hospitals were very different. But what is clear today is that going back to the drawing board is never a bad thing. Evolving healthcare provision, new technologies and the post-pandemic society we live in are helping inspire a new generation of hospitals that will be able to deliver more, deliver quickly and deliver for years to come.
Knowing that Midland Metropolitan University Hospital will be reborn as one of these is another proud moment for David. Now, we just need Aston Villa to win another European trophy...
Find out more about ISG's experience in the healthcare sector here.