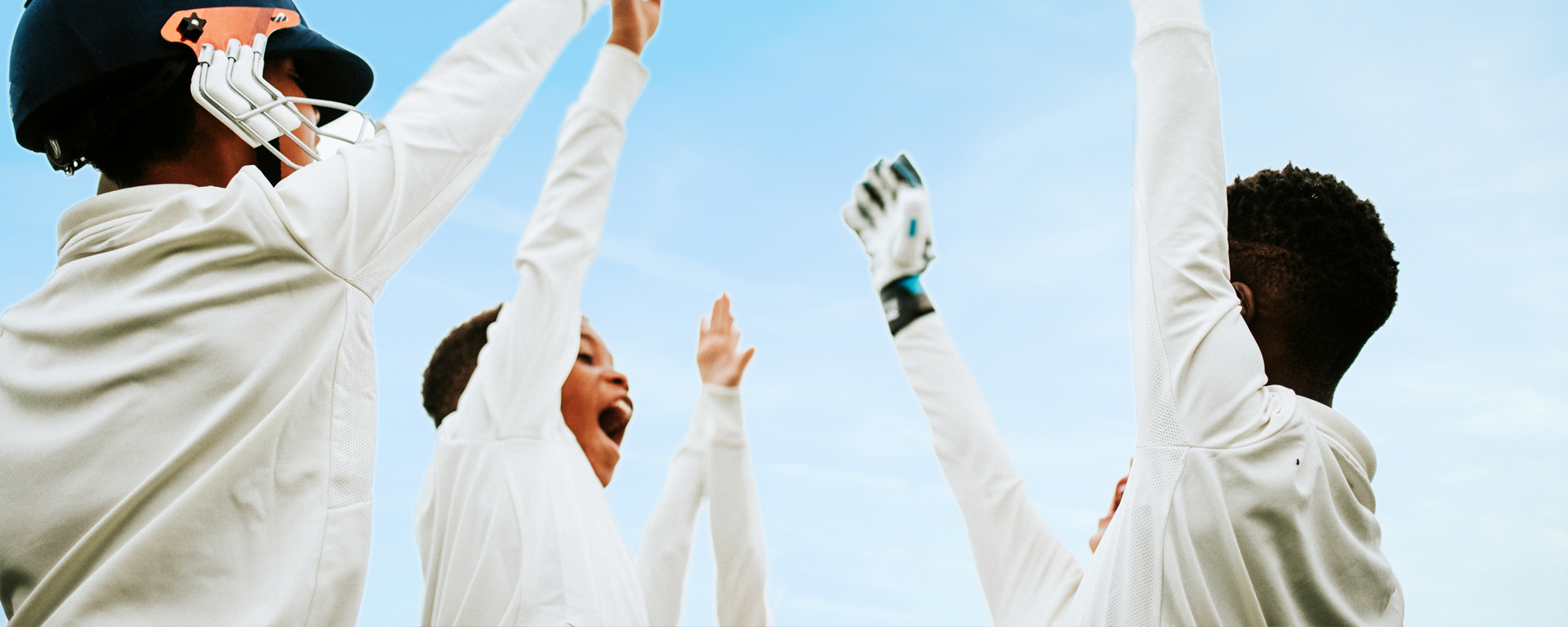 Standing arms outstretched with his bat clasped in one hand, Ben Stokes roars lionlike into the afternoon sun.
His scintillating Ashes performance is just one of the multiple career-defining moments Stokes produced in one summer alone, following in the footsteps of his muscular Cricket World Cup Final display just weeks before as he dragged England to its first One Day world title.
The images are now stuff of legend, but what can't be measured by imagery alone is the lasting impact the scenes they depict will have. Nearly 200,000 people joined local clubs in the wake of English cricket's golden summer, clubs like the UK's first Urban Cricket Centre in London, which opened in 2019. The centre, delivered by ISG for the England and Wales Cricket Board as part of its 'Inspiring Generations' strategy, boasts the latest cricketing technology, including a bowling machine and digital motion analysis for transformed player performance, and is already succeeding in its mission to entice young people and greater diversity into the sport, while bringing the local community together.
Moments the likes of which Ben Stokes was a part of are unquantifiable in this regard – the images are iconic, but the legacy is enduring.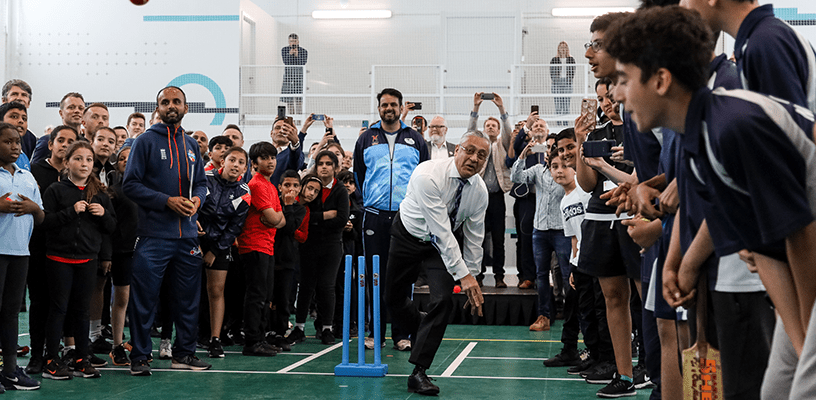 The impact of England's golden summer of cricket reverberated across a nation in 2019, with new generations of people inspired by the thrilling scenes which took place across the length and breadth of the UK.
An astonishing World Cup and Ashes series with Australia, both on home soil, captivated a nation through sheer sporting theatre, sparking fresh interest in cricket at an opportune moment when many believed the sport would bypass younger generations. Local communities and grassroots cricket benefitted exponentially, with over 15 million viewers tuning in to watch England's dramatic World Cup win, more than 50,000 new cricket fans attending domestic matches post-summer and nearly 200,000 joining local clubs for the first time [1].
"Our strength in Waltham Forest is our diversity, and we take great pride in giving a platform for our South Asian communities to enjoy and participate for many years to come, in a sport loved around the world."

Councillor Clare Coghill, Leader of Waltham Forest Council
One such club is the UK's first Urban Cricket Centre in London, a project delivered by ISG for the England and Wales Cricket Board (ECB), in association with the London Borough of Waltham Forest. The new centre, the first phase of which launched in 2019 with subsequent phases currently in progress, is the first of three pilots ahead of a planned roll-out to create 20 new centres as part of the ECB's 2020-2024 'Inspiring Generations' strategy, and has been built to inspire a new, diverse generation of people into all forms of cricket.
The value for the people of Leyton also can't be underestimated, says Garry Fairbairn, ISG's lead on the project: "It's such an important project because it's designed with the local community and its young people in mind," he says. "It's all about bringing people together, encouraging the younger generation to get involved in cricket and providing a facility that can be used by the entire community."
With the pilot of paramount importance, the ECB deemed Leyton's vibrant local community and the underutilised sports hall at the former home of Essex County Cricket Club as the perfect setting for the UK's first Urban Cricket Centre – a design and concept developed by gcp Chartered Architects.
The project wasn't without its challenges, says Garry. "The grounds were still being used by the community, so we had to adapt our health and safety procedures to recognise the fact that it was still populated and busy."
"Beyond the tangible elements, we've worked with our partners to create a space where an entire community can build strong relationships and make a positive difference to each other's lives."

Lee Phillips, Managing Director, UK Fit Out
The centre was made all the more challenging by the fact that the team had just six months to deliver the first phase of the scheme – eventually delivering it in just under that time frame. "Communication was key, and our interaction with the ECB gave them the comfort they needed on such an important pilot," explains Garry. "It's vital to make the client feel comfortable enough to discuss their concerns, so we can understand any design changes and suggest alternative solutions to solve any issues that surface along the way."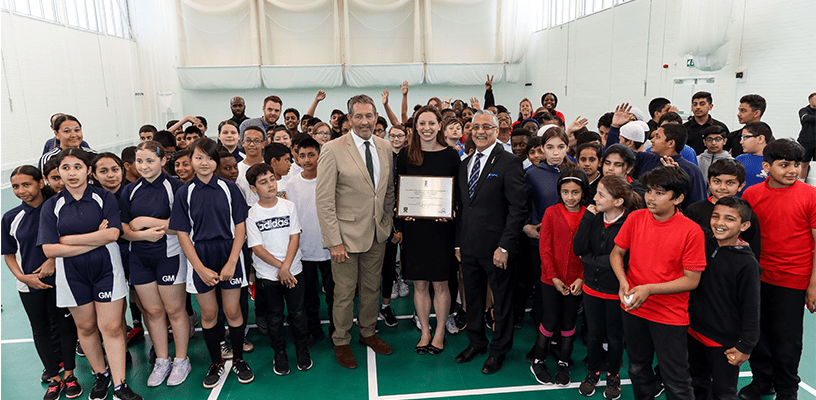 The cricketing facilities are state-of-the-art, and all delivered to ECB standards. Versatile flooring is designed to increase performance and withstand high levels of activity, while the first ECB-approved LED lighting system ensures a safe playing environment for the centre's busy schedule, which hosts everything from indoor leagues to children's activities and local cricket tournaments.
Extensive netting allows players and coaches alike to reconfigure practice wickets and match play arenas, and a new platform lift to the viewing balcony allows an access-to-all bird's eye view of the action below.
"From day one, ISG demonstrated a fantastic can-do attitude across all aspects of the site works. Its engaged, professional supply chain made all the difference in delivering this project in less than six months."

Jonathan Platt, Director, gcp Chartered Architects
The cherry on the cake for those aspiring cricketers looking to emulate their heroes and hone their technique is the inclusion of the latest automated cricket technology, including a bowling machine and digital motion analysis which is designed to take player performance to the next level.
"It wasn't your typical project, and that shows what we're about at ISG," says Garry. "The team overcame challenges that we don't normally face and that's something we can all be proud of."
For Lee Phillips, managing director of ISG's UK Fit Out business, the benefits extend way beyond cricket: "This project has delivered high-quality sporting facilities, but beyond the tangible elements, we've worked with our partners to create a space where an entire community can build strong relationships and make a positive difference to each other's lives."
With the first of 20 new Urban Cricket Centres now alive and kicking, who knows; the next Ben Stokes might be just around the corner…
[1] https://www.ecb.co.uk/england/men/news/1454185/men-s-cricket-world-cup-drives-record-breaking-engagement