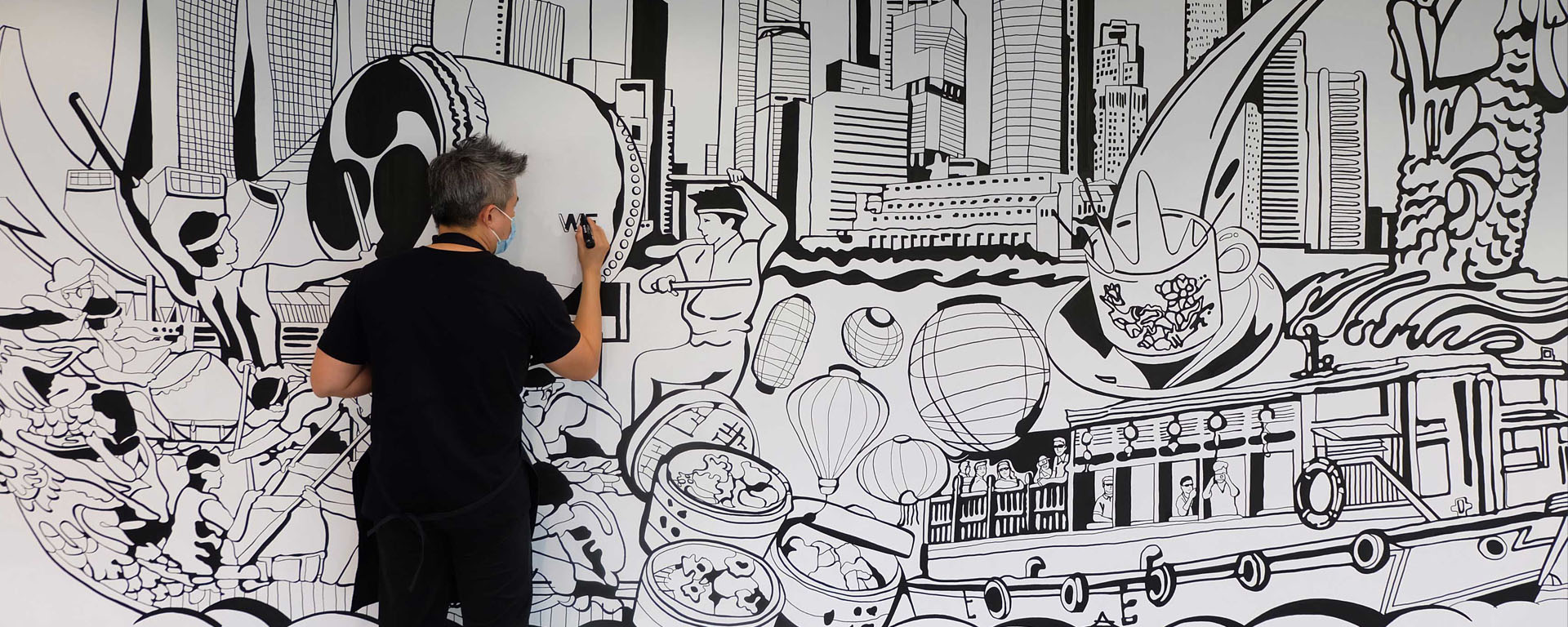 Hailing from Thailand, Ohm didn't speak a word of English when he took an interior design job in Singapore. With it, speaking English became a formidable challenge – one that Ohm worked hard to overcome the moment he landed.
While his colleagues presented proposals in English, Ohm's sketchbook – his faithful companion – became his canvas for conversations. His sketches illustrated his design concepts, bridging the language barrier and helping others understand that behind his quiet nature lay an earnest desire to bring ideas to the table.
Today, Ohm is the founder of Just Sketch, a company that creates striking hand-drawn wall murals, which enliven workplaces for global companies including DBS, Kohler, Huawei, and most recently, ISG in Singapore.
While working on the office expansion of a Chinese technology giant, ISG and Ohm found kindred spirits in each other, working together to weave brand culture into the space. Using sustainable materials to fit out the energy-efficient workplace at The Metropolis – an eco-friendly office development – ISG worked with Ohm as he illustrated the company's Singaporean footprint in a larger-than-life wall mural.
Line after line, art enters place – drawing one's gaze, inviting conversations. Ohm's drawings just can't be ignored.


Wall murals have always fascinated Ohm. In the temples of his home nation, Thailand, wall murals carry the weight of tradition and illustrate key events of the past. As a child growing up – and then a student of architecture – Ohm spent time studying them in different temples, admiring their artistry and deciphering their layered meanings and symbolism.
Today, as an interior designer turned entrepreneur, Ohm sketches on the walls of offices and workplaces with his trusty POSCA pen. Working on a new office expansion for a Chinese technology giant, ISG and Ohm found kindred spirits in each other – believing in the transformative role the workplace has in shaping the businesses and people that use them – and working hand in hand to weave the unique history and living culture of the company into the physical space.
ISG delivered a full fit out and high-quality finishes, using only sustainable construction materials and equipment, and providing the groundwork for the expanded office of China's largest – and the world's second-largest – smartphone seller to come to life, all within a timeline of eight weeks.
Located at The Metropolis, an eco-friendly office development in Singapore recognised for its innovative energy conservation solutions, the company's new energy-efficient, tech-led workplace reflects the long-term thinking that is the cornerstone of its unique approach to planning development by the decade, in the form of 10-year plans.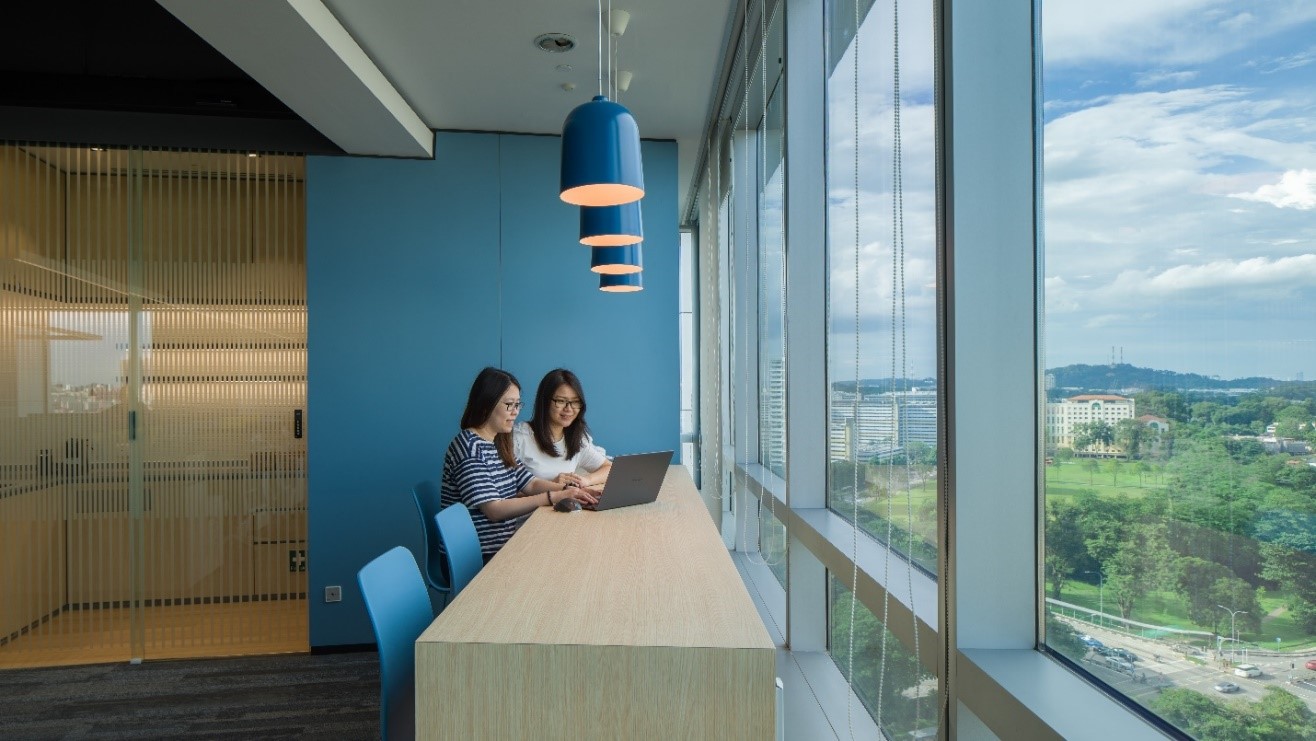 Occupancy sensors have been installed to monitor long-term workspace use for future design planning. To enhance energy efficiency, the auxiliary air conditioning is monitored by a heat load sensor and automatically activates when temperatures rise to a set degree.
Artist, Ohm, stepped in as the workplace neared completion, illustrating the company's journey in Singapore and its unwavering spirit as it contends in the competitive global telecommunications sector. Sketching on a clean white wall, he invites thoughtful curiosity into the workplace, as people discuss their interpretations of his mural.
Ohm couldn't have known at the time, but with every line he drew as a child growing up in Thailand, he was sketching his future. At a young age, his love for drawing took the form of his favourite cartoon characters; his father naming the different characters he created, and encouraging him to pursue his interest further.
"I draw because I enjoy the flow of sketching. As I sketch I see and remember every detail. It's impossible to think of anything else. That scene, that moment in time, is etched in my memory."

Ohm Chongthanatrakol
The early 2000s in Thailand was a time when presenting hand-drawn sketches, complete with measurements and details to clients and contractors, was de rigueur. Ohm practised sketching religiously, picking up 3D graphic design as it gained popularity, and starting out on his interior design journey.
Four years into his five-year interior design studies, Ohm landed on Singaporean shores to embark on an internship. He found the country to be orderly, clean and a haven for delicious food. Not being able to speak English wasn't a problem, as his firm's owner spoke Thai, but when his internship came to an end, Ohm returned to his homeland – with a dream to one day come back to Singapore.
Years later his dream came true; he took a job in Singapore, and his sketchbook became his canvas for conversations – filled with detailed sketches illustrating his ideas and design concepts during meetings, bridging the language barrier when he had difficulties putting his thoughts into words. Having now lived in Singapore for years, Ohm's English today is seasoned and fluent, and he proudly peppers conversations with 'Singlish' phrases during meetings.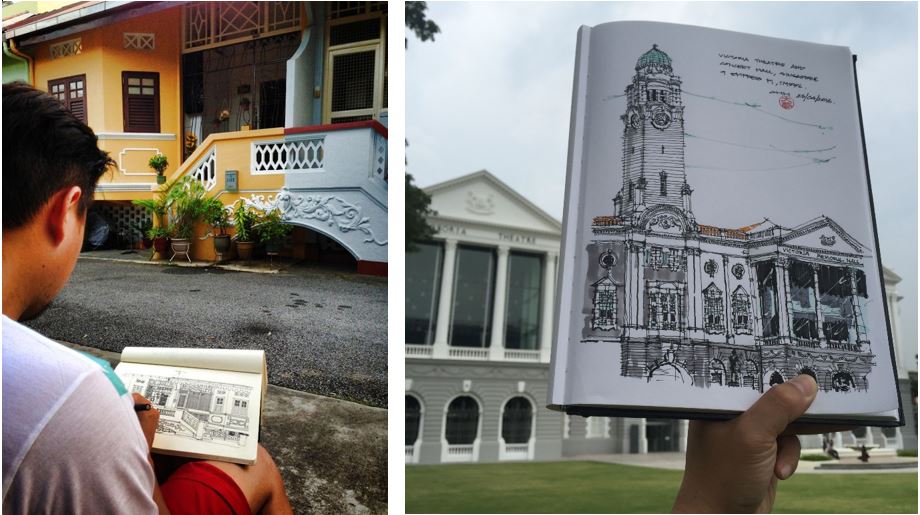 On weekends, Ohm loves exploring Singapore's hidden corners. He parks himself in a comfortable shaded area, putting pen to paper to create one of his beautifully elaborate sketches of buildings and everyday scenes that catch his eye. His sketches are unapologetically personal, and illustrative of the admiration and fascination he has for his subject.
"I came across places like Malay shophouses on East Coast Road and the beautifully restored Victoria Theatre, so I make the trip down and sketch," he shares. "Others prefer to take photos – but for me, I draw because I enjoy the flow of sketching. When I sketch, I'm very focused, and as I sketch I see and remember every detail. It's impossible to think of anything else. That scene, that moment in time, is etched in my memory. The experience of sketching outdoors is deeply personal, and very different from taking a photo."
To Ohm's surprise his sketches garnered interest, and in some cases, incredulity, on social media. Many commented that despite having visited Singapore, they had not seen such captivating sights, rich with culture and heritage.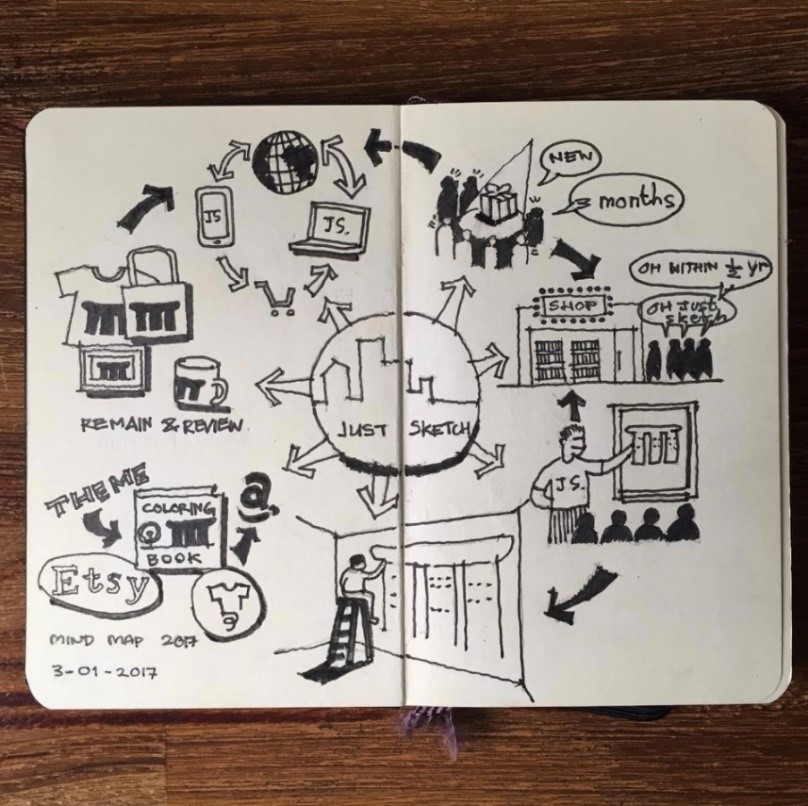 With his wife's encouragement, Ohm responded to the itch to set up his own company. Sketching his way through the back alleys of Singapore allowed him to reconnect with his innermost thoughts and dreams. Therein lay a strong desire to put his sketches on the wall, inspiring people to reflect on them and have worthwhile conversations about the meaning of art.
In 2017, Ohm drew his vision for Just Sketch – his new company – depicting himself drawing on workplace walls, conducting sketching workshops, setting up his own store and an exclusive set of merchandise. His aspirations have become a reality – his latest wall mural at ISG's Singapore office a testament of just that.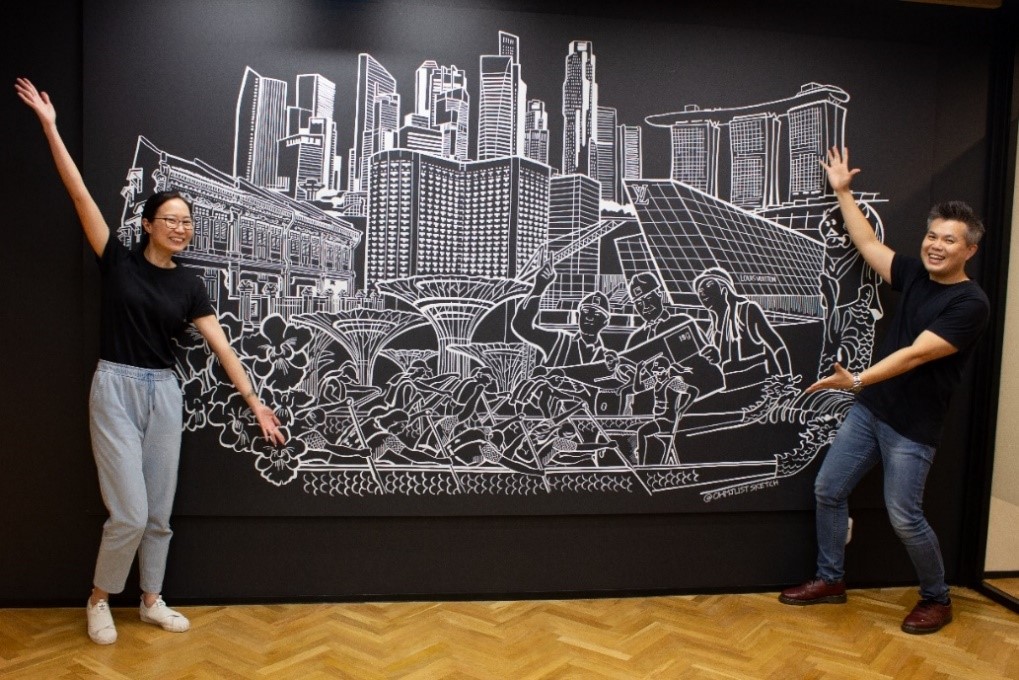 Entitled 'Aspirations', the mural illustrates Singapore as home to many of ISG's successes, and a city of unbridled aspiration for its people, clients and end users.
"Art should spark meaningful conversations and inspire people to take action," Ohm says, handing his pens to two ISG colleagues who ask if they can participate in drawing the mural. He happily obliges with simple instructions, guiding them to make an indelible mark on the wall of ISG's office lobby.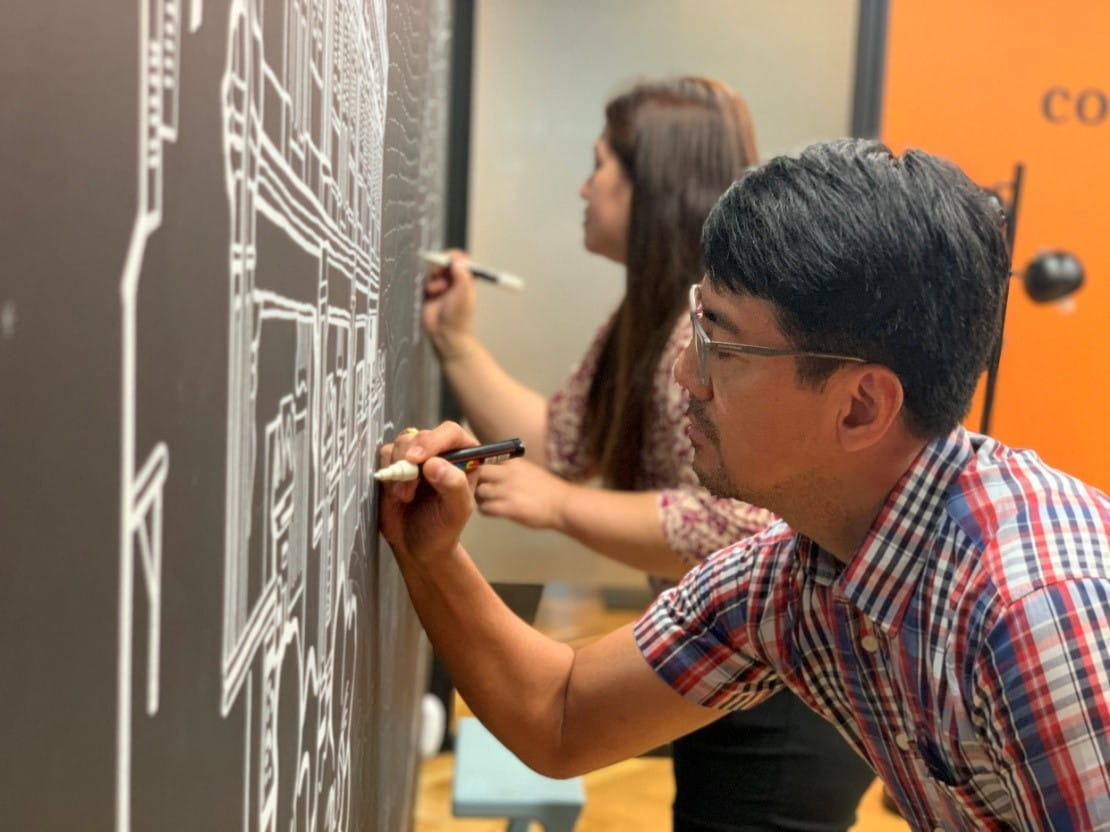 Ohm is no doubt the architect behind his expressive murals, but art – like the workplaces ISG delivers – serves to enrich and uplift, changing the world as it intertwines with place and people's everyday experiences.