Spain's construction industry has a gender problem; 91% of its construction workers are men. In management positions the view isn't sunnier, with men occupying 92% of the top spots.
María Laloma, Angela Patón, and Elena López knew this when they decided to join the construction industry. Their passion and skill led them to joining the ISG team in Iberia anyway, and now they're working towards change.
Opportunity for that change came about when ISG was hired to fit out beverage industry giant Diageo's office in Madrid. From ISG's side the project management team was made up of women, with María, Angela and Elena leading the charge.
In April 2022 ISG completed fitting out Diageo's 27,000 square foot office space in Madrid. The project was led on ISG's side by three women. Architect María Laloma who joined ISG in 2016, Site Manager Angela Patón who joined in 2014, and Proposals Department Team Leader Elena López who joined in 2018. Both María and Angela began their professional careers at ISG, and the company has provided them the tools and space to develop and grow. María has "always been fascinated by the world of design and architecture and found happiness in it. I always saw myself in an architecture studio, but ISG has given me the chance to get to know all the areas that make up the design world." Ángela, on the other hand, says: "I've known since I was a child that I wanted to lead teams." She knew she had what it takes to be the voice of command in a group of people and creating incredible spaces by co-ordinating complex tasks.
They all joined the construction industry fired up and enthusiastic. So, what has it been like for these professional women to work in such a male sector? And are things changing?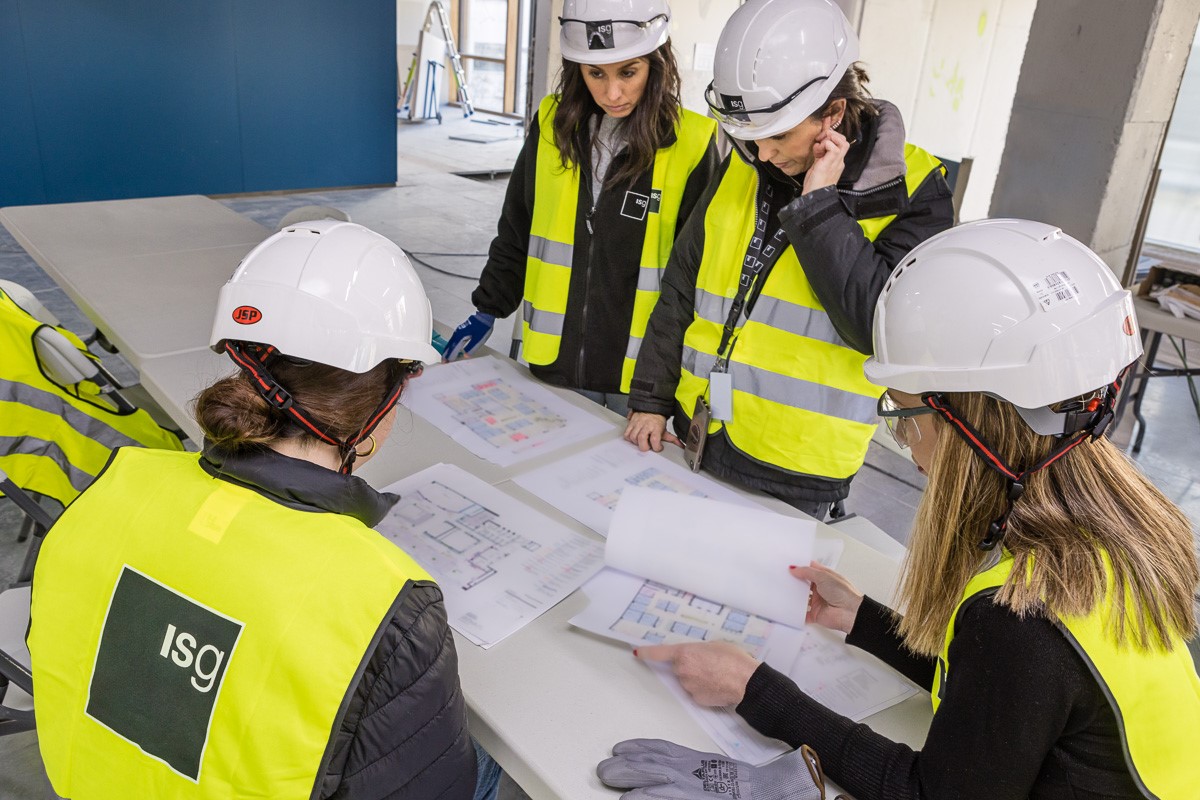 As of 2020, the Gender Pay Gap in Spain stood at 9.4%. And that gaping chasm is an improvement – in 2010 it was 20%. On the publication of ISG's Gender Pay Gap Report in 2021, CEO Matt Blowers remarked: "As an industry we are making progress, but the numbers still don't make great reading and that has to change. A truly diverse and inclusive workforce will require a considered and consistent approach that will take time to generate the results that we all want to see. It is not just a case of ticking a box, but something that requires fundamental behaviour change."
Big change can come from big business. Diageo is a world-leading beverage company, famous for its whisky and spirits beverages – including Johnnie Walker, Tanqueray, Baileys, Smirnoff and Guinness. Diageo's relationship with ISG began in Scotland in 2011, with ISG's UK Construction Scotland business providing construction services to Diageo's bottling and distilling operations, and visitors and experience centres. When ISG was hired by Diageo in Spain, it presented an ideal opportunity to continue this relationship.
The result was a first rate fit out project completed by professionals, regardless of gender. And during the Covid-19 pandemic, no less. María says: "Each one of us had the same goal, to finish the work at the highest standard, and we could only achieve that by working together from the beginning."
Diageo were very pleased with the results of the project and the team behind it, who had fostered an open, honest and dynamic way of working. Due to the diversity powering the project, different perspectives were heard and debated.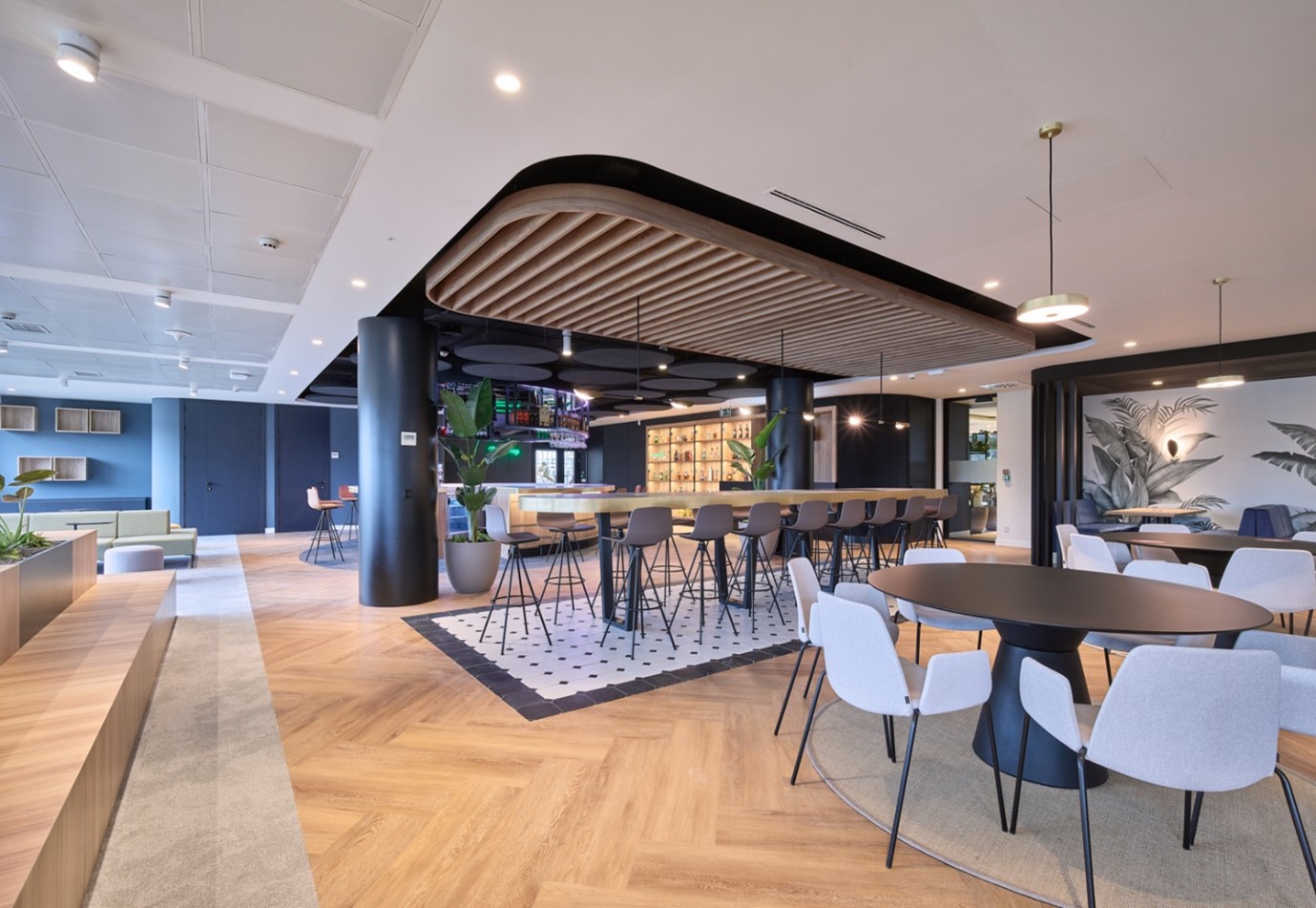 María says: "This positive work atmosphere full of trust and good energy was perceived by the client, which made him join the team as one more member, wanting to collaborate in each project process. The success of the project was derived from that full confidence, from the desire to excel in a world that is still somewhat complicated for us, from the sum of small efforts to overcome the challenge posed to us."
"Each one of us had the same goal, to finish the work at the highest standard, and we could only achieve that by working together from the beginning."


María Laloma, Architect
ISG continues to focus on recruiting a balanced workforce. This includes building a more balanced line of leadership succession, identifying and removing diversity imbalance barriers, and ensuring an inclusive culture.