Andrew Collier, Commercial Director, Dubai, UAE
The travel bug has a tendency of biting curious minds: Andrew's wanderlust has led him to new adventures in the heat of the Dubai desert.
The contrast between Andrew's home town of Macclesfield, UK, and his adopted home in the United Arab Emirates, couldn't be starker.
His is an appetite for exploring new countries and cultures that began long ago. After taking in as much of the world as he could post-university, an opportunity arose that would change Andrew's life forever – switching the UK for a new role in the fast-paced metropolis of Dubai.
Dubai will never settle for anything less than first place, with its artificial islands, soaring skyscrapers and a first-of-its-kind, eight-star hotel. The prospect buoyed Andrew and he duly embarked on his new brief, before taking a leap to join ISG's Middle East team.

ISG's reputation in the region was something he couldn't ignore. Spotting opportunities for growth, Andrew quickly rose through the ranks to where he is today – tackling exciting projects across Dubai, like the luxurious five-star Kempinski Hotel in the heart of the city, while helping younger members of his team take steps to develop their own budding careers, just as he did all those years ago.


Andrew caught the travelling bug after graduating university in 2003 and, at 24, was presented with an opportunity that would change his life forever – one that would see him up sticks from his home town of Macclesfield, Cheshire, UK, and make the 6,000km trip to the desert sands of Dubai, deep in the heart of the UAE.

Fuelled by his wanderlust and desire for professional growth, he boldly made the move without hesitation. His new brief saw him form part of a team tasked with setting up a new office to deliver a significant leisure project in the region.
After 10 years, he joined ISG as a quantity surveyor: "I picked ISG because of the reputation it had in the market and the people I knew who worked there," Andrew explains. "I knew immediately that I would fit in, that it was a progressive environment, and that I could add value and be given great opportunities quickly."
Andrew took those opportunities with both hands, and is now commercial director in the region, leading a team of 11 across offices in Dubai and Abu Dhabi, ensuring that ISG continues to grow across the Middle East.
"I always made it clear that I wanted to develop my career and learn as fast as possible. I am quite ambitious and, most importantly, I have a strong work ethic. I love learning and I welcome challenges."

Andrew Collier, Commercial Director  
Andrew has worked on several exciting projects that have contributed hugely to such rapid career growth. One of them, the refurbishment of the luxurious five-star Kempinski Hotel in Dubai, stood out as a challenge: "The Kempinski Hotel was a massive scheme which took two years to deliver, with the hotel still operating in the background," he says. "However, one of my biggest challenges was changing the culture of the team – it took a while, but we succeeded, and the difference in the team was like night and day. It allowed us to deliver an even better outcome than we could have possibly imagined."
Being in a small office in Dubai has also challenged Andrew to venture beyond his quantity surveying skill set, finding himself exposed to new areas of the business including accounting, bids, HR and learning to lead teams.
"My career journey here has been exhilarating," he explains. "ISG has supported me by giving me the chance to work on new initiatives, as well as improve some of the older ones. I have been empowered to lead great projects, and it helps that the business trusts me in making the right decisions."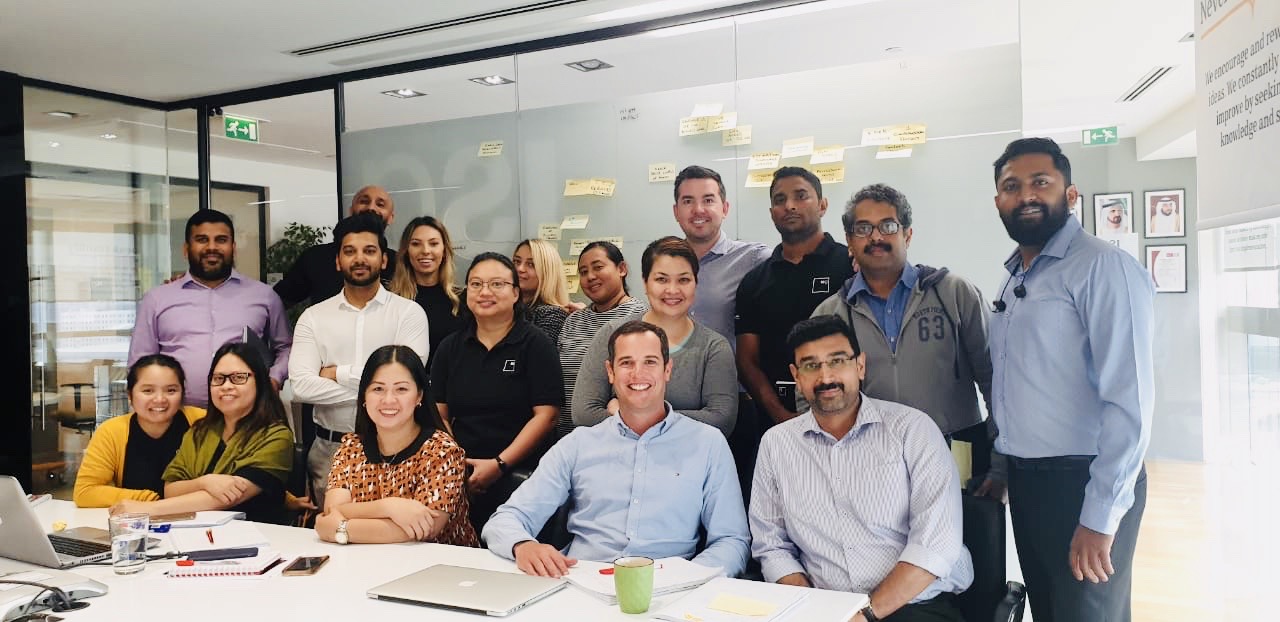 Living so far from home also presents a unique set of challenges – Andrew took time to acclimatise to Dubai's melting pot of different cultures and work styles, while adapting to its fast pace. He makes sure he goes back home at least twice a year to see friends and family, never missing the big things – birthdays, weddings, births – and making sure he extends his loved ones the invitation of a place to stay in Dubai.
Andrew's resilience, along with his proactive 'Never stop learning' attitude – one of ISG's core values – has opened many doors for him throughout his career to date, and was key in his progression from quantity surveyor to commercial director in just six years.
"I think the pace I have progressed through the business is a testament to the value ISG has seen in me, and the opportunities I have been given," he says. "While there were many bumps along the way, the journey was made possible with the support of the leadership and a truly capable team.
"My career journey here has been exhilarating. ISG has supported me by giving me the chance to work on new initiatives, as well as improve some of the older ones. I have been empowered to lead great projects, and it helps that the business trusts me in making the right decisions."

Andrew Collier, Commercial Director  
Asked what the future holds, Andrew shares: "Helping to develop the careers and skills of the more junior members of the team excites me, as does working on new initiatives locally and across the ISG Group – I'm passionate about solving difficult, unique challenges."
He concludes: "Long term, I'd love to hold a more senior role within Dubai or another ISG business unit – I've always been keen to progress at a fast pace."