Customer

The University of Manchester

Completion Date

February 2015

Quantity Surveyor

Appleyard and Trew

Form Of Contract

JCT Standard Form With Quantities, 2011 (SBC/Q 2011)

Project Manager

Cragg Management Services Limited

Structural Engineer

Ramboll UK Limited

Area

75,466 sq ft

Program Duration

117 weeks

Architect

MUMA LLP

ME Engineer

Buro Happold Limited
Introduction
We transformed the 125 year old Whitworth Art Gallery into a 21st Century gallery in the park.
The refurbished gallery won three RIBA North West Awards, a RIBA National Award and The Art Fund Prize for Museum of the Year.
There were major discrepancies in building and material tolerances when working across the existing Grade II Listed building and new structures. Connecting the two buildings to combine new and existing materials was a complex task, as each element was fitted to millimetre precision to ensure the consistency of the design.
Restoring three 19th Century barrel-vault exhibition ceilings required challenging strengthening works to be carried out.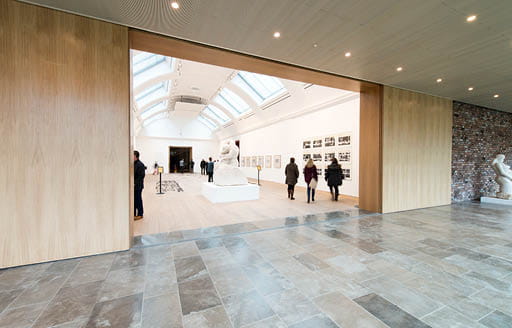 The project
The project involved constructing a two-storey extension to the rear and side of the existing building, along with refurbishment of the existing galleries.
The extension incorporates a red brick and glazed façade elements to complement the original structure, and doubles the public exhibition space to circa 4,300 sq ft. We also created a glazed promenade gallery to link the new North Wing to the existing South Wing.
The new structure features complex engineering and is designed to merge seamlessly with the surrounding park. The transparent café cantilevers to open fully to the park, and state of the art facilities include a Learning Studio that opens out into a new inspirational art garden.
The Landscape Gallery's north light required deep sea oil rig techniques to erect the huge lattice steel structure, which cantilevers from a concrete frame.
"The greatest excitement has been seeing the architect's images materialise in front of our eyes. We welcome people into our new parkside entrance with a piece which spells out 'Gathering of Strangers', a fitting aspiration for the gallery: we should be a place where strangers come together and feel welcomed, intrigued, and stimulated. If we can be that for our city, then our future is sealed for the next 100 years."

Dr. Maria Balshaw, Director of the Whitworth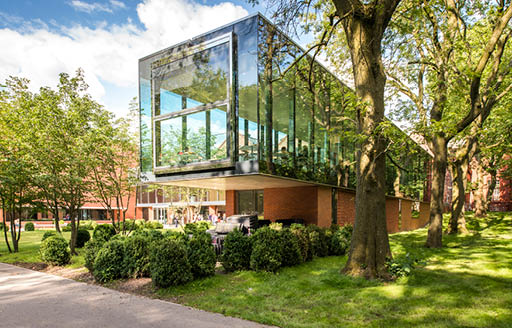 Sustainability
The University took the opportunity to future-proof the gallery for the next 100 years, making it the most environmentally sustainable gallery in the UK.
Highly efficient systems include a ground source heat pump, with the target of achieving a BREEAM Excellent rating. It is part of the Whitworth's mission that this pioneering approach to conservation can be replicated globally, taking art to venues and countries that might find conventional climate control too costly.