From humble beginnings come great things.
After returning from his travels across America, all Mathew had to his name was an empty bank account and a 40-year-old ice cream van. A love for grilled cheese inspired him to reimagine the van, and take it on an adventure across the UK selling some of Britain's best grilled cheese sandwiches.
From the green fields of Glastonbury to the desert in Dubai, and even an appearance in a Hollywood movie, Mathew's Cheese Trucks paved the way for the opening of his flagship restaurant in London. Nestled in Camden Stables Market, The Cheese Bar's 'posh junk food' aesthetic is the result of a challenging two-week ISG project, which turned an old stable block into a niche London food outlet.
Mathew's cheese revolution has always been about sharing his lifelong passion for homegrown produce with as many people as possible. With The Cheese Bar firmly in his armoury, the sky's the limit.

After conquering the UK festival scene, it was time for bricks and mortar in Mathew's new Camden Stables Market home. Local press has waxed lyrical about the attention given to The Cheese Bar's menu since opening, and Mathew's vision for the look and feel of his Camden eatery is deserving of similar praise.
Steven Klosek, who managed The Cheese Bar project for ISG, sheds light on what stood out from the start: "Mathew's story was something that really inspired us, and we wanted to give The Cheese Bar team the best possible service and finished restaurant," he says. "We often deal with large corporate companies, so something small and bespoke like The Cheese Bar really caught our attention. We all appreciated the challenges that Mathew had gone through to get to this point, and fully respected his ambition and drive."
The history behind Camden Stables Market makes it an area of special interest, and its Grade II listed status represented a challenge to ISG's joinery team, as it was restricted to retaining certain elements of the space and incorporating them into the building's new look. "The biggest challenge for us was the logistics of the works in terms of the building's location," Steven explains. "The thing with Camden is that it never really closes, so all deliveries and collections had to be booked before 7.00am, which sometimes became difficult."
"It has become a kind of cult hero project among independent restauranteurs; we all appreciate the chance to work on something that has the ability to go on to become a household name."

Steven Klosek, Project Manager
Another challenge came in the form of space. The small 80 sq m site caused difficulty for all trades involved, and required the teams to collaborate and agree designated areas for works prior to starting. It wasn't always easy working in such a confined space, but now cool, sleek and rich in character, you would never guess that in a previous life The Cheese Bar was an old stable block, used as a hospital to treat horses that were injured while pulling barges down the canal.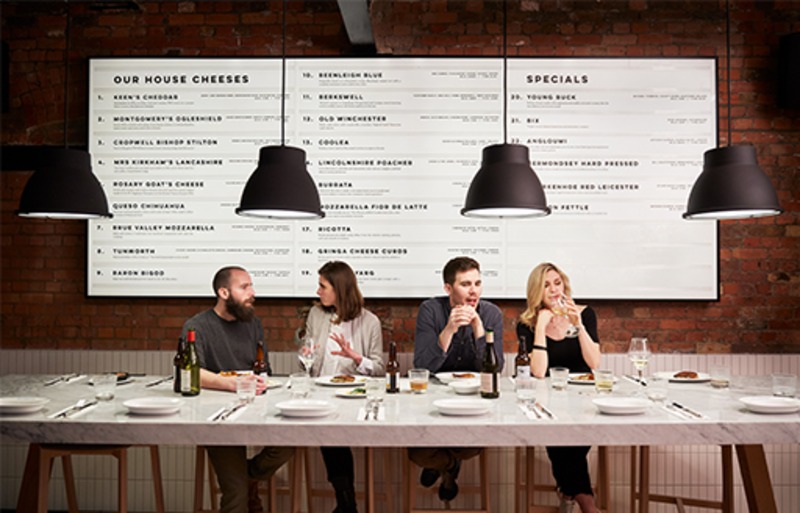 Years later, having swapped horses for cheese courses, the driving force behind The Cheese Bar is neatly entwined with the story of how it came to be. The result of a generous week-long crowdfunding campaign, and the hard-earned cash of Mathew's dedicated food truck following, The Cheese Bar is about the people who built it.
"ISG has been an absolute pleasure to deal with, and the work quality is top notch."

Mathew Carver
People were at the heart of the project too, with ISG's joinery team working closely with Kennedy Woods Architecture to fit out the kitchen and bar area, as well as Mathew himself to bring his new restaurant to life – all within a challenging two-week period, as the team sought to create a home fit for Mathew's opening night.
"Having our own joinery team and workshop gives us a great advantage in turning this kind of job around in such a short period of time," comments Steven. "The team creates construction drawings from the pack provided by the architects, which allows us to push on with the manufacture at a much faster pace. If we had to send these items out for manufacture, then the timescales would have been affected by at least a month; Kennedy Woods Architecture was very clear in what was required, and we made sure we spoke to them regularly so we could resolve any issues quickly."
The vision was for The Cheese Bar to be the type of place that people stop off at on the way to a night out, and for the interior to reflect the brand's unique character, a dream which ISG helped realise with clever space-saving designs, cheese manufacturer effect and a stylish, exposed red brick interior. "Camden Stables Market can be a little scruffy in places, so Mathew wanted to make a stand and set himself apart from the competition," explains Steven. "The way we did that was using reclaimed materials, like pine floorboards, but also using new, highly polished Carrera White marble for the large table and bar tops."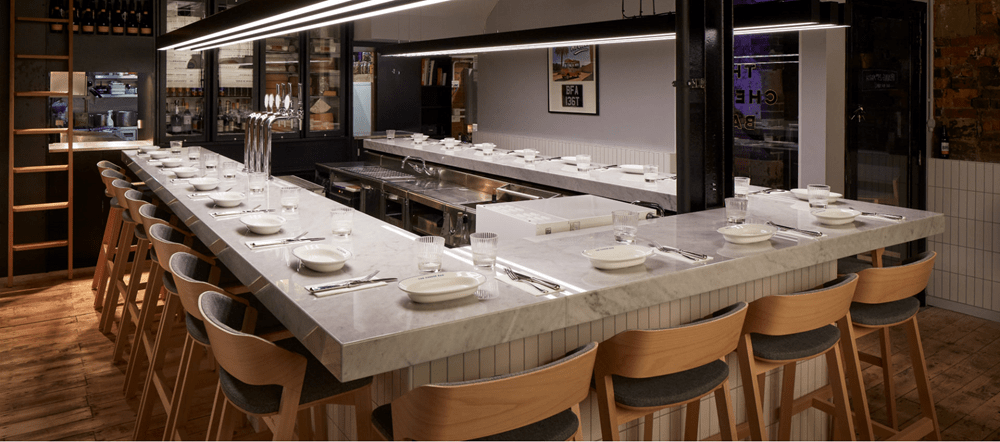 Mathew wanted a robust vibe, premium but sturdy, aesthetically pleasing, but not delicate or fussy. Every aspect of the project was bespoke and tailor-made for its purpose, while the contrast between The Cheese Bar's graphic identity and its new look is reflected in the clash between posh product and junk food – the end result singled out for its unique design at the 2017 National Association of Shopfitters (NAS) Design Partnership Awards, winning the Jewson Lifestyle Award.
The Cheese Bar remains a great source of pride for Steven: "The Cheese Bar always comes up in conversation with lots of people in construction; I still speak with people about the works even though we completed them almost three years ago," he says. "It has become a kind of cult hero project among independent restauranteurs; we all appreciate the chance to work on something that has the ability to go on to become a household name."
What's next for Mathew? Well, he has made a career on firsts, and with The Cheese Bar flourishing it's time for another, as he opens the world's first cheese conveyor belt restaurant, cheekily named Pick & Cheese.