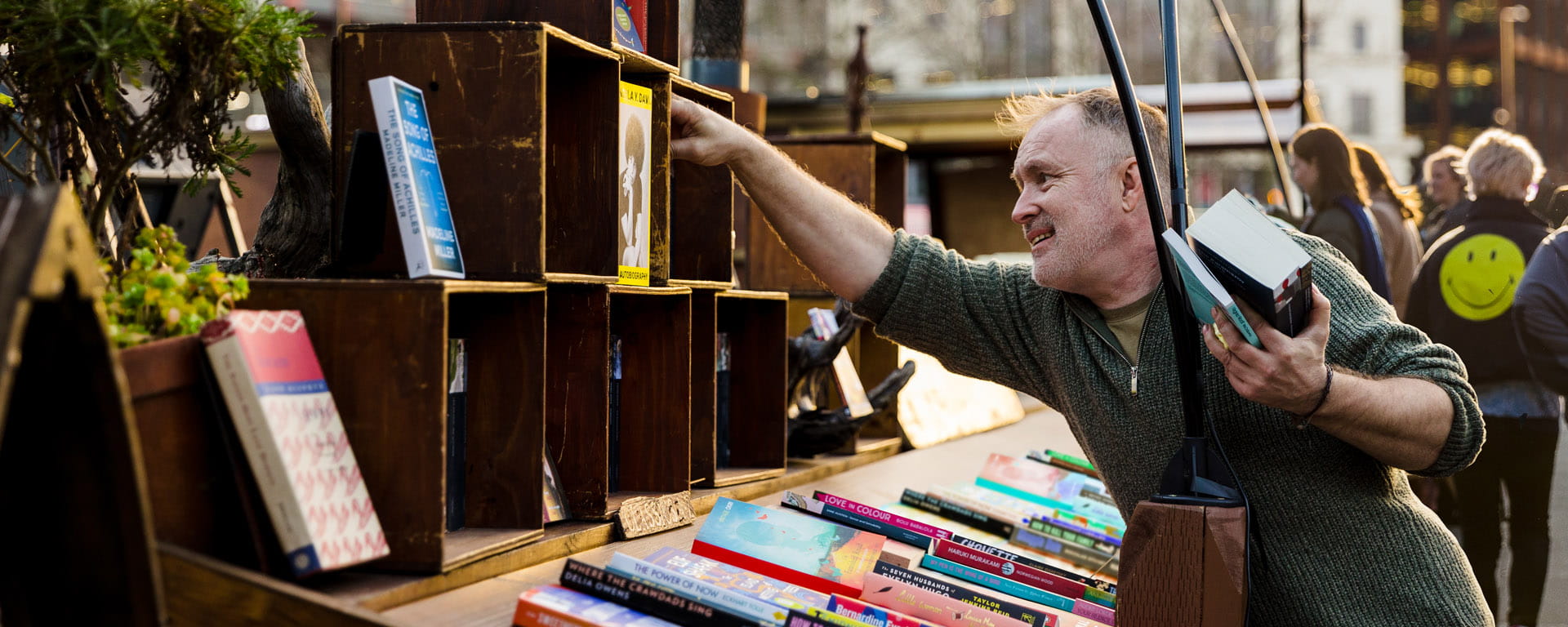 A small floating community bookshop and some of the world's best- known and influential technology brands might at first sight appear to have little in common – but at Argent's King's Cross development, these organisations happily coexist in an environment that nurtures creativity, individualism, community spirit and a sense of fun.
Over 20 years ago, property developers Argent and Camden Council embarked on a mission to transform the underdeveloped King's Cross site into a 'Human City'. The individual experiences and the physical transformation of this 67-acre site suggest that Argent's vision has not only come to life, but is thriving in ways that constantly surprise and delight those visitors and workers that now call King's Cross their home.
For Paddy Screech, co-owner of the iconic floating bookshop Word on the Water, a mooring at King's Cross has given his business a secure financial future, and also provided a sense of community and belonging in an inspirational and vibrant setting. But Paddy's story could have been very different, had it not been for the loyalty of Word on the Water's social media followers.
King's Cross is writing its own story as the stage and backdrop for a community renaissance that aims to leave nobody behind. The global technology brands that provided an online community lifeline to Paddy in those early days of the Word on the Water are now writing the next chapter in this Human City, and a much-loved floating bookshop is reaping the benefits.
Paddy and his co-founder Jonathan Privett decided to run a floating bookshop a long time before mooring in King's Cross. They met in 2009 and both lived on their boats full time. "We wanted to become 'bargees', someone who lives on the water and makes a living on it. Jon and I both studied literature at university, we always knew it was going to be book related."
The barge that was to become Word on the Water was made in Holland and eventually parked opposite Paddy and John in Stamford Hill. They soon joined forces with the 'nice geezer' who owned it. Paddy says: "When we bought the barge we had a continuous cruising license, which meant we had to move every two weeks to a different place. We did that for about seven years, three of us trying to share the profits from a second hand bookshop that would disappear whenever people tried to go back to it! We were in trouble, just not doing enough business. People loved it, and we suspected the business would really take off if we could moor somewhere permanently. We settled in Paddington for a while. Even though we had a social media following and lots of people in our corner, we were at the point of selling the business. Then we were offered a mooring by the Canal & River Trust, and we were allowed to choose where that mooring would be."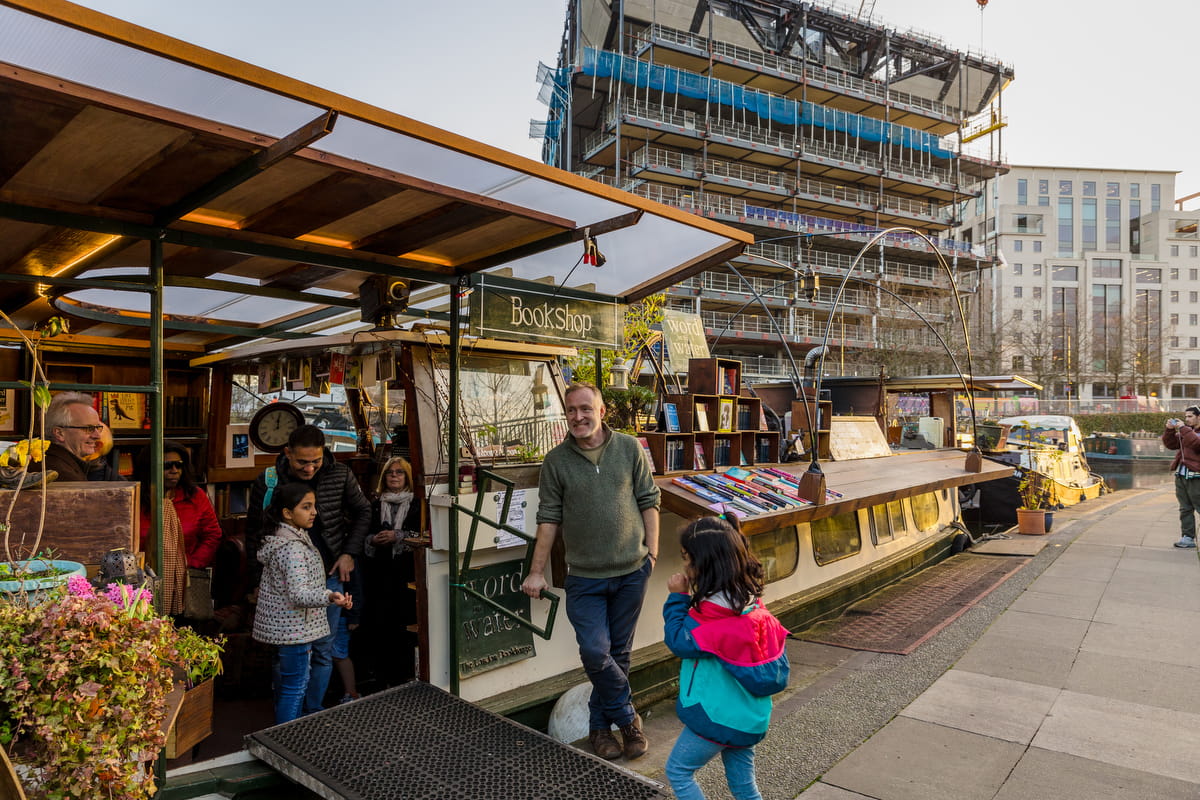 "In those days it was clear that something was going to happen at King's Cross, because it was space in Central London and there was work being done, but it was still just a derelict building site. When the swing (or birdcage) between the two stations arrived, it was the first indication of what the direction might be. It was fascinating and a bit surreal, just thinking 'Okay, so what's coming? Then they built steps from the canal into Granary Square – we were cruising past one day and noticed that immediately. So, we chose King's Cross. We asked the Canal & River Trust if we could park there, next to Granary Square."
"Argent was very welcoming and friendly to us and could see the potential in our floating bookshop. The developer loves markets and building communities. I think that was one of the reasons why Argent looked kindly on us, we looked authentic and could be a draw for people. One by one the wonders of Granary Square appeared to build this new community and with each new arrival the footfall went up."
"When the swing (or birdcage) between the two stations arrived, it was the first indication of what the direction might be. It was fascinating and a bit surreal, just thinking 'Okay, so what's coming?"

Paddy Screech, Co-founder, Word on the Water
In 2001 property developers Argent St George, as the selected developer for King's Cross central, outlined their 'principles for a Human City'. They stated that "by the start of the next decade, King's Cross should offer an urban exemplar for a sustainable world city. It should be an outstanding place to live, work or just 'be'. It should make a significant, positive contribution to the economy, equality, and environment."
Argent went on to say: "Cities are about people. The title 'Principles for a Human City' signals our intent to create a lasting new place for people, one that can continue to support successfully their changing patterns of social and economic behaviour."
With Camden Council on board, the project officially went ahead.
Paddy isn't the only one who has enjoyed watching the area develop, and now finds contentment in the vibrant space. Lea Saban is currently studying jewellery design at Central Saint Martins. She says: "The new renovations around King's Cross mean it's a really exciting atmosphere for a learning environment. Having lots of shops and cafes within the fantastic architecture turns breaks between classes into inspiration". Recent graduates from Central Saint Martins who have trodden the same creative ground as Lea include musician and actress Paloma Faith, and YouTuber Amelia Dimoldenberg (of Chicken Shop Date fame).
The success of the development hinged upon many factors. Its location, the new community built, the architecture, and desirability to new residential tenants. All of this, in turn, helped anchor major tenants to created innovative and world-class spaces for the world's leading businesses. ISG has worked at King's Cross at different stages of the regeneration, recently on the UK headquarters for Meta (then Facebook). ISG project manager Oliver Day says: "It's such a great area, and the architecture is so unique. All the spaces between the spaces are filled with something interesting – schools, museums, and shops. We really engaged with the local community while we were there."
The project followed ISG's values of leading with purpose. Oliver explains: "Identifying key stakeholders in the area allowed us to invest our time and effort in doing what matters. We raised £15,000 in aid of a local school for deaf children, and we used the local cafes, food trucks and services while delivering the project."
With best practice physical and mental health safeguards in place, 750 employees worked on delivering the project through COVID-19. The ISG project team's priorities in delivering the Meta headquarters are reminiscent of Argent's back in the day: alongside first-rate delivery to the client sat the priority of sustainably adding great value to the King's Cross area.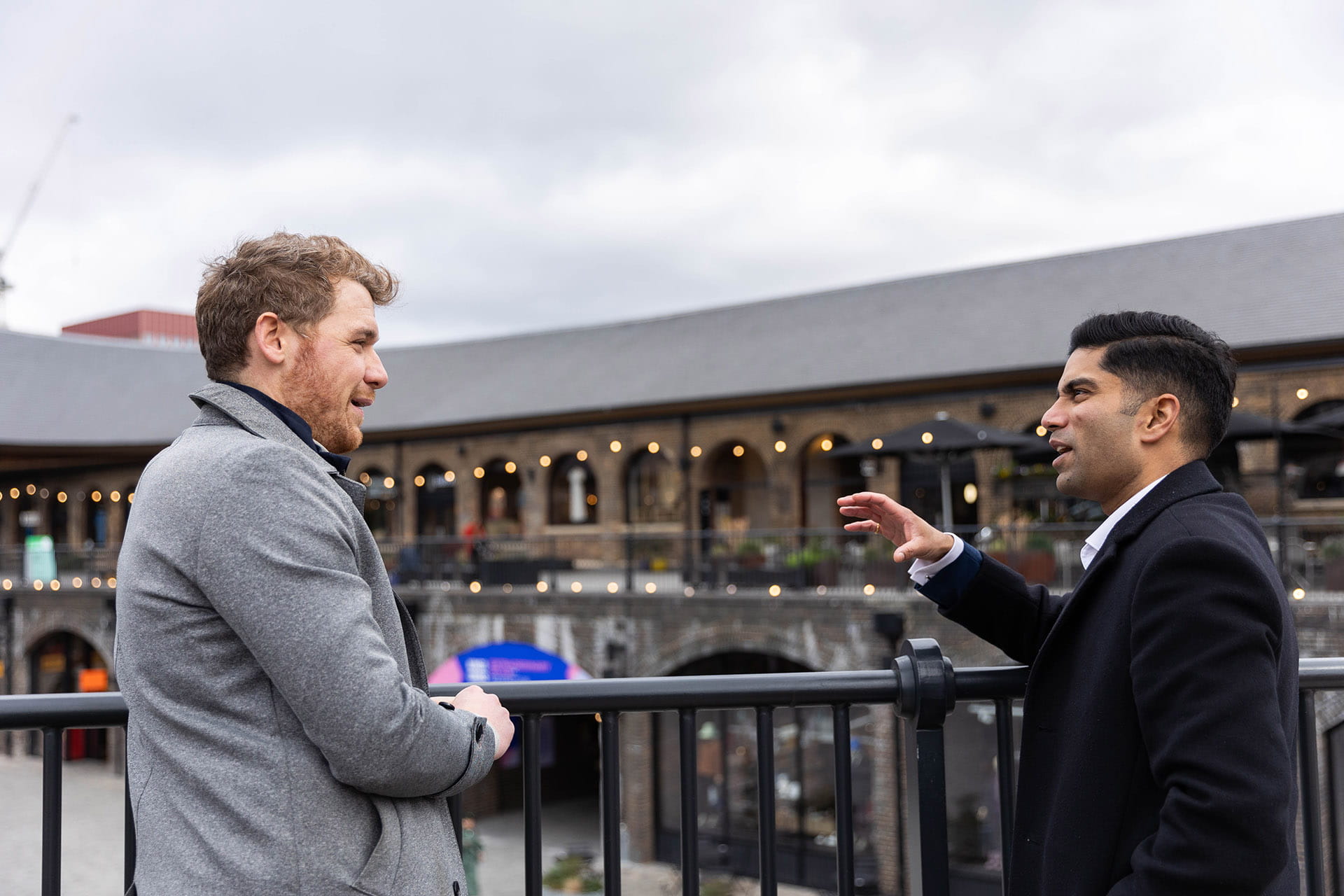 Another ISG Project Manager who knows the area well is Harsha Javvaji, who led ISG's delivery of a smaller Google building at King's Cross. Harsha says: "The whole regeneration has allowed exciting businesses and enterprises to come in and re-energise the space. It's functional and smart, but it's also striking and inspires creativity. A tricky balancing act pulled off very well."
A balancing act indeed. Compacted within 67 acres remains hundreds of years of history, and the footsteps of the countless individuals who have lived and worked in King's Cross. The architecture is reflective of both the area's history and push for progress. The aged, assertive brick of Central Saint Martins. The playful birdcage between St Pancras and King's Cross stations. The wrought iron 'kissing roof' (for the uninitiated, think giant moustache) over Coal Drops Yard. The grassy amphitheatre. The apartments built into the stern Victorian gasholders.
"The new Google headquarters will be the cherry on top of the cake."


Oliver Day, Project Manager, ISG
All of which brings us to the present day, and the imminent arrival of the Google headquarters. Does anybody really need the significance of Google explained? After all – if we weren't clear, we'd probably Google it. The new headquarters will be developed from the ground up, and be 11 storeys high, comprising of more than a million square feet. Google will occupy 650,000 of them.
Google joins other technology companies who found a strong affinity to the area. The virtual communities built by such companies are both neighbours and mirrors to the tangible community of King's Cross. Google is one of the biggest libraries of information in the world, and Paddy's bookshop one of the smallest – together they make up the diversity of a community.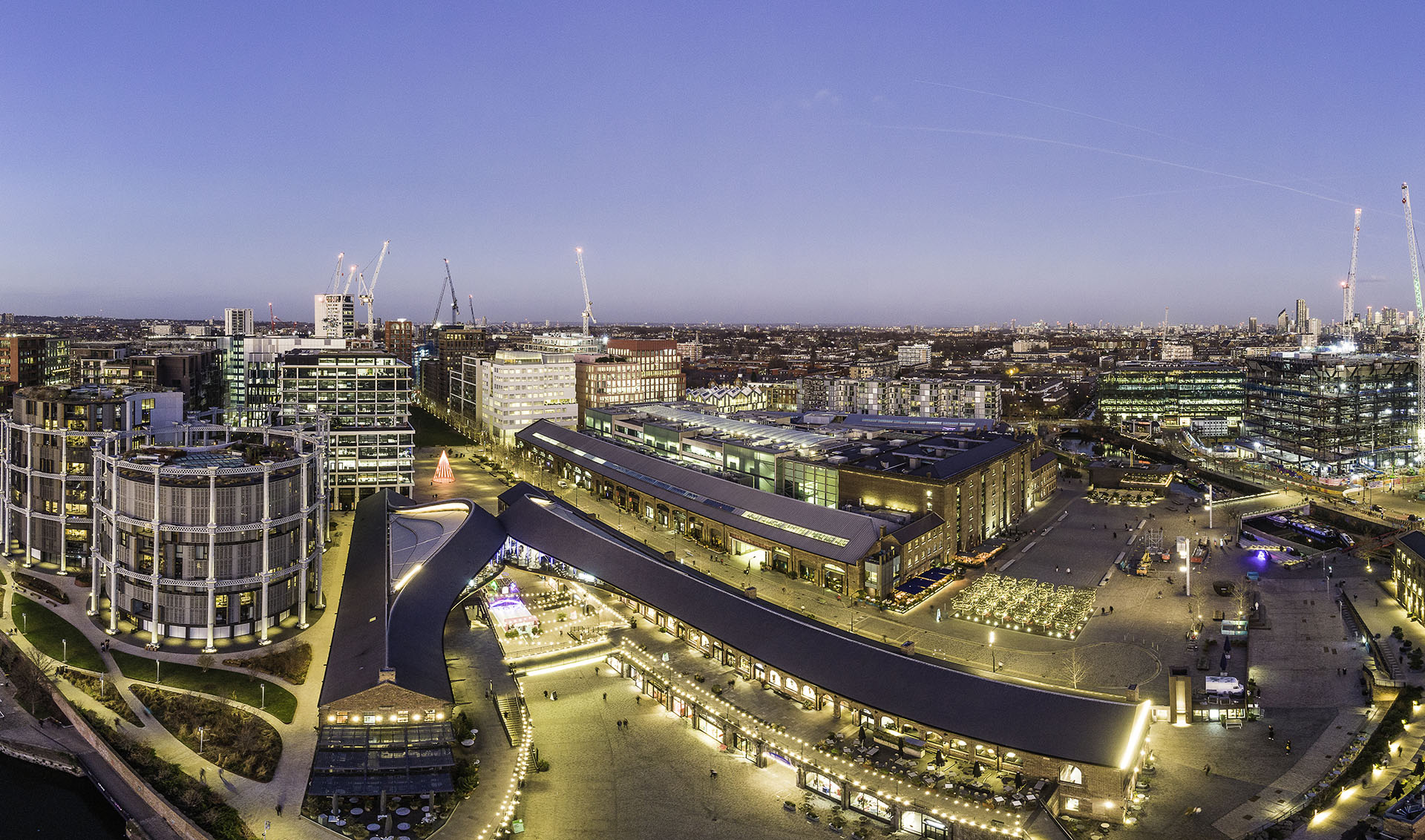 ISG helped deliver the first Google building in King's Cross, back in 2015. ISG divisional director Steve Makris says: "A lot of mutual trust and learning was established between ISG and Google. We're both all about innovation, but we both know innovation must be purposeful. We really pushed each other forwards in using new technology, like AI". As Oliver says, the King's Cross project is very nearly complete. The new Google headquarters will be the "cherry on top of the cake."
Paddy, likewise, is effusive about the range of customers Word on the Water sees. He says: "It's so eclectic, it's fabulous. It's the population who live in, work in, and move through King's Cross. So, there's the student scene, there's the world that surrounds The Guardian and King's Place, the old locals and the new, loads of tourists, and people who have followed us for all those years. It's perfect for a bookshop, because we don't have to target our books at any specific crowd. Also, we can have our live jazz and poetry slams, and there's nobody to annoy! The big open space and big sky gives us permission to do those things. We've really found a home at King's Cross."
"The big open space and big sky gives us permission to have our live jazz and poetry slams. We've really found a home at King's Cross."

Paddy Screech, Co-founder of Word on the Water