Customer

Hogan Lovells

Procurement Route

Single stage

Project Manager

Gardiner & Theobald

Architect

TP Bennett

ME Engineer

Hilson Moran
Introduction
International law Firm, Hogan Lovells has around 2,500 lawyers working in more than 40 offices around the world. Their vision is to work as part of their clients' team, helping them solve their toughest and most complex legal issues - wherever they are. Hogan Lovells worked with ISG on the refurbishment of their London premises.
"Flexibility was key on this project. The ISG team had to be agile in their approach as the nature of the project resulted in many phases and many late changes. ISG embraced the change rather than fighting against it."

David Crew, Director of International Corporate Real Estate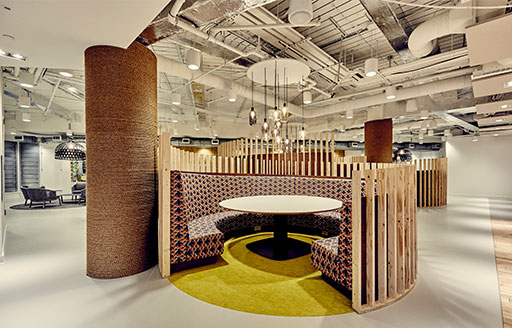 Delivering thriving spaces
ISG delivered a new reception area with a complete redesign of the entrance, including an upgrade of the existing finishes, and a new Business Lounge that was completed in the early stages of the project to ensure client relationships could continue in the new and improved space, undisturbed. With the client at the heart of Hogan Lovells operations, the fit out included the refurbishment of all client-facing conference rooms, auditorium, boardroom and the installation of a new client and Partner bistro.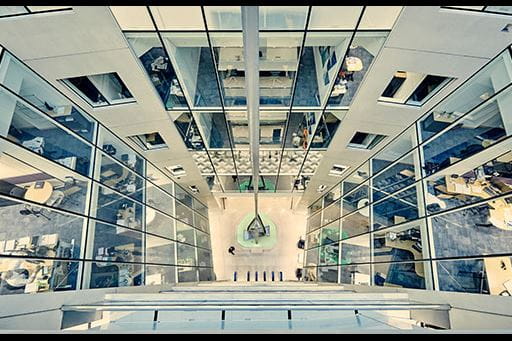 Working in occupation
The 12-floor fit out took place with the client in occupation, which was crucial in enabling Hogan Lovells to continue to conduct business and operate 'as usual' as much as possible. The floors were handed over in 13 sectional phases, and ISG developed a logistics strategy to move furniture and materials for each phase to ensure Hogan Lovells client operations continued seamlessly throughout the fit out.
The 48-week fit out encompassed the refurbishment of practice floors which included the refresh of cellular working spaces, including the addition of a new central hub area, complete with tea points and meeting rooms.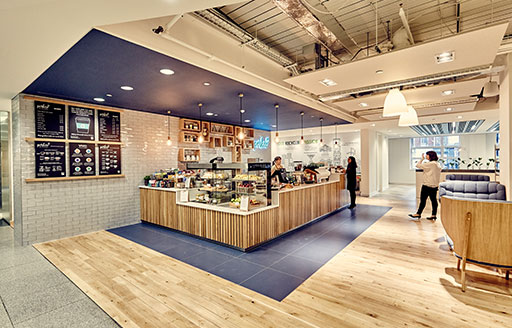 Working in occupation continued
One floor included the demolition of all existing partitions to create an open-plan working environment with new meeting rooms, additional quiet rooms and new collaborative areas. Major works were undertaken to the mechanical systems including replacement and reconfiguration of many fan coil units, modifications to sprinkler systems, full recommissioning of the air and chilled water systems, and the replacement of lighting throughout the whole building with LED fittings.