Customer

Olympic Delivery Authority

Procurement Route

Two Stage Design and Build

Completion Date

January 2011

Quantity Surveyor

CLM

Value

Confidential

Form Of Contract

NEC 3

Project Manager

CLM

Structural Engineer

Expedition Engineering

Area

170,000 sq ft

Program Duration

98 weeks

Architect

Hopkins Architects

ME Engineer

BDSP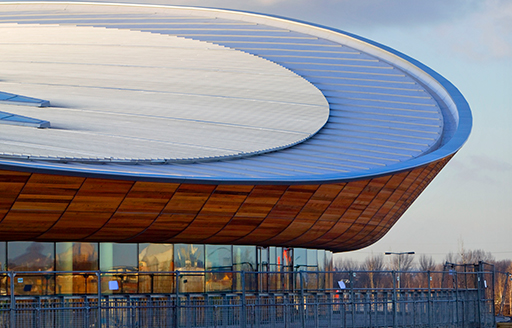 The project
The 6,000 seat London 2012 Velodrome hosted the Olympic and Paralympic indoor track cycling events and is being used by elite athletes and the local community post Games. ISG commenced construction work in March 2009 and completed in January 2011, ahead of schedule.

It was the first venue to be completed on the Olympic Park. The legacy Velodrome includes a cafe, bike hire and cycle workshop facilities and the 360 degree concourse level offers fantastic views over the Olympic Park, and out to the London skyline.
Sustainability
By working closely with Hopkins, the architects, and Expedition, the engineers, we saved around 1,000 tonnes of structural steelwork and £1.5 million by redesigning the roof. Cable net roofs usually have a ring beam against which the cables are tensioned, like a tennis racket.

We designed this out by using the bowl structure to take this load. The result is that the roof weighs only 30kg per sq m, roughly half that of any other covered Velodrome, This is a key component in making the Velodrome the greenest venue on the Olympic Park. Additional benefits of a lighter roof meant that the foundations sizes could be smaller and shallower, resulting in less concrete and a reduced carbon footprint as there was less excavation of contaminated materials from the landfill site below.